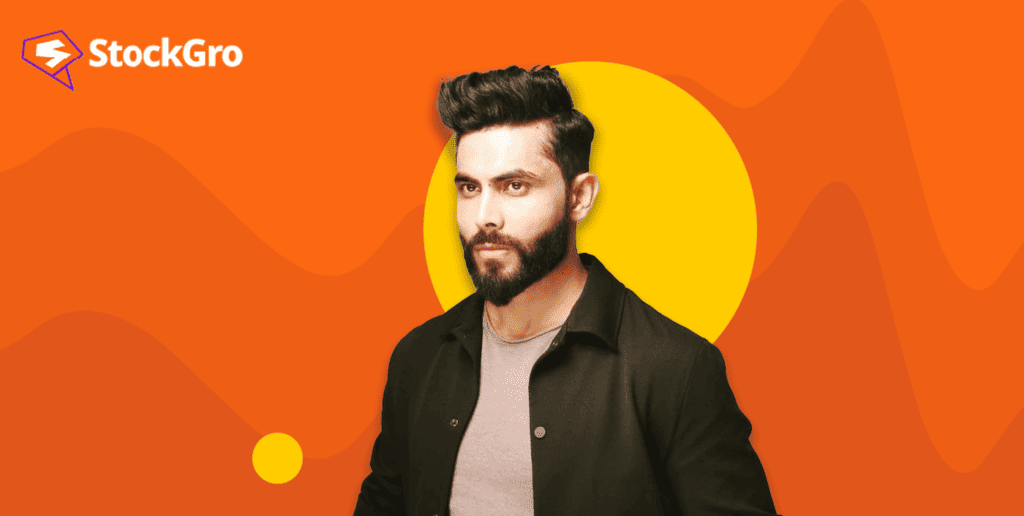 In the world of cricket, all-rounders are a rare breed, and Ravindra Jadeja is undoubtedly one of India's finest in recent times. His journey from a small village in Gujarat to becoming a household name in Indian cricket is nothing short of remarkable.
What makes Jadeja stand out is not just his on-field heroics but also his astute financial decisions that have turned him into one of India's wealthiest athletes. 
Bio: 
| | |
| --- | --- |
| Name: | Ravindrasinh Anirudhsinh Jadeja |
| Place of Birth: | Navagam Ghed, Gujarat, India |
| DOB: | 6 December 1988 (age 34) |
| Relative: | Rivaba Jadeja (wife) |
| Net worth: | ₹115 Crore |
| Properties: | House in Ahmedabad – ₹6 Crore |
| Luxury assets: | Audi Q7, Audi A4, BMW Xdrive and a Hayabusa bike |
Jadeja cricket earnings:
| | |
| --- | --- |
| Team India Salary (Grade A+ player) | ₹7 Crore (annually) |
| Test match | ₹15 Lakh (per match) |
| ODI | ₹6 Lakh (per match) |
| T20I | ₹3 Lakh (per match) |
| T20 League | ₹16 Crore (annually) |
Early days and cricketing journey:
Born on December 6, 1988, in the town of Navagam-Khed, Gujarat, Jadeja hails from humble beginnings. His father, Anirudhsinh, was a watchman, and his mother, Lata, was a nurse.
From a young age, Jadeja exhibited an inclination towards cricket, and his family supported his passion. His journey through the ranks was swift, and he made his First-Class debut for Saurashtra in the 2006-07 season.
It was his performances in domestic cricket that caught the attention of the national selectors. Jadeja's left-arm spin, combined with his electric fielding and the ability to chip in with crucial runs, made him a valuable asset.
He made his international debut for India in 2008, donning the blue jersey in an ODI against Sri Lanka. His Test debut came a year later in 2009, against England.
You may also like: Ro-hit on the field and off the field!
Cricketing success and on-field triumphs:
Over the years, Jadeja has carved a niche for himself in Indian cricket as a versatile all-rounder. His left-arm spin has been potent on turning tracks, and his ability to bat lower down the order has often rescued India from precarious situations.
But it was his incredible fielding skills that earned him the moniker "Sir Jadeja" and set new fielding standards in the team. One of his most memorable on-field performances came during the 2019 ICC World Cup.
In a league match against New Zealand, he displayed exemplary skills, taking a stunning catch, bowling brilliantly, and almost steering India to victory with a valiant knock. Such performances not only won matches but also the hearts of cricket enthusiasts worldwide.
Wealth accumulation:
Jadeja's wealth accumulation is a testament to his consistency and excellence on the cricket field. His annual retainer contract with the Board of Control for Cricket in India (BCCI) ensures a steady income, with different grades determining the level of payment.
Additionally, his participation in the Indian Premier League (IPL), where he has represented the Chennai Super Kings (CSK), adds significantly to his income. Contracts with teams in domestic T20 leagues like the Saurashtra Premier League also contribute to his earnings.
Endorsements have played a pivotal role in Jadeja's wealth creation. His popularity, both in India and internationally, has attracted top brands. He endorses products ranging from sports equipment to automobiles, fashion, and more.
Brands like Zeven, Royal Stag, and ASICS have partnered with him, elevating his status as a marketable face. These endorsements bring in substantial revenue, further enhancing his financial standing.
Also Read: Sachin Tendulkar – A master blaster on and off the field
Financial well fielded:
Jadeja's financial wisdom extends beyond cricketing earnings. He has invested astutely in real estate, which is often considered a safe investment. Properties in Rajasthan and Gujarat, including a luxurious farmhouse, showcase his shrewd investment choices.
His investments have not only secured his and his family's future but also diversified his income streams.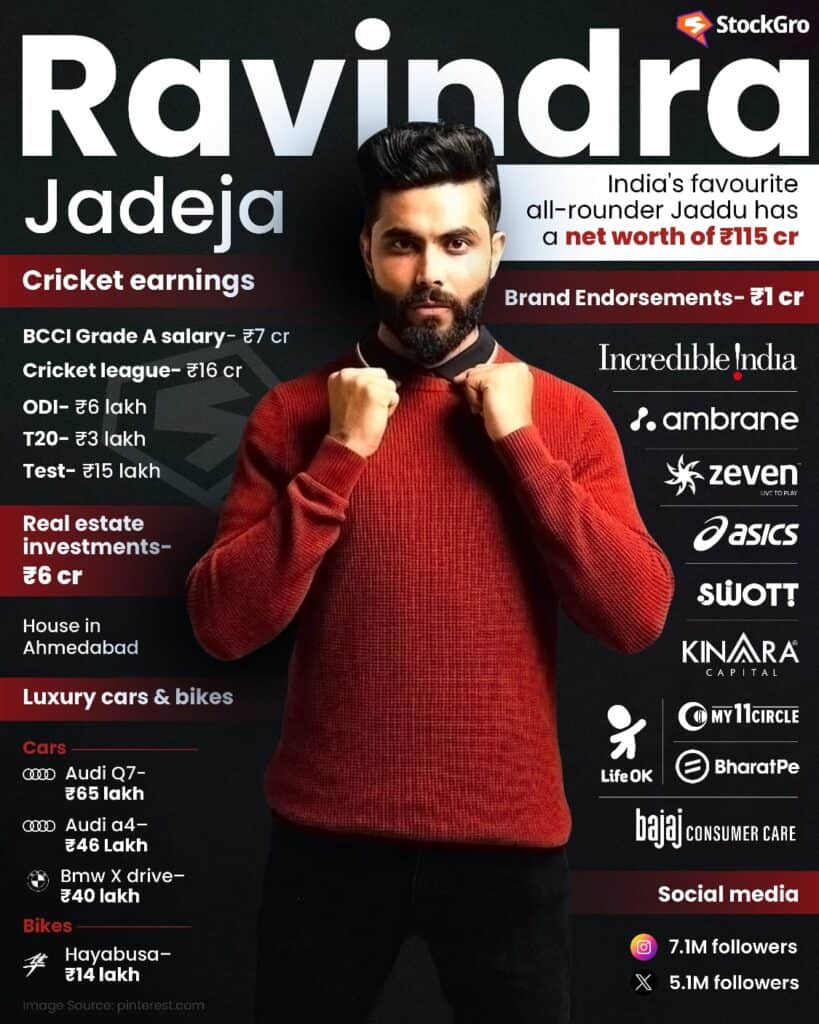 In addition to real estate, Jadeja has ventured into startup investments, following in the footsteps of other cricketers who have identified the potential of this growing sector. These ventures align with his vision of building a robust financial portfolio.
Balancing fame and finances:
Maintaining a balance between fame and finances can be challenging for celebrities, but Jadeja has managed it admirably. While he enjoys his celebrity status, he keeps a low profile in his personal life.
This approach has allowed him to focus on his game and financial ventures without the distractions that often come with stardom.
Also Read: From breaking records to minting money
Future prospects:
As Ravindra Jadeja continues to dazzle cricket enthusiasts with his incredible skills, both on the field and off, his wealth and influence are expected to grow. With ongoing endorsements, strategic investments, and a successful cricketing career, his financial journey is poised for further expansion.
Conclusion:
Ravindra Jadeja's career, marked by consistency and versatility, has not only enriched Indian cricket but also his bank account. From Navagam-Khed to international stadiums, from dazzling fielding to smart financial moves, his journey is an inspiration.
As he continues to shine in the world of cricket, the legacy of "Sir Jadeja" only gets stronger, both on and off the field.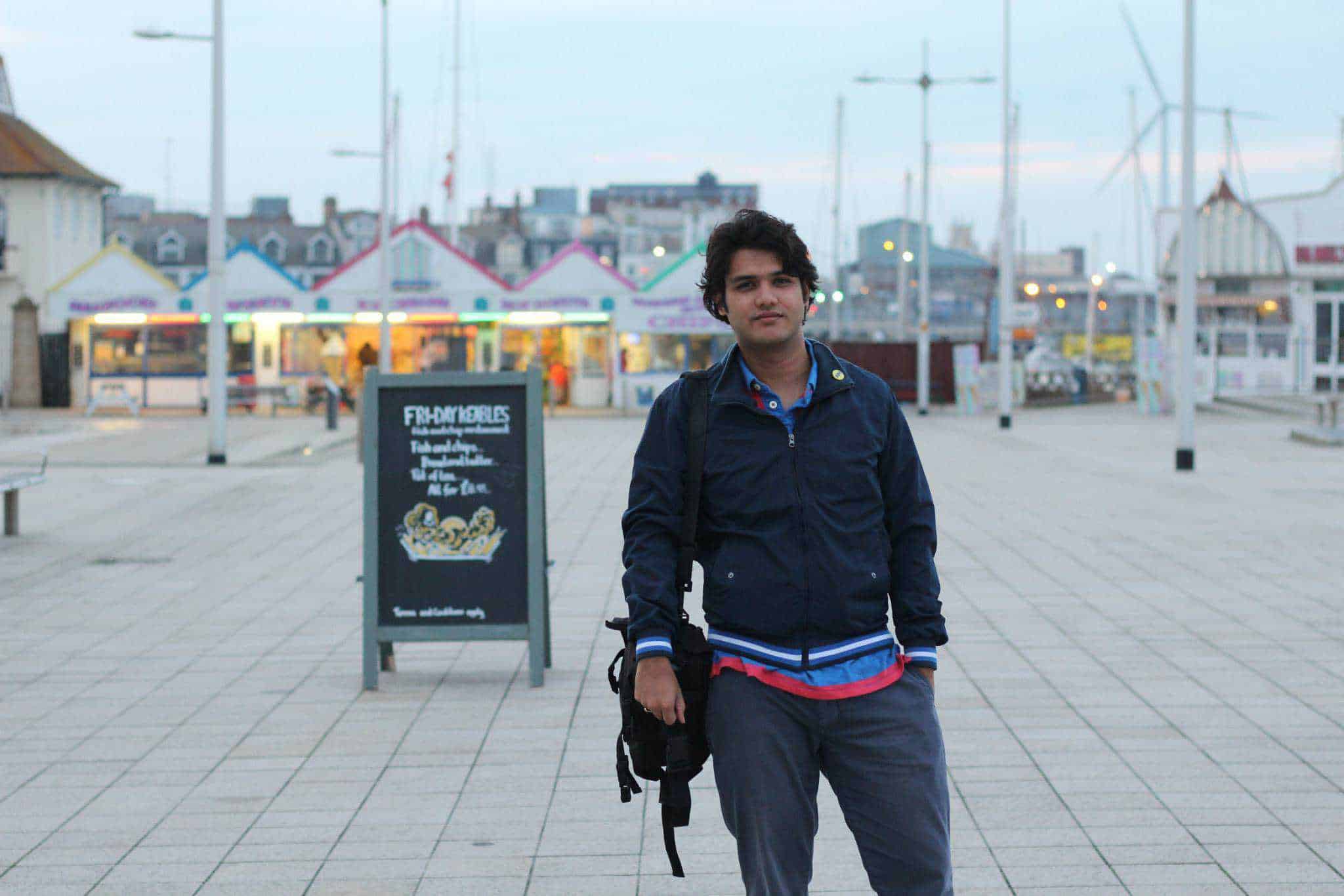 A copywriter by day, cine-connoisseur by night, fascinated by facts & figures of films, sports, finance. Most days strategizing startups' success. It's always lights, camera, business!