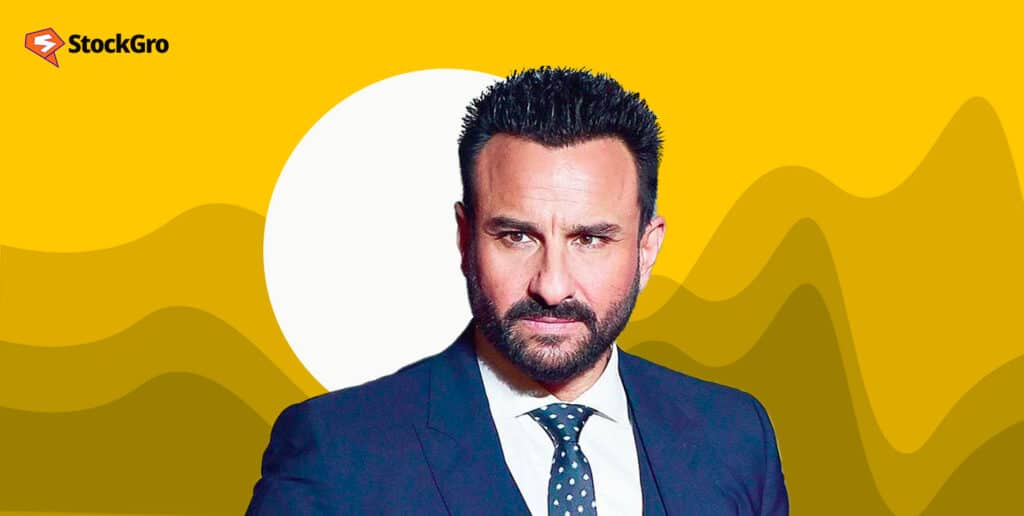 About him:
In the realm of Bollywood, where star power and talent go hand in hand, Saif Ali Khan stands tall as one of the industry's most versatile and dynamic actors. His journey from a supporting hero in the '90s to a successful solo lead and an iconic villain is nothing short of awe-inspiring. With his suave charm, undeniable acting prowess, and knack for reinventing himself, Saif has carved a niche for himself in the hearts of his fans.
Bio:
Name:
Saif Ali Khan Pataudi
Place of Birth:
Indore, MP, India
Age:
16 August 1970 (age 52)
Notable Relatives:
Mansoor Ali Khan Pataudi (Father)
Sharmila Tagore (Mother)
Soha Ali Khan (Sister)
Kareena Kapoor (Wife)
Amrita Singh (Ex-wife)
Sara Ali Khan (Daughter)
Movie fees:
₹10-25 Crore
Net worth:
₹1180 Crore
Businesses:
Illuminati Films – Production company
Black Knight Films – Production company
House of Pataudi – Luxury clothing brand
Properties:
Pataudi palace (Ancestral home in Haryana) – ₹800 Crore
Bungalow at Bandra – ₹6 Crore
Luxury apartment in Mumbai ₹4.2 Crore
Saif Ali Khan's filmy ventures
Khan made his acting debut in Parampara (1993). After failing to earn hits with solo lead roles in the 90s and tasting success only in multi-starrers. Like Yeh Dillagi, Main Khiladi Tu Anari, and Hum Saath-Saath Hain (1999), he needed to reinvent himself.
It was the 2000s when Khan proved his potential as an established actor. Starting with the sleeper hit Kya Kehna (2000) . He won several accolades for the ensemble romantic comedy-dramas Dil Chahta Hai (2001) and Kal Ho Naa Ho (2003).
Further critical and commercial success came with solo lead films. Like Hum Tum (2004), Parineeta (2005), Salaam Namaste (2005) and Ta Ra Rum Pum (2007).
You may also like: From 'Raazi' to Riches, this bollywood Star shines in every role!
Royal lineage
Saif is the son of Mansoor Ali Khan, aka, the Nawab of Pataudi, often regarded as one of India's greatest cricket captains. In his tenure as test captain of India, he triumphed in 9 matches.
His leadership not only resulted in victories but also revitalised Indian cricket, instilling a newfound belief in his teammates. And Saif's mother was Sharmila Tagore, a National Film Award-winning actress born into the prominent Tagore family, one of the leading families of Kolkata and a key influence during the Bengali Renaissance.
Despite belonging to such an illustrious family, he has seen his own share of struggles in his career.
Not so 'Saif' roles
The Nawab of Pataudi received critical acclaim for playing a manipulative businessman in Ek Hasina Thi (2004). An apprentice in the English film Being Cyrus (2006) and an antagonist in Omkara (2006).
Exploring characters with shades of grey gave his career a much needed boost. In recent years, he played a cop on the Netflix series – Sacred Games. He played the role of Raavan in Om Raut's Adipurush(2022), and also in Zombie hunter in Go Goa Gone.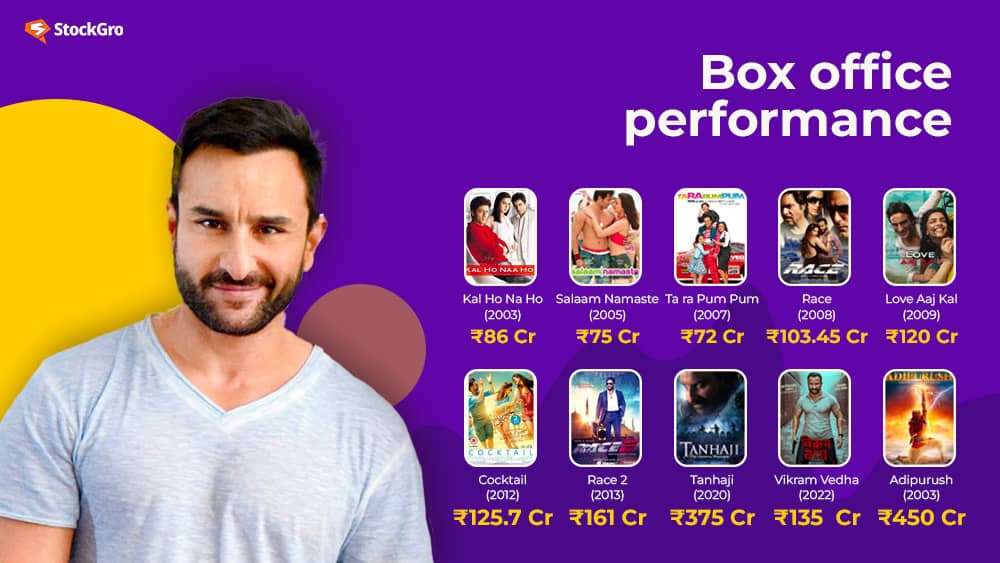 Born into a prestigious lineage that dates back to the royal Pataudi family, Saif had a silver spoon in his mouth but was determined to carve his own path. He made his debut in 1992 with the film "Parampara," where he played a supporting role, but it was his portrayal of the lovable Sameer in "Dil Chahta Hai" that propelled him to the limelight.
With his boyish charm and relatable portrayal of a modern-day youth, Saif captured the hearts of audiences across the nation.
What sets Saif apart from his contemporaries is his willingness to take risks and experiment with diverse roles. He seamlessly transitioned from playing the quintessential romantic hero to portraying complex and villainous characters that left audiences spellbound.
Also Read: Tollywood to Pan-India superstar: How Prabhas became the Bahubali of the Box-office
His performance as the menacing Langda Tyagi in "Omkara" is widely regarded as one of his best, showcasing his ability to embody dark shades with remarkable finesse.
While his success on the silver screen is undeniable, Saif's foray into the world of OTT platforms with the critically acclaimed series 'Sacred Games' propelled him to newer heights of stardom.
As the intriguing and enigmatic Sartaj Singh, Saif delivered a career-defining performance, proving that he is not confined to the limitations of traditional cinema. His charisma and screen presence transcended boundaries, captivating audiences worldwide.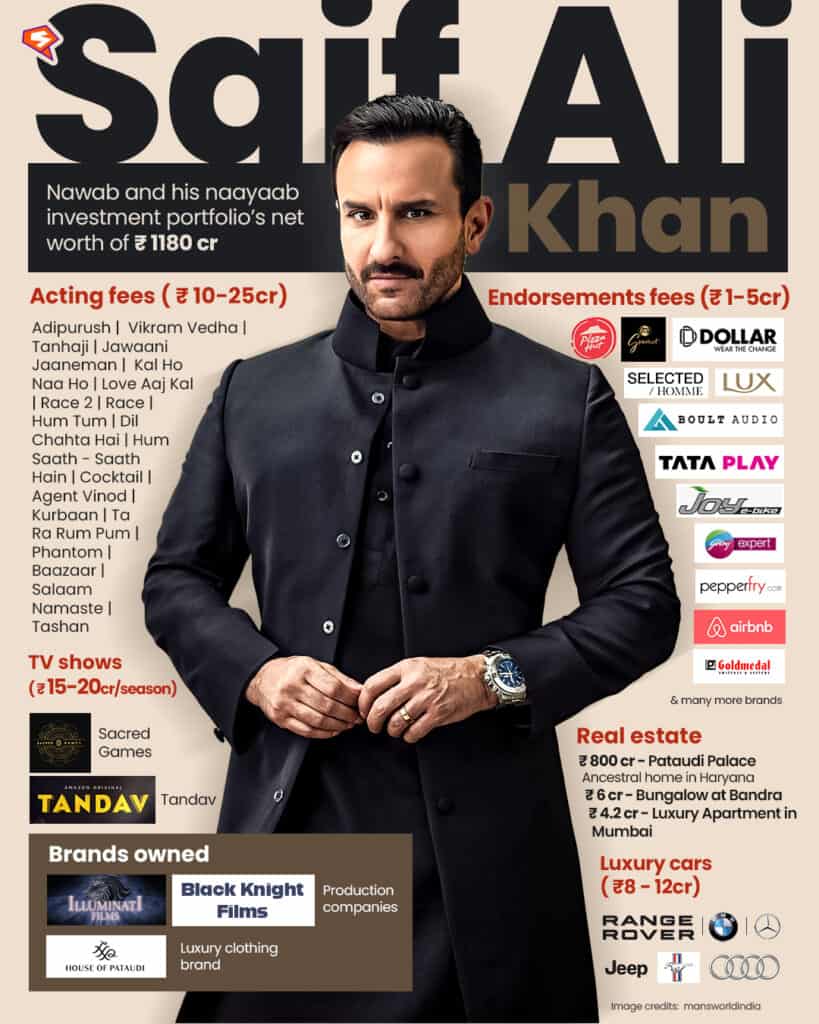 Nawab and his royal business
Beyond his acting prowess, Saif Ali Khan is a shrewd businessman who has made wise investments and built an impressive net worth. From owning luxurious properties to investing in businesses, he has shown astute financial acumen that sets him apart from many of his peers.
Whether it's his stake in the film production company Illuminati Films or his diverse portfolio of investments, Saif has proven that he's not just a talented actor but also a savvy entrepreneur. Saif's ethnic luxury fashion brand – House of Pataudi, is aiming at a Rs. 300 crore revenue in three years from the launch.
Also Read: Controversial to being human: Exploring Salman Khan's business empire
Khan has many notable brand endorsement deals – Dollar, Tata Play, Godrej, Pepperfry and Airbnb to name a few. Each endorsement deal easily fetches her up to Rs. 5 Crore. His Airbnb commercials also featured his wife Kareena Kapoor.
Conclusion:
Saif Ali Khan has proven time and again that true success lies in embracing change, taking risks, and daring to be different. In a world where actors often struggle to reinvent themselves and maintain relevance, Saif Ali Khan has effortlessly managed to remain in the spotlight.
His ability to adapt to changing trends, embrace unconventional roles, and make bold choices has endeared him to both critics and audiences alike. With his impeccable performances, a wit that shines both on and off the screen, Saif is undoubtedly one of the industry's biggest stars.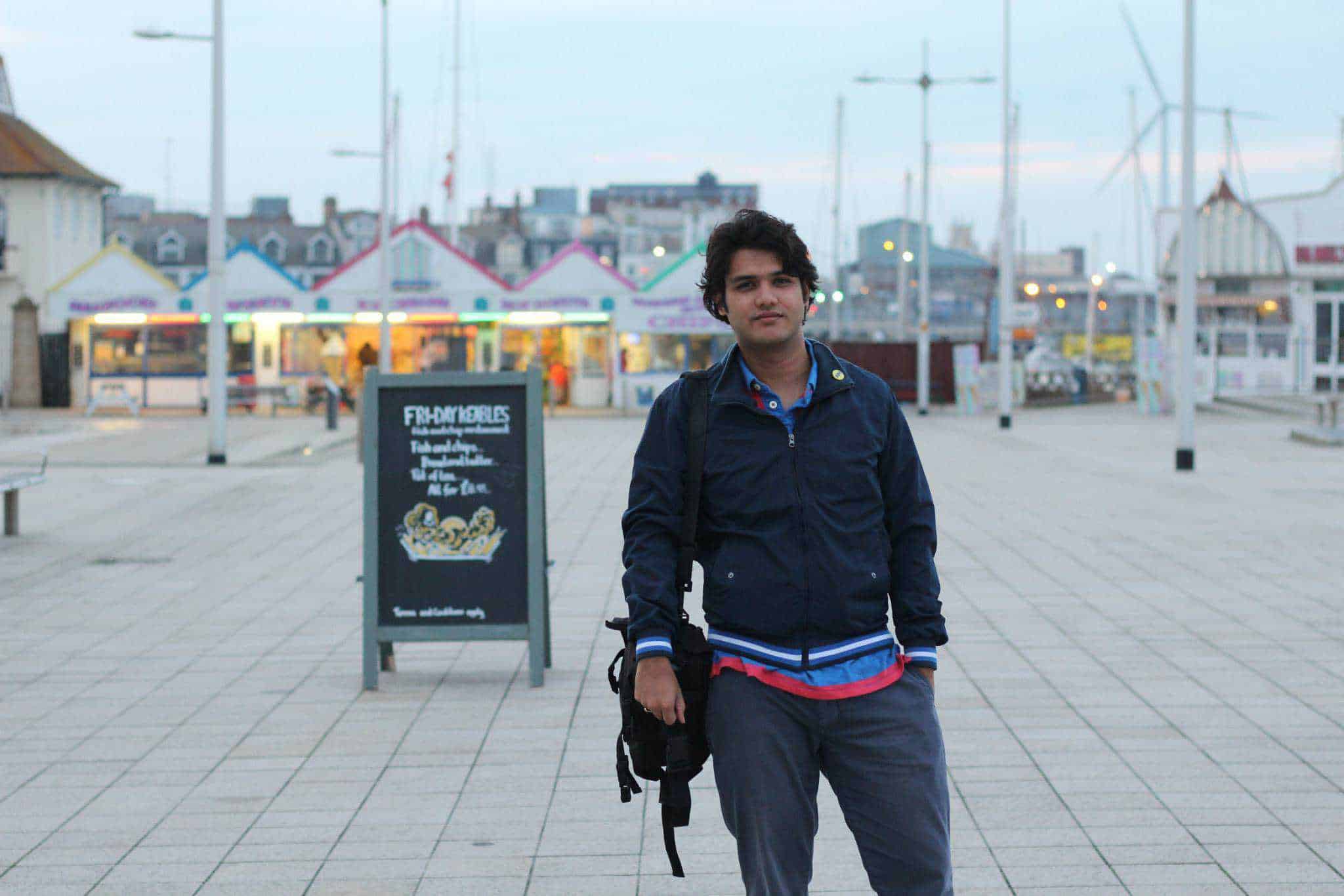 A copywriter by day, cine-connoisseur by night, fascinated by facts & figures of films, sports, finance. Most days strategizing startups' success. It's always lights, camera, business!