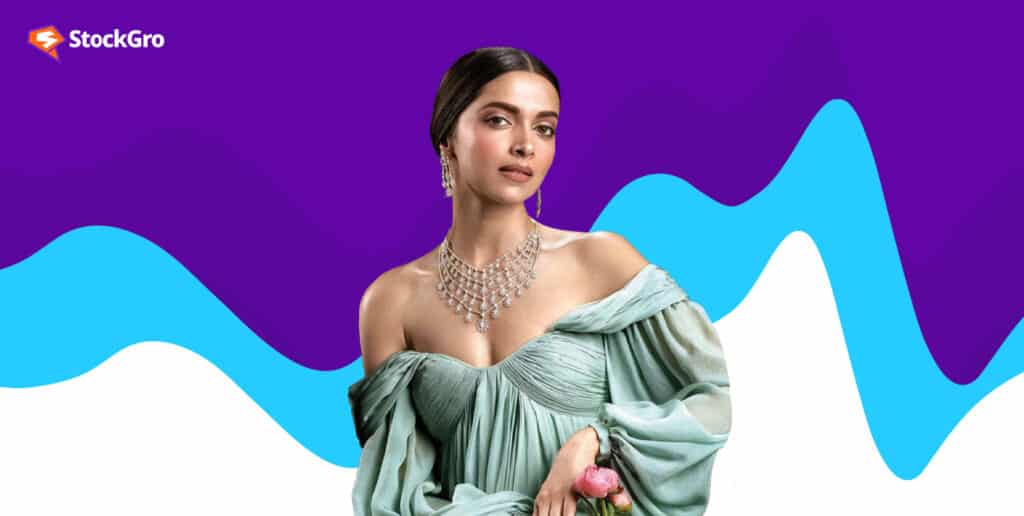 About Deepika:
From her early days as a supermodel, making her debut with Om Shanti Om to now ruling the silver screen with films like Piku, Padmavat, and Pathan, Deepika's journey has been nothing short of awe-inspiring.
With each role she portrays, she manages to captivate the audience, leaving a lasting impact on their hearts and minds. But her achievements extend far beyond her acting prowess, as her net worth and business ventures will make your jaw drop.
Bio:
Name:
Deepika Padukone
Place of Birth:
Copenhagen, Denmark
DOB:
5 January 1986 (age 37)  
Relative:
Prakash Padukone (Father)
Ranveer Singh (Husband)
Movie fees:
₹15-20 crores
Net worth:
₹497 Crore
Properties:
– 4bhk in Mumbai worth – ₹42 Crore 
– Sea-facing quadruplex in Bandra, Mumbai – ₹119 – CroreHome in Alibaug worth – ₹22 crore
Brands started
– All about you
– KA Enterprises
– 82oE 
Startup investments and their valuations
– Bellatrix Aerospace: $32-48 Mn
– DRUMS foods: $68.5 Mn
– BLU smart mobility: $ 80.4 Mn 
– Furlenco: $100 Mn
– Frontrow: $56-84 Mn 
– Purple.com: $1.1 Bn 
– Supertails: $36.6 Mn
Diverse 'Cocktail' of investments
While some celebrities splurge their earnings on lavish lifestyles and fleeting luxuries, Deepika wisely has chosen a path of making intelligent investments and strategic business decisions.
She understands the importance of nurturing and growing her wealth, not only for her own security but also for creating a legacy that will stand the test of time.
Finding fans and financial success:
Through her diverse portfolio of investments, Deepika has shown her impeccable business acumen. From endorsing top brands to owning her fashion label, she has made her mark in the fashion industry.
Her investments also expand into real estate, technology startups, and even sports teams, showcasing her versatile interests and willingness to explore new horizons.
But it's not just her investment portfolio, her acting portfolio is even more impressive.
Deepika Padukone's illustrious career in Indian cinema and Bollywood has been marked by a series of resounding successes, with numerous 100-crore plus blockbusters to her credit. Her ability to consistently deliver hit films is a testament to her talent and star power. 
You may also like: Akshay Kumar – The Khiladi of Bollywood 
What's even more remarkable is her capability to carry a film on her own, a rarity in the industry. In movies like – Finding Fanny, Chhappak, and Gehraiyaan, Deepika not only demonstrated her acting prowess but also her ability to draw audiences solely with her charisma and talent.
Her journey is a shining example of how she has not just survived but thrived in an industry known for its challenging dynamics.
Deepika Padukone top India net box office collection movies
| | | |
| --- | --- | --- |
| Release date | Movie name | Worldwide gross |
| 25 Jan 2023 | Pathaan | ₹ 1049 Cr |
| 25 Jan 2018 | Padmavat | ₹ 585 Cr |
| 08 Aug 2013 | Chennai Express | ₹ 422 Cr |
| 23 Oct 2014 | Happy New Year | ₹ 397 Cr |
| 31 May 2013 | Yeh Jawaani Hai Deewani | ₹ 318 Cr |
| 18 Dec 2015 | Bajirao Mastani | ₹ 362 Cr |
| 15 Nov 2013 | Goliyon Ki Rasleela Ram-Leela | ₹ 218.07 Cr |
| 25 Jan 2013 | Race 2 | ₹ 162 Cr |
| 08 May 2015 | Piku | ₹ 141.3 Cr |
| 09 Nov 2007 | Om Shanti Om | ₹ 148.2 Cr |
Deepika's net worth
But what sets Deepika apart from the rest is not just her financial success; it's her ability to connect with people on a personal level. Despite her larger-than-life image, she remains grounded, humble, and relatable.
Whether it's sharing glimpses of her daily life on social media or speaking up about mental health issues, Deepika has become an icon of authenticity and vulnerability. As of 2023, Deepika's net worth is somewhere in the region of Rs. 497 Crore, according to sources.
Deepika's business ventures go beyond monetary gains; they are a reflection of her passions and values. Her fashion label emphasises inclusivity and body positivity, challenging the industry's traditional beauty standards. By investing in tech startups, she aims to empower young entrepreneurs and promote innovation in the country.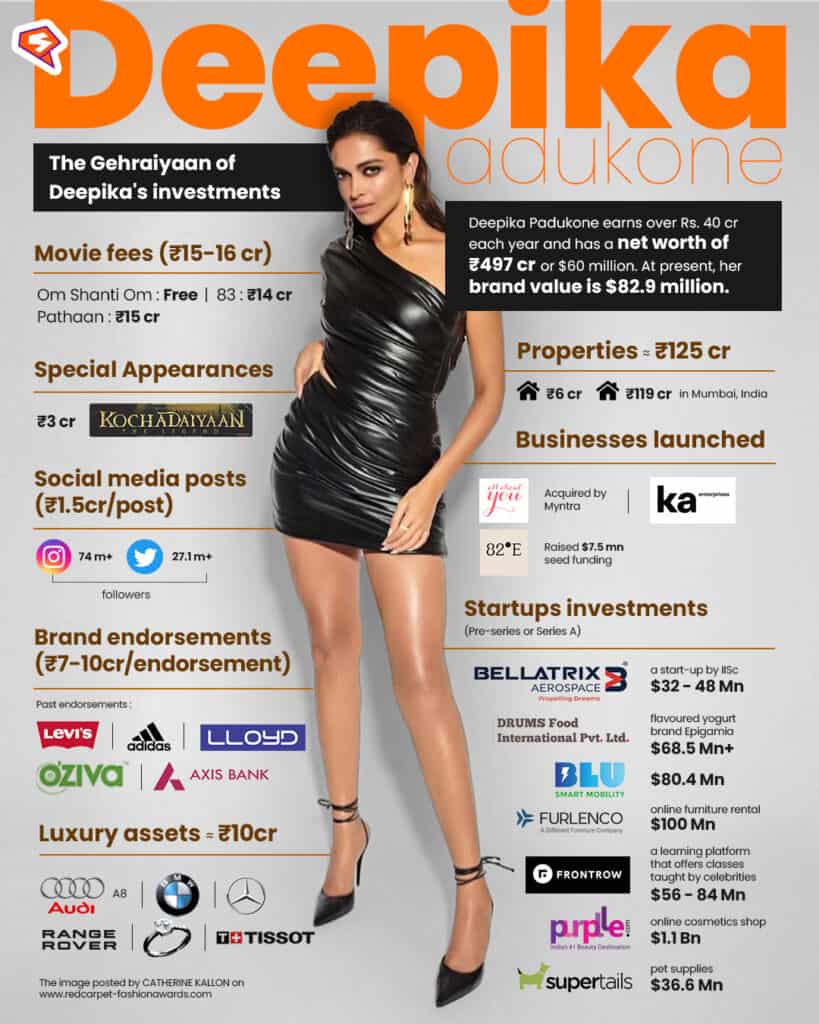 Building a long-term partnership with Ranveer!
Deepika Padukone and Ranveer Singh have become Bollywood's dynamic power couple. They have not only individually achieved immense success but have also flourished together, both on and off-screen.
Their real-life partnership is a reflection of their chemistry in films. Their pairing in the film "83" encapsulates this fact best. Just like in their personal lives, their professional synergy is striking, elevating the impact of their business and investment projects. 
This power couple's journey is a testament to their unwavering support for each other, their ability to grow together, and their consistent ability to deliver compelling performances in tandem.
Also Read: From 'Raazi' to Riches, this bollywood Star shines in every role!
Not just doing 'Tamasha' but a true role model
In a world where fame often fades away, Deepika has shown that true success lies in using one's platform to make a positive impact. She actively participates in philanthropic activities, supporting causes like education, women empowerment, and mental health awareness.
Her genuine dedication to creating a better society sets her apart as a true role model.
Conclusion:
It's clear that Deepika Padukone is not just a pretty face in Bollywood's glamorous world. She has repeatedly proven that intelligence, passion, and business savvy can go hand in hand. Her net worth may be impressive, but it's her character, determination, and unwavering spirit that truly make her shine.
So, next time you watch one of Deepika's mesmerising performances on the silver screen, remember that behind the spotlight lies a woman who has conquered not just Bollywood but also the world.
She is a true inspiration, reminding us that we can transform dreams into reality with hard work and vision.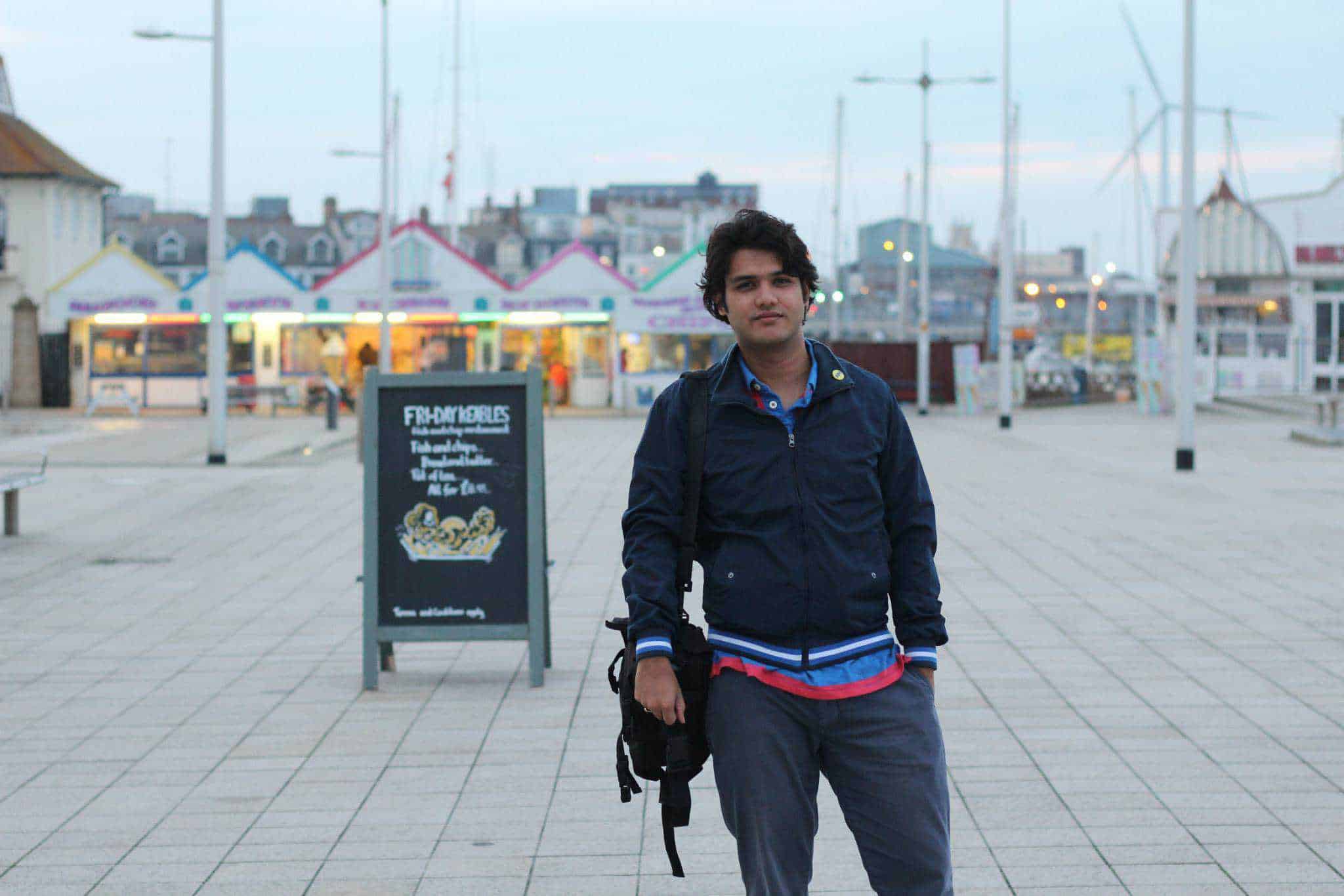 A copywriter by day, cine-connoisseur by night, fascinated by facts & figures of films, sports, finance. Most days strategizing startups' success. It's always lights, camera, business!