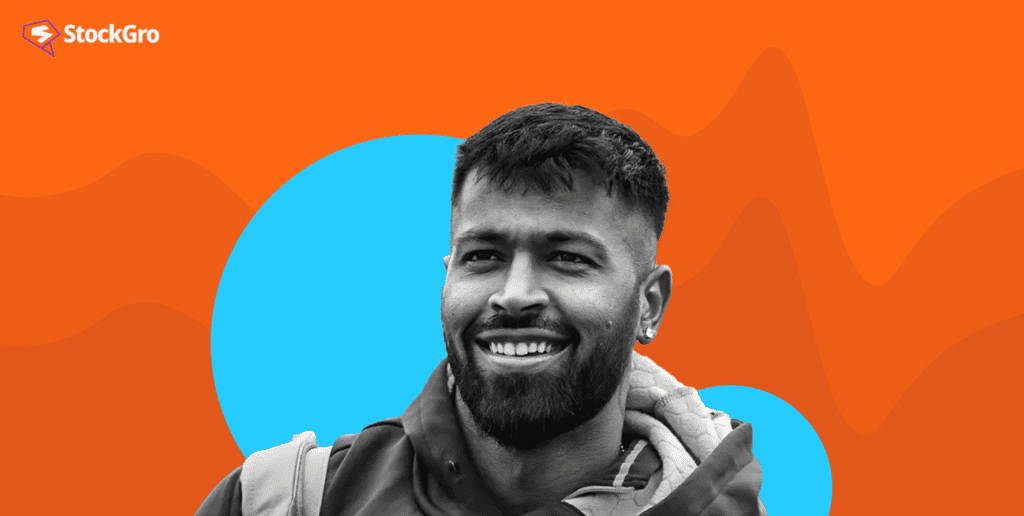 Cricket has always been more than just a sport in India; it's a passion that unites millions of fans across the country. Over the years, the nation has witnessed the rise of several cricketing legends, and among them, the name of Hardik Pandya shines brightly.
Hardik Pandya is not just a cricketer; he's a multifaceted personality who has made a significant impact on and off the field. Let's delve into the remarkable journey of Hardik Pandya, from humble beginnings to becoming one of India's most beloved cricketers and successful entrepreneurs.
Bio: 
Name:
Hardik Himanshu Pandya
Place of Birth:
Choryasi, Surat, Gujarat, India
DOB:
11 October 1993 (age 29)
Relative:
Nataša Stanković (Wife) Krunal Pandya (Brother)
Match fees BCCI Grade A Salary
ODI: Test:
T20:

₹5 crore ₹6 lakh ₹15 lakh ₹15 crore
Net worth:
₹91 crore
Properties:
6000 sq.ft penthouse in Vadodara, Gujarat – ₹3.6 crore 3838 sq.ft house in Mumbai – ₹28-30 crore
Luxury assets:
Porsche, Rolls Royce, Jeep, Mercedes, Audi, Range Rover
The Early Years
Hardik Pandya was born on October 11, 1993, in Surat, Gujarat, into a modest family. His father, Himanshu Pandya, ran a small car finance business, and his mother, Nalini Pandya, was a homemaker.
Hardik and his elder brother, Krunal Pandya, shared a deep love for cricket from a young age. The Pandya brothers played cricket in the narrow lanes of Surat, using tennis balls and makeshift stumps, dreaming of a brighter future.
You may also like: Virat Kohli: The iconic modern-day cricketer mastering the game of life
Rising through the ranks
Hardik's journey to cricket stardom was far from smooth. He struggled to make a name for himself in the highly competitive cricketing landscape of India. His talent was evident, but opportunities were scarce.
The Pandya family faced financial constraints, and at times, it seemed that the dream of playing professional cricket might remain just that—a dream.
However, Hardik's determination and unwavering belief in his abilities drove him forward. He honed his skills relentlessly, practising for hours on end. His breakthrough came when he was selected for the Baroda Under-16 team.
From there, he steadily climbed the ranks, representing Baroda at various age levels before making his debut for the senior team.
The IPL break
Hardik Pandya's life took a significant turn when he was picked up by the Mumbai Indians (MI) in the 2015 Indian Premier League (IPL) auction. The IPL provided a platform for young talents like him to showcase their skills on a grand stage.
Hardik seized this opportunity with both hands, impressing everyone with his explosive batting and effective bowling.
His performances for MI caught the attention of the national selectors, and in January 2016, he made his debut for the Indian cricket team in a T20I match against Australia. It marked the beginning of a promising international career.
Also Read: The phenomenal Captain Cool: Unveiling the empire of MS Dhoni
The emergence of an all-Rounder
Hardik Pandya's versatility as a cricketer quickly made him a valuable asset for the Indian team. He could contribute with both the bat and the ball, a rare quality that all-rounders possess.
India has always struggled in this department. Only Kapil Dev, Irfan Pathan and Ravindra Jadeja are a few all-rounders who have made a name for themselves. Hardik's aggressive batting style and ability to pick up crucial wickets earned him a permanent spot in the Indian squad.
In the 2017 ICC Champions Trophy, Hardik played a pivotal role in India's journey to the final. His remarkable performances against Pakistan and Bangladesh showcased his potential as an all-rounder. He continued to evolve, becoming crucial to the team's limited-overs setup.
Maturing on and off the Field
As Hardik's cricketing career soared, he also underwent a transformation off the field. He matured as a person and learned to handle the pressures and responsibilities that came with international cricket.
His journey from a young, flamboyant cricketer to a more composed and responsible individual was inspiring to many.
Investments and business ventures
Hardik Pandya's vision extended beyond the cricket pitch. He recognized the importance of financial security and smart investments. In the ever-growing startup ecosystem of India, Hardik found an opportunity to diversify his portfolio. He invested in promising startups such as Aretoo, LendenClub, Yu Foodlabs, and Bidzapp.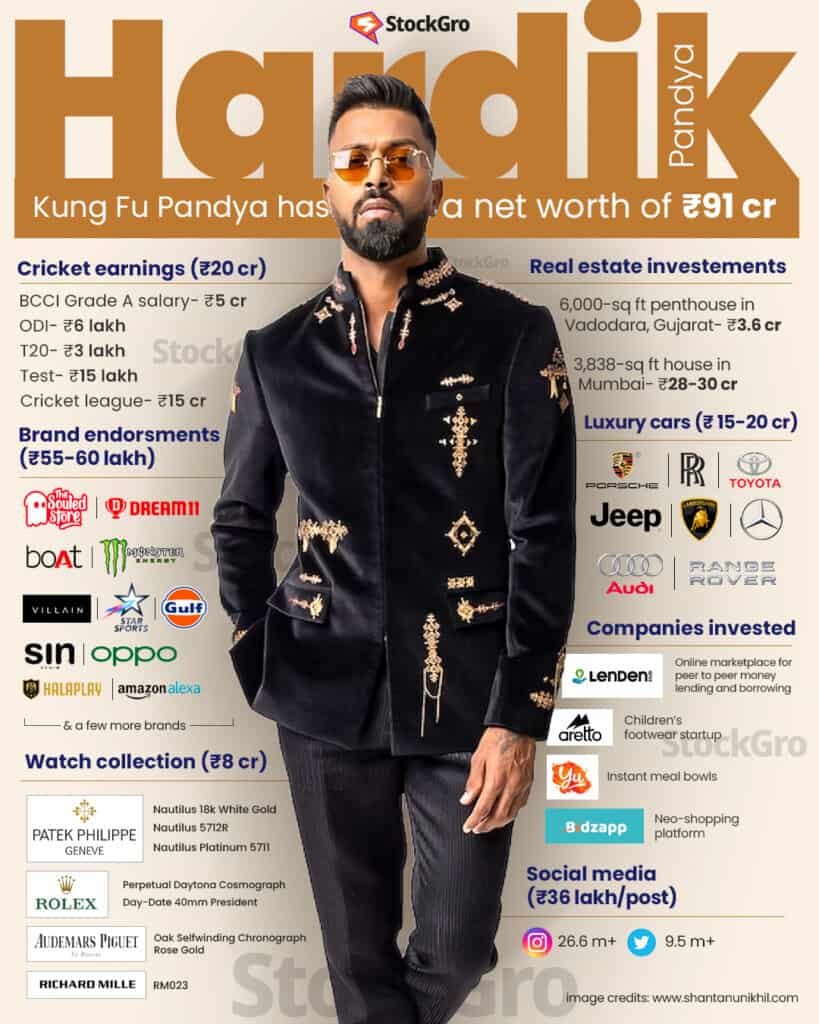 His foray into entrepreneurship showcased his astute business acumen. Hardik Pandya wasn't just securing his financial future but also contributing to the growth of innovative businesses in India. His investments were a testament to his forward-thinking mindset.
The visionary entrepreneur
Hardik Pandya's success in the business world didn't come as a surprise. His ability to read the market, identify promising ventures, and provide them with valuable support was akin to his role as an all-rounder on the cricket field. He had become a visionary entrepreneur who balanced the demands of sports and business with finesse.
Net worth and financial success
One of the most impressive aspects of Hardik Pandya's journey is his incredible rise in net worth. From humble beginnings in Surat to a net worth of approximately ₹90 crore, his story is a testament to the power of determination and hard work.
His endorsements, cricket contracts, and smart investments all contributed to his financial success.
Also Read: Vijay Sethupathi: The Maverick Actor Who Conquered Indian Cinema
The role model
Hardik Pandya's journey resonates with millions of aspiring cricketers and entrepreneurs across India. He symbolises the idea that with talent, hard work, and the right opportunities, anyone can overcome adversity and achieve greatness.
His story is an inspiration for those who dare to dream big and work relentlessly to turn those dreams into reality.
Conclusion
Hardik Pandya's remarkable journey from rags to riches is a story of resilience, determination, and relentless pursuit of excellence. He has carved a niche for himself in the world of cricket and made a significant mark as a visionary entrepreneur.
Hardik Pandya's story is a testament to the limitless possibilities that await those who dare to dream and work tirelessly to achieve their goals. His legacy will continue to inspire generations of cricketers and entrepreneurs in India and beyond.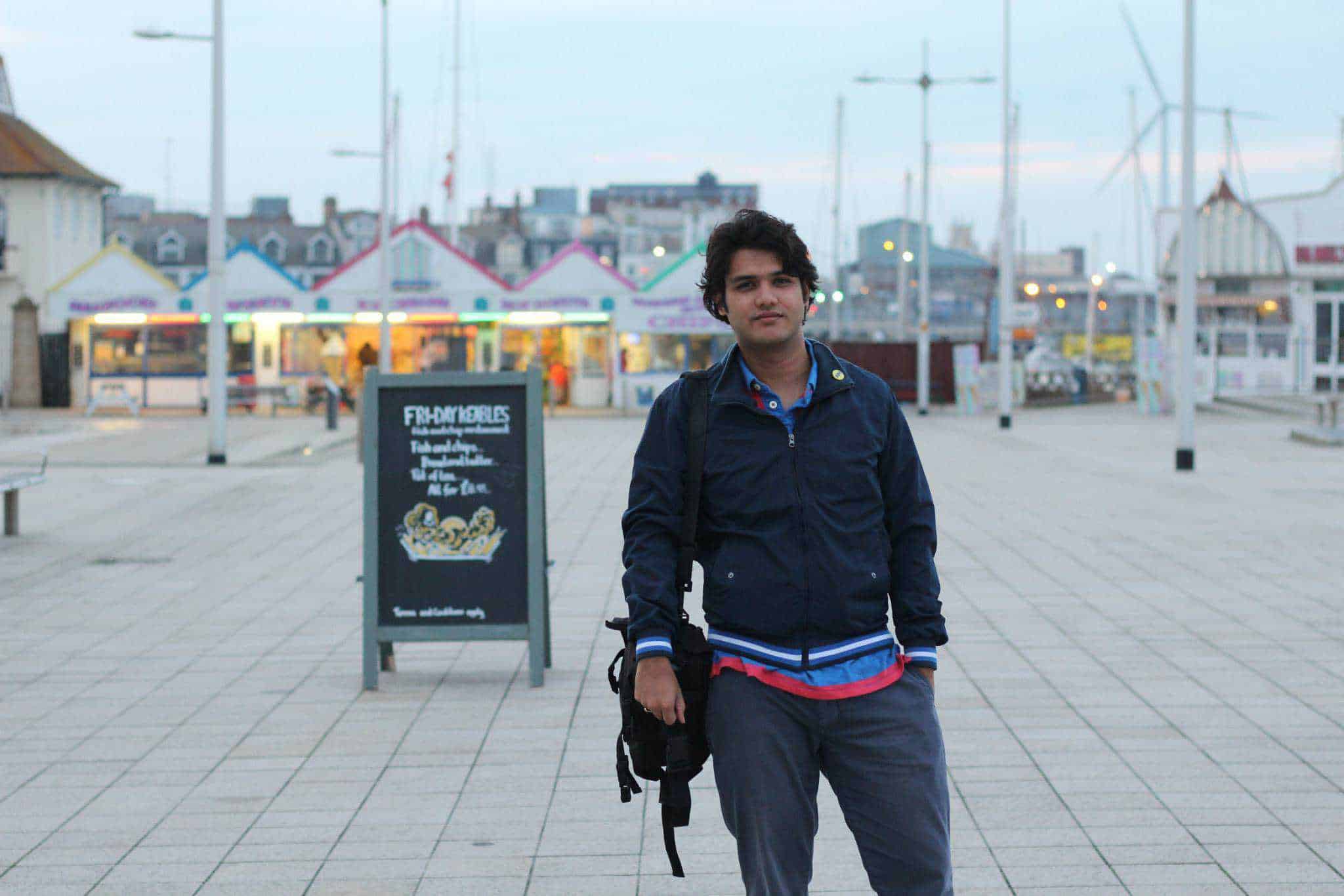 A copywriter by day, cine-connoisseur by night, fascinated by facts & figures of films, sports, finance. Most days strategizing startups' success. It's always lights, camera, business!