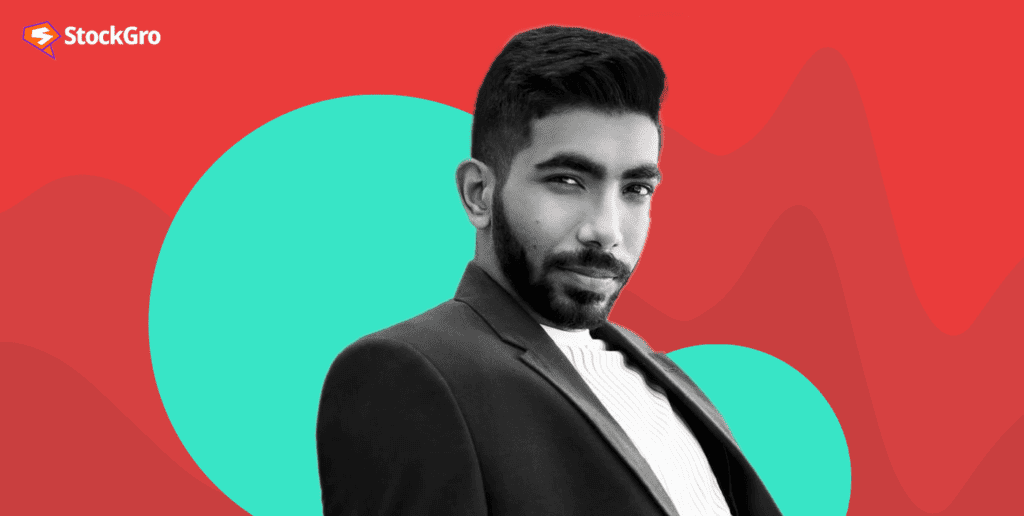 Jasprit Bumrah, one of India's premier fast bowlers, has not only made a significant impact on the cricket field but has also managed to amass an impressive fortune through his cricketing career and astute investments.
Bio:
Name:
Jasprit Jasbirsingh Bumrah
Place of Birth:
Ahmedabad, Gujarat, India
DOB:
6 December 1993 (age 29)
Relative:
Sanjana Ganesan (Wife)
Match fees



BCCI Grade A Salary = ₹7 crore
ODI = ₹6 lakh
Test = ₹15 lakh
T20 = ₹3 lakh
IPL= ₹12 crore
Net worth:
₹60 crore
Properties:
Luxury designer house in Gujrat worth ₹3 crore Plus more properties around India
Luxury assets:
Mercedes Benz, Range Rover, and Nissan
The rise of Jasprit Bumrah
Jasprit Bumrah was born in Ahmedabad, Gujarat. He began his cricketing journey as a teenager, and his unique bowling action quickly caught the attention of scouts and coaches.
Bumrah's rise to prominence was swift, and he made his debut for the Indian national cricket team in January 2016. Since then, he has been an integral part of the Indian cricket setup.
Bumrah's remarkable success can be attributed to his ability to consistently bowl yorkers at the death, a skill that has made him one of the most feared bowlers in limited-overs cricket.
His rapid rise through the ranks of Indian cricket led to him becoming a regular in both the Indian national team and the Indian Premier League (IPL). He has become a household name in Indian cricket.
His earnings in the League, and his investments truly showcase his financial acumen.
You may also like: Hardik Pandya: From rags to riches – A cricketer and entrepreneur's journey
Earnings through league cricket
Jasprit Bumrah's association with the Mumbai Indians (MI) in the IPL has been a fruitful one, both in terms of on-field success and financial rewards. He was picked up by MI in the 2013 IPL auction, but it was in the subsequent years that he truly established himself as a force to be reckoned with.
Over the years, Bumrah has been a mainstay in the MI bowling attack. His ability to bowl accurately in the death overs has been instrumental in MI's several IPL victories. With consistent performances, he has been one of the top earners in the IPL.
Let's take a look at Bumrah's IPL earnings year by year:
| | |
| --- | --- |
| 2013: | Bumrah's base price was just ₹10 lakh, but he was bought by MI for ₹1.2 crore. |
| 2014: | He was retained by MI for ₹1.2 crore. |
| 2015: | MI retained him for ₹1.2 crore again. |
| 2016: | Salary received a significant boost as MI retained him for ₹1.2 crore once more. |
| 2017: | In this year, Bumrah's salary soared to ₹1.2 crore. |
| 2018: | Consistent performances led to increase in earnings as MI retained him for ₹7 cr. |
| 2019: | Bumrah continued to be a crucial part of MI, earning ₹7 crore. |
| 2020: | In this year, MI retained him for ₹7 crore again. |
| 2021: | MI retained him for ₹7 crore once more. |
| 2022: | With good form, his pay got better and MI retained him for ₹12 crore. |
| 2023: | The trend continued, and he was retained for ₹12 crore. |
Bumrah's cumulative earnings from the IPL, as of 2022, stand at a staggering ₹40.2 crore. This makes him one of the highest-paid Indian cricketers in the history of the IPL.
Bumrah's investments and net worth
While Bumrah has undoubtedly raked in significant earnings through his IPL contracts and central contracts with the Indian cricket team, he has also displayed financial acumen through his investments.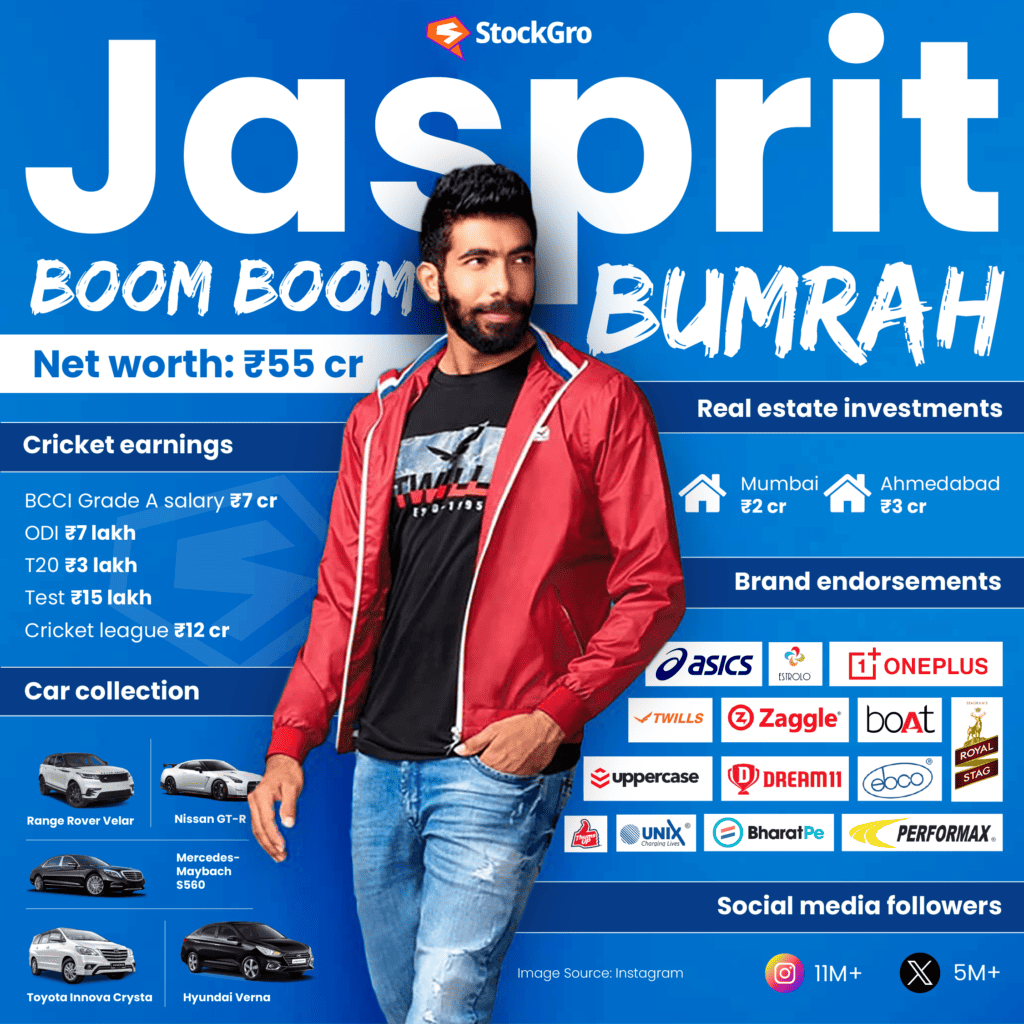 Real Estate: Like many financially savvy athletes, Bumrah has ventured into real estate. He owns several properties in his hometown of Ahmedabad and other locations.

Real estate investments are often seen as a stable and appreciating asset class, and Bumrah seems to have made wise choices in this regard. He owns a luxury designer house in Gujrat, India which he bought in the year 2015.

The current value of his house is Rs. 3 crore. Also, he owns multiple real-estate properties across the country.

Cars: Bumrah owns a few of the best luxury cars in the world. The Car brands owned by Jasprit Bumrah include Mercedes Benz, Range Rover, and Nissan.
Endorsements: Bumrah has endorsed several brands, including prominent ones like Nike and Durex. These endorsement deals have not only added to his income but have also enhanced his brand value.

Startup Investments: In recent years, there have been reports of Bumrah investing in startups. While the details of these investments are not always public, investing in startups can be a lucrative venture if chosen wisely.

Philanthropy: Bumrah is also involved in charitable activities. While not an investment in the traditional sense, giving back to society is a commendable financial decision that can have a positive impact on the community.
Also Read: Virat Kohli: The iconic modern-day cricketer mastering the game of life
The pitch ahead:
Jasprit Bumrah's career trajectory has been nothing short of extraordinary. From a young boy with a unique bowling action to one of the world's leading fast bowlers, he has achieved remarkable success.

His earnings in the IPL and his investments demonstrate not only his prowess on the cricket field but also his financial intelligence.
As he continues to dazzle fans with his cricketing skills, it will be fascinating to see how his financial portfolio evolves. With the right financial management and investment choices, Bumrah could secure his financial future and continue to be a role model for aspiring cricketers and investors alike.
In conclusion, Jasprit Bumrah is not just a cricketing superstar but also a financially astute individual who understands the importance of making the most of his earnings and securing his future. As he continues to rise in the world of cricket, his journey in the world of finance will be equally exciting to watch.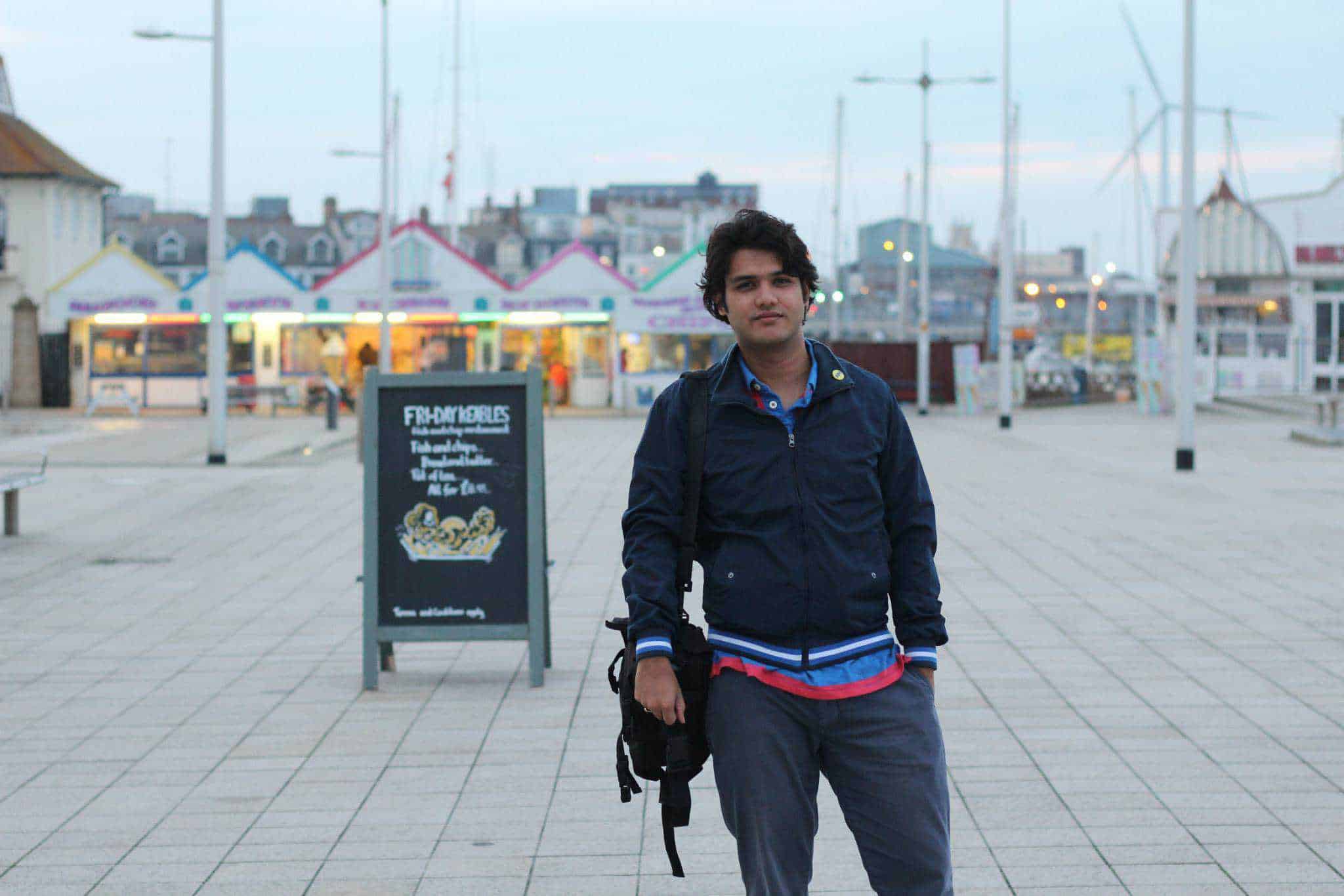 A copywriter by day, cine-connoisseur by night, fascinated by facts & figures of films, sports, finance. Most days strategizing startups' success. It's always lights, camera, business!