In the glitzy world of Bollywood, where dreams are woven into larger-than-life tales, one woman has managed to carve her path with grace, talent, and an entrepreneurial spirit. Priyanka Chopra, the former Miss World, not only conquered the Indian film industry but has also left an indelible mark on Hollywood.
With Priyanka Chopra's high net worth and successful business ventures soaring, Chopra exemplifies the essence of a modern-day icon.
The rise to superstardom
Priyanka Chopra's story begins with her coronation as Miss World in 2000, catapulting her into the spotlight. With her striking beauty and undeniable talent, it was no surprise that she soon became one of Bollywood's most sought-after and highest net worth actresses.
From her memorable performances in films like "Fashion" and "Mary Kom" to her versatility in portraying complex characters, Priyanka's acting prowess won hearts nationwide. But she wasn't content with just conquering Bollywood; Priyanka had her sights set on a bigger stage.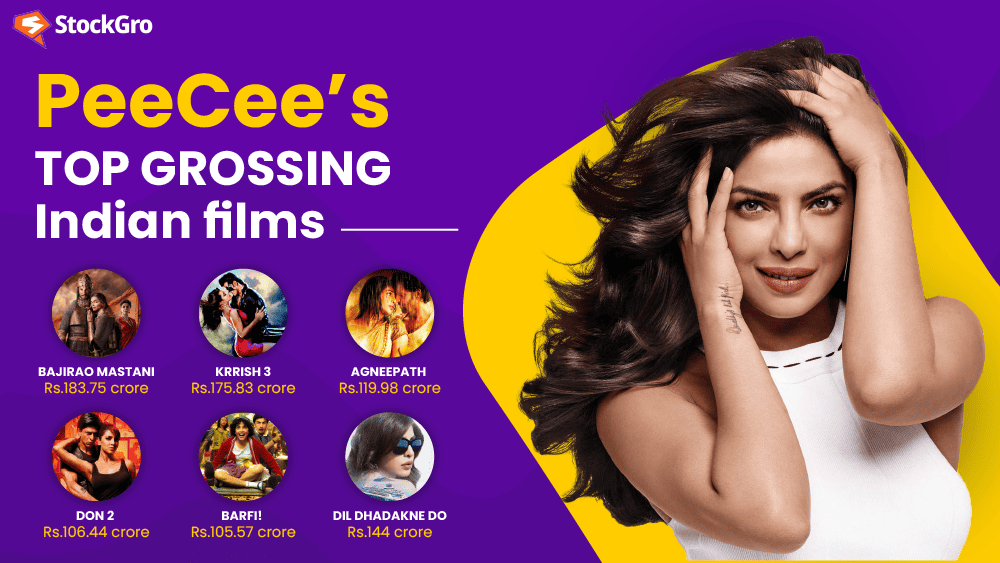 Going overseas to overcome tough times
Chopra's journey in Bollywood was not without its share of struggles, even after achieving remarkable success. Alongside her undeniable talent, she had to navigate through the complex web of industry politics that often hindered her progress. However, Priyanka's resilience and determination fueled her desire to break free from the limitations of the Indian film industry.
Recognizing the need for reinvention, Chopra set her sights on Hollywood, a realm known for its global reach and diverse opportunities.
By venturing into the international arena, Priyanka showcased her versatility and proved that she was more than just a Bollywood star. Moreover, she fearlessly embraced her passion for singing, unveiling yet another facet of her talent.
Despite the challenges faced, Priyanka Chopra's unwavering pursuit of growth inspires aspiring artists everywhere, encouraging them to embrace reinvention and strive for success on their terms.
You may also like: How Deadpool actor Ryan Reynolds got $75 million richer
Conquering hollywood
Transitioning from Bollywood to Hollywood is no easy feat, but Priyanka Chopra Jonas did it with finesse. Breaking barriers and challenging stereotypes, she boldly entered the American entertainment industry. Her role as Alex Parrish in the popular TV series "Quantico" showcased her acting chops to a global audience, earning her critical acclaim and a dedicated fan base.
She walked into the room, and it was like the molecules shifted in that way that superstars have. I was very confused because I didn't know who she was, but we all sat up straighter. We're like, this is clearly a movie star; it's like every hair on the back of your neck stands up watching her act. When I went back home I couldn't think about anyone else.

Joshua Asher, Creator of Quantico
Priyanka's Hollywood journey skyrocketed from there, with notable roles in films like "Baywatch" and "Isn't It Romantic." Her magnetic screen presence and determination proved that talent knows no boundaries.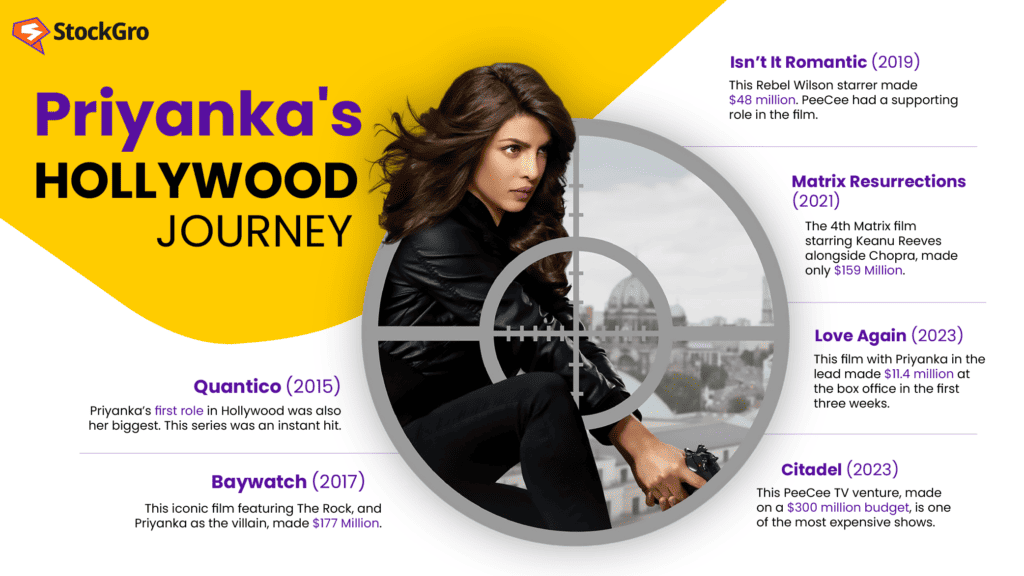 The challenges along the way
Despite her tremendous success, Priyanka Chopra has faced her fair share of challenges throughout her career. In Bollywood, she encountered the ever-present gender disparity and struggled to break free from the stereotypes imposed on actresses. However, instead of succumbing to the status quo, she became an advocate for change.
Priyanka fearlessly voiced her opinions on important social issues, using her platform to challenge the industry's norms and push for gender equality.
An entrepreneurial spirit and a flourishing net worth
Priyanka's ambition extends beyond entertainment. She has successfully ventured into the business world, leveraging her brand and influence to create a formidable empire. From launching her production company, Purple Pebble Pictures, to investing in technology startups, Priyanka has proven to be a shrewd businesswoman.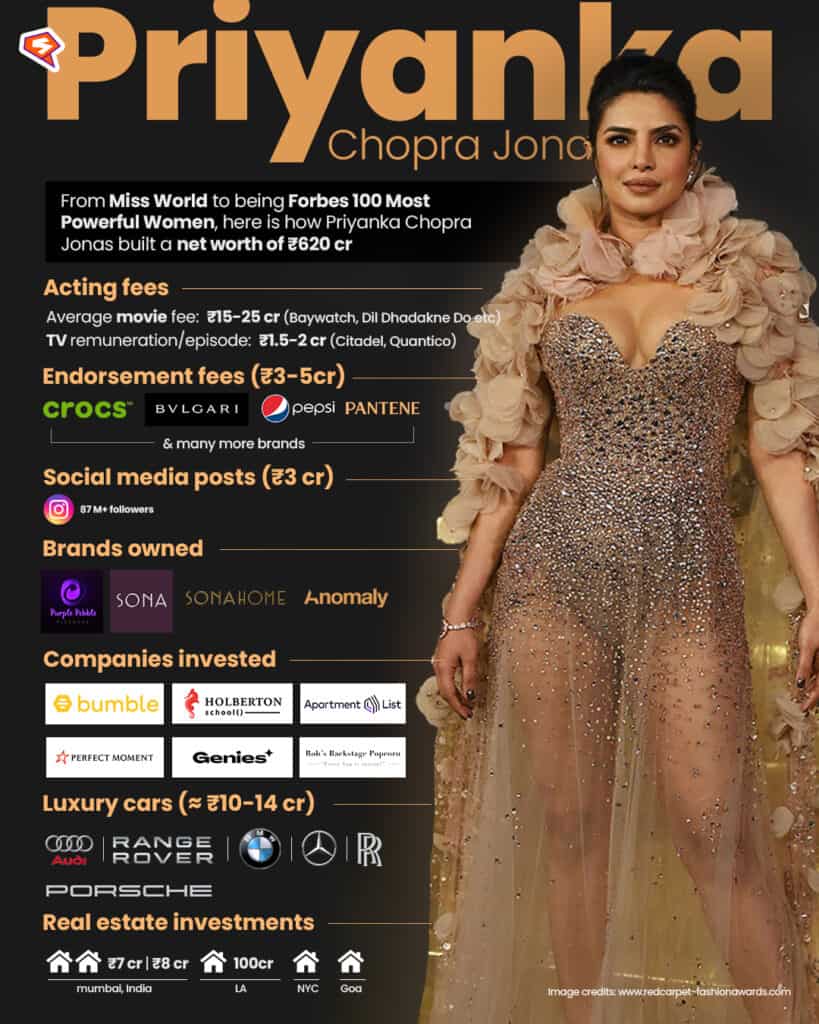 With her foray into the beauty industry by launching her own skincare line, she has shown that her talents extend far beyond acting. Priyanka's ability to diversify her portfolio and build a successful business empire is a testament to her entrepreneurial spirit.
Launched in 2021, Priyanka Chopra Jonas's beauty brand – Anomaly, beat Kylie Jenner, Selena Gomez's firm, to become one of the wealthiest brands with a revenue of Rs. 4,843 crores. Despite stepping into an extremely competitive market, her haircare company has been established as the 2nd wealthiest beauty brand of 2023, according to a new analysis.
As of 2023, Priyanka Chopra Jonas's net worth is ~$75 Million. That's some serious dough. And one shouldn't be shocked if she soon surpasses her male counterparts from the sub-continent.
Companies in which PeeCee has invested
Anomaly Haircare:
Priyanka's vegan and sustainable hair-care brand offers a range of affordable and chemical free products to people. Anomaly became the second wealthiest beauty brand of 2023.
Bumble:
PC invested in this online dating app in 2018 and also became an advisor for it during the app's India launch.
Holberton School:
Priyanka invested around $8.2 million in the coding school as the company's aim was in sync with her own aim to empower young girls with the help of technology.
Apartment List:
Her next investment was this rental marketplace in 2020. She joined the board of directors which also included singer Lizzo, and NBA player Andre Iguodala, amongst others.
Perfect Moment:
This luxury ski wear brand has both PC and her husband Nick Jonas as investors. This investment marks the actresses first foray into the fashion industry
Sona and Sona Home:
Along with her restaurant, Sona, PC also started a home-ware venture called Sona Home, to showcase her home decor brand that reflects Indian heritage and culture.
Genies:
This is a virtual avatar company that creates digital avatars and collectibles of artists for commercial purposes. Priyanka, along with Camilla Cabello and Paris Hilton are investors.
Also Read: How did actor Suniel Shetty become a business tycoon?
In a world where fame can be fleeting, Priyanka Chopra has proven that true success comes from embracing opportunities, overcoming challenges, and leveraging talent to create an enduring legacy. From being crowned Miss World to becoming an international star and savvy businesswoman, her journey is an inspiration to billions.
Priyanka's relentless pursuit of excellence and her genuine passion for her craft and causes have solidified her position as a true icon of our time.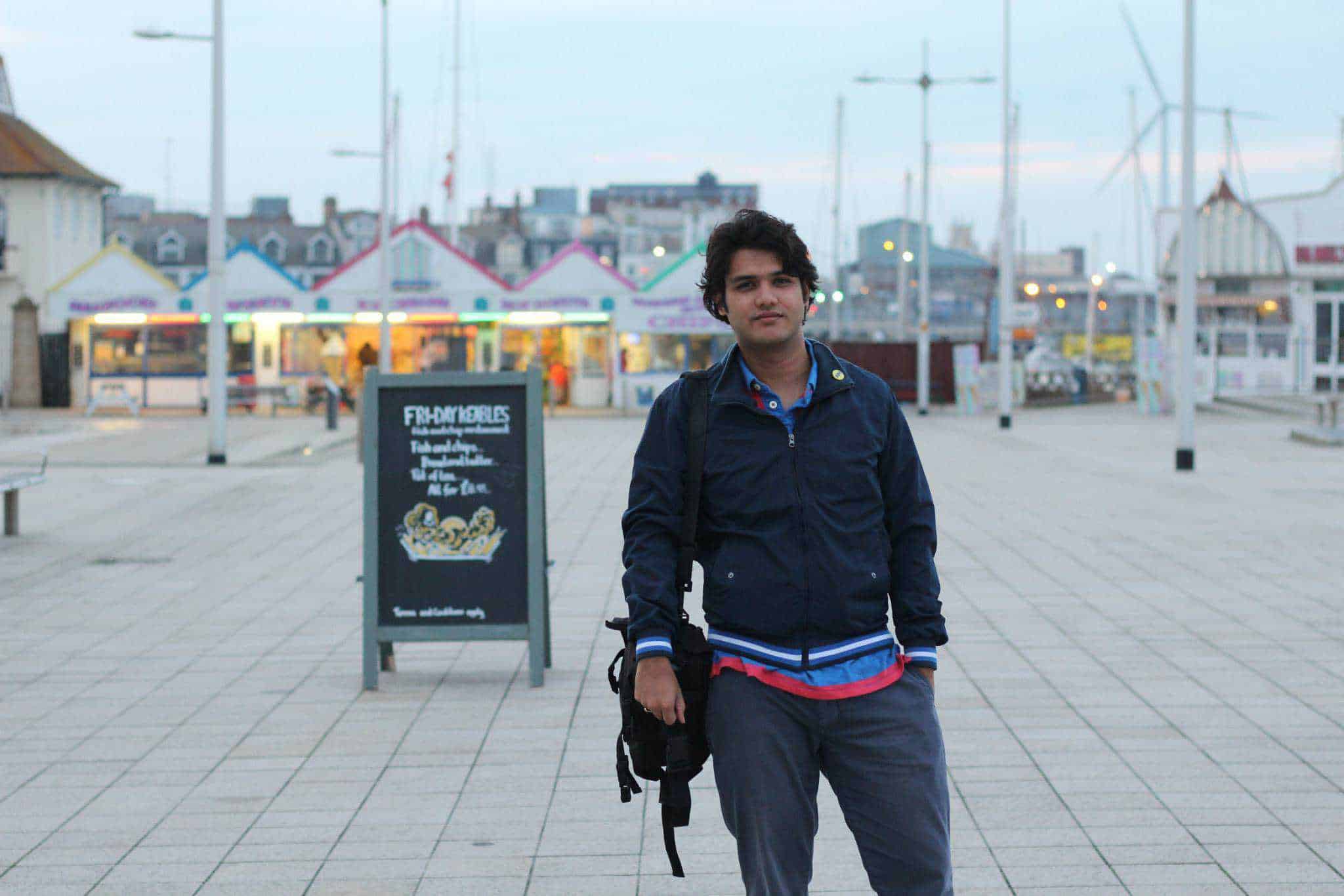 A copywriter by day, cine-connoisseur by night, fascinated by facts & figures of films, sports, finance. Most days strategizing startups' success. It's always lights, camera, business!