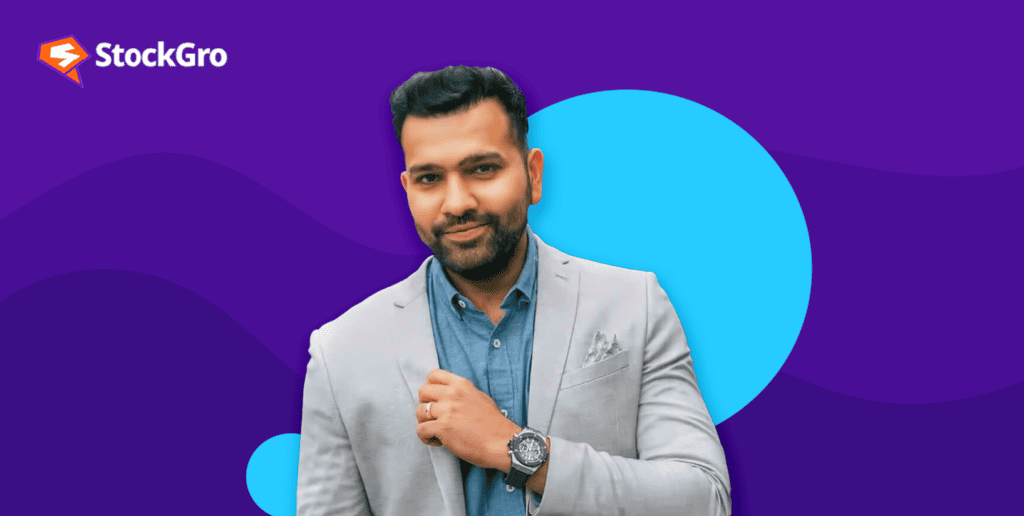 Rohit Sharma, fondly known as the "Hitman" in the cricketing world, is not only renowned for his impeccable batting skills but also for his remarkable success off the field.
With numerous records to his name, Rohit has not just dominated the cricket pitch but has also made wise financial moves throughout his career.
Let's dive into Rohit Sharma's earnings from cricket and endorsements, as well as his investments in property and startups.
Bio:
| | |
| --- | --- |
| Name: | Rohit Gurunath Sharma |
| Place of Birth: | Nagpur, Maharashtra, India |
| DOB: | 30 April 1987 (age 36) |
| Relative: | Ritika Sajdeh (wife) |
| Net worth: | ₹214 crore |
| Properties: | 4BHK in Mumbai – ₹30 Crore |
| Luxury assets: | Lamborghini, Mercedes, Toyota, BMW |
Rohit Sharma's cricket earnings:
| | |
| --- | --- |
| Team India Salary (Grade A+ player) | ₹7 Crore (annually) |
| Test match | ₹15 Lakh (per match) |
| ODI | ₹6 Lakh (per match) |
| T20I | ₹3 Lakh (per match) |
| T20 League | ₹16 Crore (annually) |
Rohit Sharma's cricketing journey began at a young age, and he quickly rose through the ranks to become a vital part of the Indian cricket team. His consistent performance in both domestic and international formats has contributed significantly to his earnings.
In the IPL, Rohit Sharma's association with the Mumbai Indians (MI) has been lucrative. He not only leads the team but also secures a substantial chunk of his earnings through his performance in the tournament. Rohit's earnings from cricket alone stand at almost ₹30 Crore per year.
You may also like: Sachin Tendulkar – A master blaster on and off the field
Rohit Sharma brand Endorsements:
Rohit's cricketing prowess has made him a sought-after figure in the world of endorsements. He has been the face of several brands, ranging from sportswear and equipment to popular consumer goods.
His endorsement deals have substantially added to his financial portfolio, making him one of the most marketable athletes in India. Sharma's calm and composed demeanour, both on and off the field, has resonated well with brands looking for a reliable and influential ambassador.
Rohit Sharma's property investments:
One of the key aspects of Rohit Sharma's financial success is his strategic investments. Real estate investments are a common choice, and Rohit is reported to have invested in a 4-BHK property in Mumbai worth 30 Cr.
Also Read: From breaking records to minting money
From opening on field to start up investments off field
From being partners in life to the business arena, Rohit Sharma and wife Ritika Sajdeh, have ventured into entrepreneurship and investments in startups. In India's burgeoning startup ecosystem, Sharma's investments demonstrate a forward-thinking approach to wealth management.
He understands that cricketing careers can be relatively short-lived, and diversifying into various business ventures is a prudent financial move. Startups, with their innovative ideas and potential for exponential growth, have caught the attention of the cricketing icon.
They have invested in Rapidobotics, which is into robotic automation solutions and Vieroots Wellness Solutions, which is a healthcare company.
A massive net worth
Rohit Sharma's staggering net worth of ₹214 crore is a testament to his dual success in cricket and endorsements. As a prolific opening batsman and captain of the Indian cricket team, he has amassed significant earnings from international and IPL matches.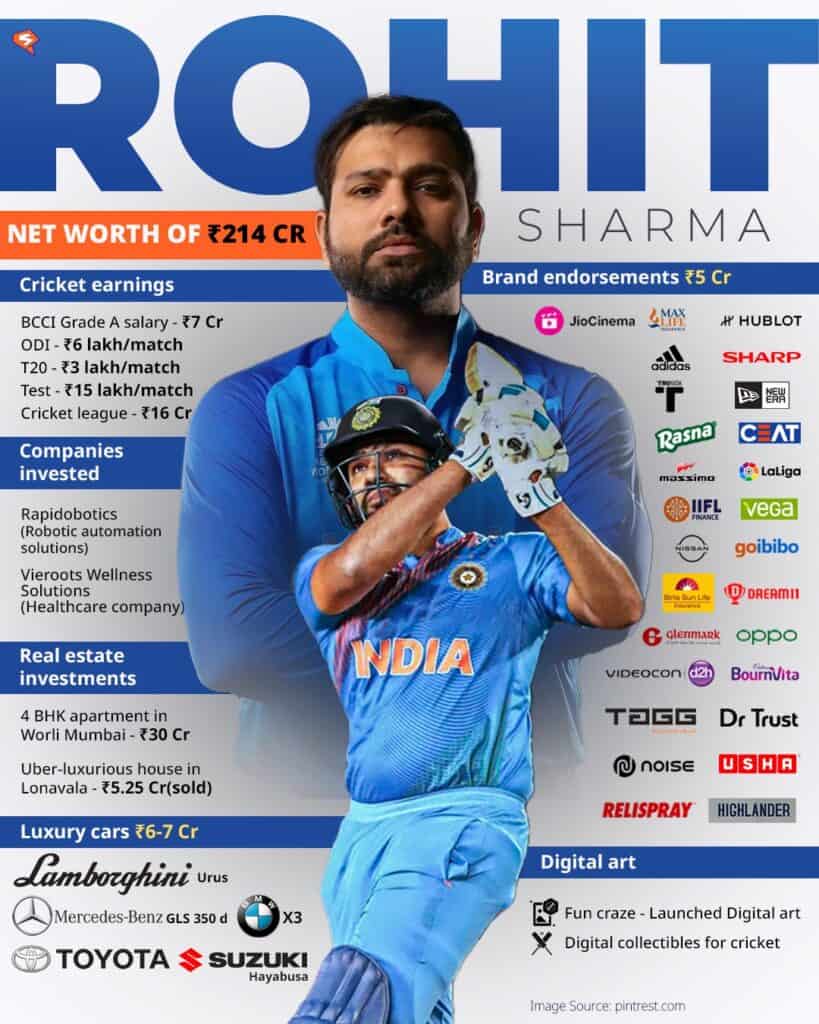 Sharma's consistency in both formats has secured his position as one of the highest-earning cricketers in the world. Additionally, he has secured lucrative brand endorsements with top-tier companies, further boosting his income.
With great wealth comes the greater responsibility to invest the money wisely for the future of your loved ones and society. And so beyond cricket and endorsements, Mr. and Mrs. Sharma have ventured into startup investments, showcasing their strategic approach to wealth management.
Rohit Sharma's journey to financial success has been a blend of sporting excellence, marketing appeal, and astute financial planning. His wife Ritika Sajdeh has stood by his side in building this empire.
Also Read: Jasprit Bumrah: Bowling yorkers on the field, scoring big off of fit!
Caring for the society
In addition to these, Sharmaji ka beta is actively involved in philanthropic activities and charity work, demonstrating his commitment to giving back to society.
Rohit Sharma's journey from a young cricket enthusiast to a financial success story is indeed inspirational. His earnings from cricket, coupled with lucrative endorsement deals and strategic investments, have secured his place not just as a cricketing sensation but as a financially astute individual.
While I cannot provide specific figures and current updates, the Hitman's financial journey continues to be an example of success in the cricketing world.
Conclusion:
In today's world, sports stars like Rohit Sharma are not just defined by their on-field excellence but also by their financial acumen and the positive impact they create beyond the boundary ropes.
Rohit's career continues to evolve, and so does his financial journey. As fans, we can only look forward to more records being shattered and more entrepreneurial endeavours from this cricketing icon.
At the age of 36, though it might be time for him to retire from international cricket, his journey as a businessman and investor has just begun.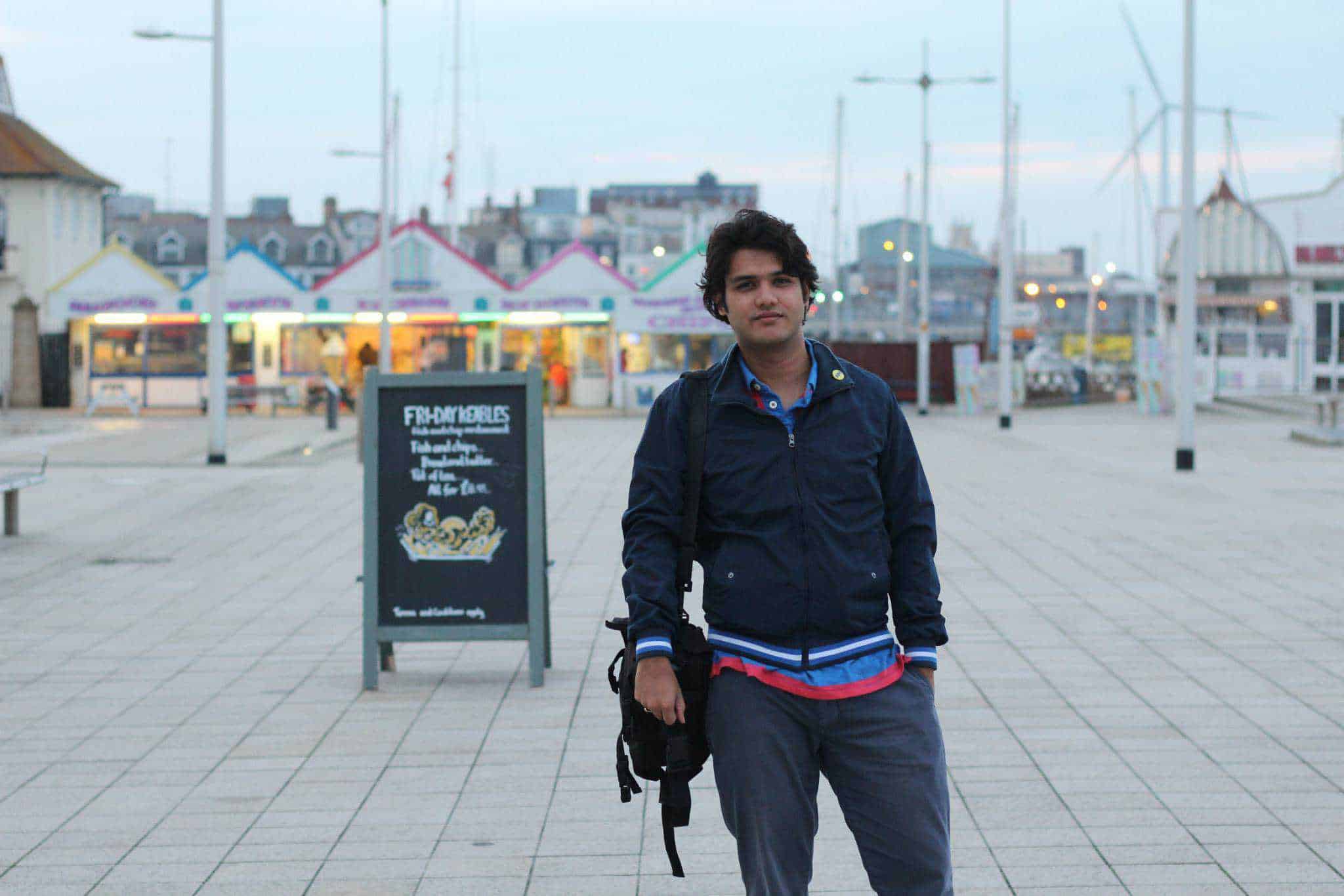 A copywriter by day, cine-connoisseur by night, fascinated by facts & figures of films, sports, finance. Most days strategizing startups' success. It's always lights, camera, business!