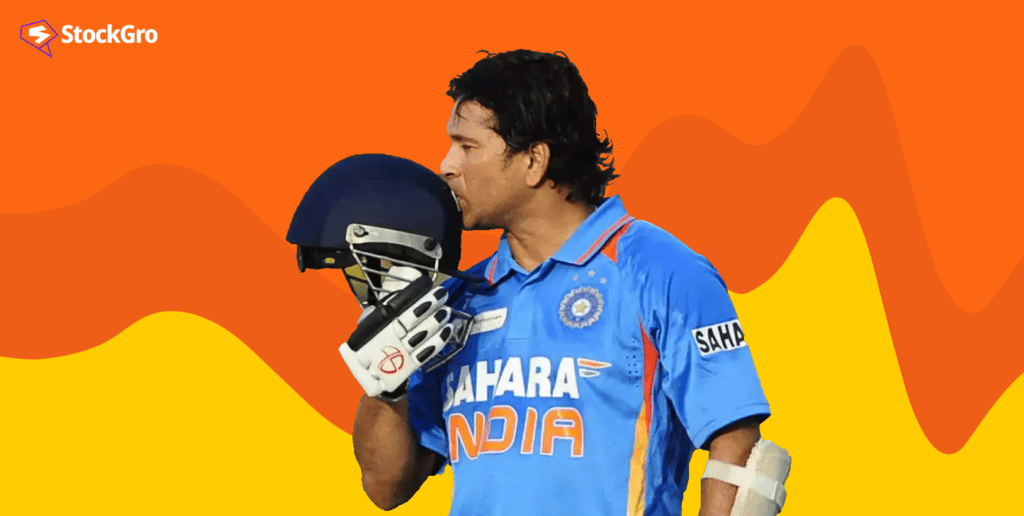 In the world of cricket, where legends are made and records are broken, one name stands tall and unrivalled – Sachin Tendulkar. Widely regarded as the "God of Cricket" and undoubtedly one of the Greatest of All Time (GOAT), Sachin's journey from a young prodigy to a cricketing icon has left an indelible mark on the sport and the hearts of millions of fans worldwide.
But what sets him apart is not just his on-field brilliance; it's also his remarkable success off the pitch that makes him a true legend.
Name:
Sachin Ramesh Tendulkar
Place of Birth:
Mumbai, Maharashtra, India
DOB:
24 April 1973 (age 50)
Relative:
Anjali Tendulkar (Wife)
Arjun Tendulkar (Son)
Sara Tendulkar (Daughter)
Net worth:
~₹1,390 crore
IPL Salary
₹ 8 crores
Properties:
Designer home in Mumbai – ₹60 crores
Sachin Tendulkar car collection: 
Ferrari 360 Modena Nissan GT-RBMW i8BMW M5Mercedes-BenzBMW X5MBMW M6 and many others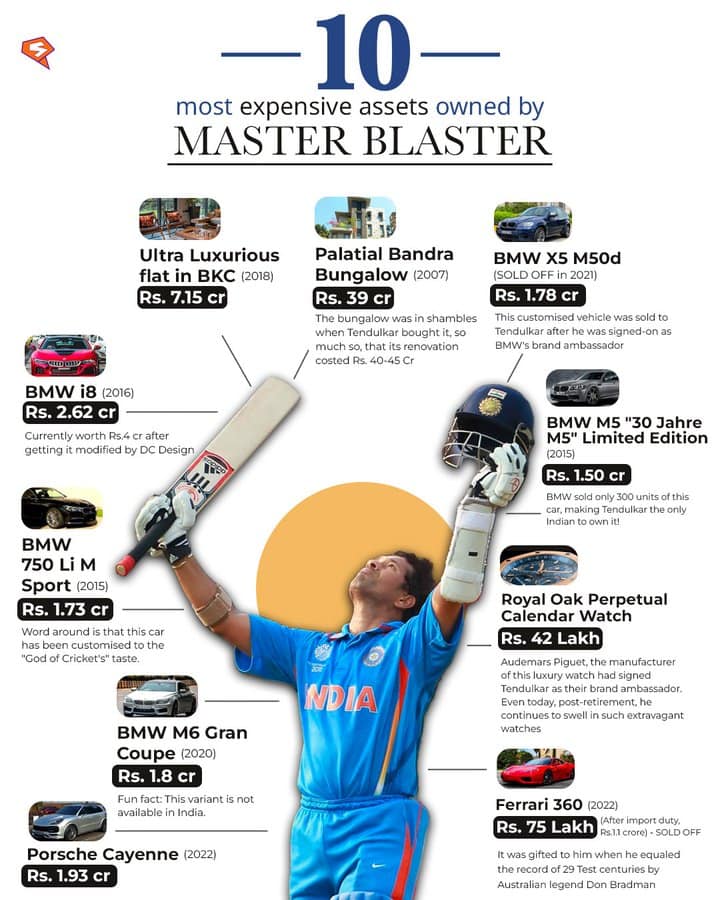 The early innings: A Young sensation
Sachin Tendulkar burst onto the international cricket scene like a comet, making his Test debut for India at the tender age of 16 in 1989. His precocious talent was evident from the start as he fearlessly took on some of the fiercest bowlers in the world.
Nicknamed the "Little Master," Sachin displayed a level of technical mastery and temperament rarely seen in someone so young.
While his cricketing skills were garnering attention, what truly set him apart was his ability to unite a nation through sport. In a country where cricket is not just a game but a religion, Sachin Tendulkar became the high priest of the sport.
He inspired a generation of cricketers and ignited a passion for the game that continues to burn brightly in India.
You may also like: From breaking records to minting money
The record breaker: Runs, centuries, and milestones galore
Sachin's cricketing journey was a tapestry woven with records and milestones. He holds the record for the most runs in Test and One-Day International (ODI) cricket, with 15,921 and 18,426 runs, respectively.
But what truly captured the imagination of fans were his centuries – a staggering 100 international centuries, including the first-ever double century in ODIs.
His insatiable hunger for runs and his ability to adapt to different formats and conditions made him a complete cricketer. He wasn't just a master of the cover drive or the straight drive; he was a master of the game itself.
Beyond the boundary: Off the field success
While Sachin's exploits on the field earned him adulation and respect, he didn't stop at being just a cricketing superstar. He leveraged his fame, passion, and astute business sense to diversify his portfolio and secure his financial future.
Advertisements and endorsements: From boost to BMW
Sachin Tendulkar's face became synonymous with several brands and products. His endorsements ranged from the iconic Boost energy drink to luxury carmaker BMW.
His credibility and clean image made him the go-to choice for advertisers looking to connect with the Indian masses. 
The master blaster's garage:
Sachin is fond of cars and purchases new cars whenever new models of luxurious brands are launched. He has also been working with various car manufacturing companies as a brand ambassador and earns a good amount of money. The cars owned by Tendulkar can be valued at around Rs. 20 crores.
The IPL bonanza: Mumbai Indians and more
The advent of the Indian Premier League (IPL) in 2008 opened up new avenues for cricketers to earn big bucks. Sachin Tendulkar's association with the Mumbai Indians not only elevated the franchise's status but also added significantly to his coffers.
As the captain of the team, he brought his vast cricketing knowledge to the forefront and played a pivotal role in shaping the team's success.
Also Read: Jasprit Bumrah: Bowling yorkers on the field, scoring big off of fit! 
Investments in property:
Beyond the cricketing field and advertising endorsements, Sachin delved into the world of investments. He exhibited a knack for making smart choices, not just with the cricket ball but also with his financial decisions.
One notable investment was in property. Sachin invested in real estate, including luxury apartments and commercial spaces, strategically increasing his net worth over time.
One of his most prized possessions would be a luxury designer House in 19-A, Perry Cross Rd, Bandra West, Mumbai. He Built this House in 2009. The Cost of the House is around Rs.60 Crores. 
Opening partnerships with startups
Another intriguing aspect of Sachin's investment journey was his foray into startups. He displayed an astute understanding of the emerging tech landscape by investing in companies like Smartron and Universal Collectabillia. This demonstrated his willingness to embrace innovation beyond the cricketing arena.
Tendulkar has invested in many more startups. These include Smaaash Entertainment JetSynthesys, Spinny, International Tennis Premier League, @sdrive_india, and Sach. 
Brands and Sachin
In 1995, Tendulkar signed a 5-year deal worth INR 45 crore, the first of its kind for an Indian sportsman.
Sachin Tendulkar, the cricketing legend, has been a sought-after figure for brand endorsements throughout his illustrious career. His association with various brands not only added to his global fame but also elevated the market presence of those companies.
Tendulkar's trustworthy image and remarkable career made him a compelling choice for advertisers worldwide. 
The God of Cricket struck a never-heard-before Rs 100-crore deal with Mark Mascarenhas's sports management firm WorldTel in 2001, which was the beginning of the phenomenon of the brand Sachin.
Since then, the master blaster has been a top endorser for marquee brands including Pepsi, Boost, Adidas and MRF, among many others.
Tendulkar's association with MRF, the tire manufacturing giant, was a legendary partnership that spanned decades. As the brand ambassador, Tendulkar's impact on the company was transformative.
Under his ambassadorship, MRF's brand equity soared, solidifying its position as a premium tire manufacturer. This iconic partnership showcased how a cricketing legend and a tire giant could collaborate to create a legacy of excellence and reliability that transcended boundaries.
Can you believe young cricket fans in the 90s actually thought MRF was a bat manufacturing company? 
The passion beyond cricket:
Sachin Tendulkar's love for sports extended beyond the cricket pitch. He's often seen cheering for his favourite football team, Kerala Blasters FC, in the Indian Super League (ISL). In fact, he co-owns the team, adding another feather to his cap as a sports entrepreneur.
Also Read: Hardik Pandya: From rags to riches – A cricketer and entrepreneur's journey
Giving back to society
While Sachin Tendulkar's financial success is awe-inspiring, what truly cements his legacy is his commitment to social causes. He has consistently used his platform and resources to make a difference in the lives of others.
His support for education, healthcare, and underprivileged children through initiatives like the Sachin Tendulkar Foundation showcases his dedication to giving back to society.
A true legend: On and off the field
Sachin Tendulkar's journey from the dusty streets of Mumbai to the hallowed cricketing grounds is the stuff dreams are made of. His cricketing records and achievements are a testament to his talent, perseverance, and dedication.
But what truly separates Sachin from the rest is his ability to seamlessly transition from being a cricketing icon to a successful entrepreneur and a philanthropist with a heart of gold. He's not just a legend; he's an inspiration for generations to come.
In conclusion, Sachin Tendulkar isn't just the "Master Blaster" with the bat; he's also the "Master Strategist" when it comes to his finances and investments.
His life story is a playbook for success, both on and off the field, and a reminder that with talent, hard work, and smart choices, you can truly achieve greatness. Sachin Tendulkar, the man who made cricket his canvas, continues to inspire and leave an indelible mark on the world.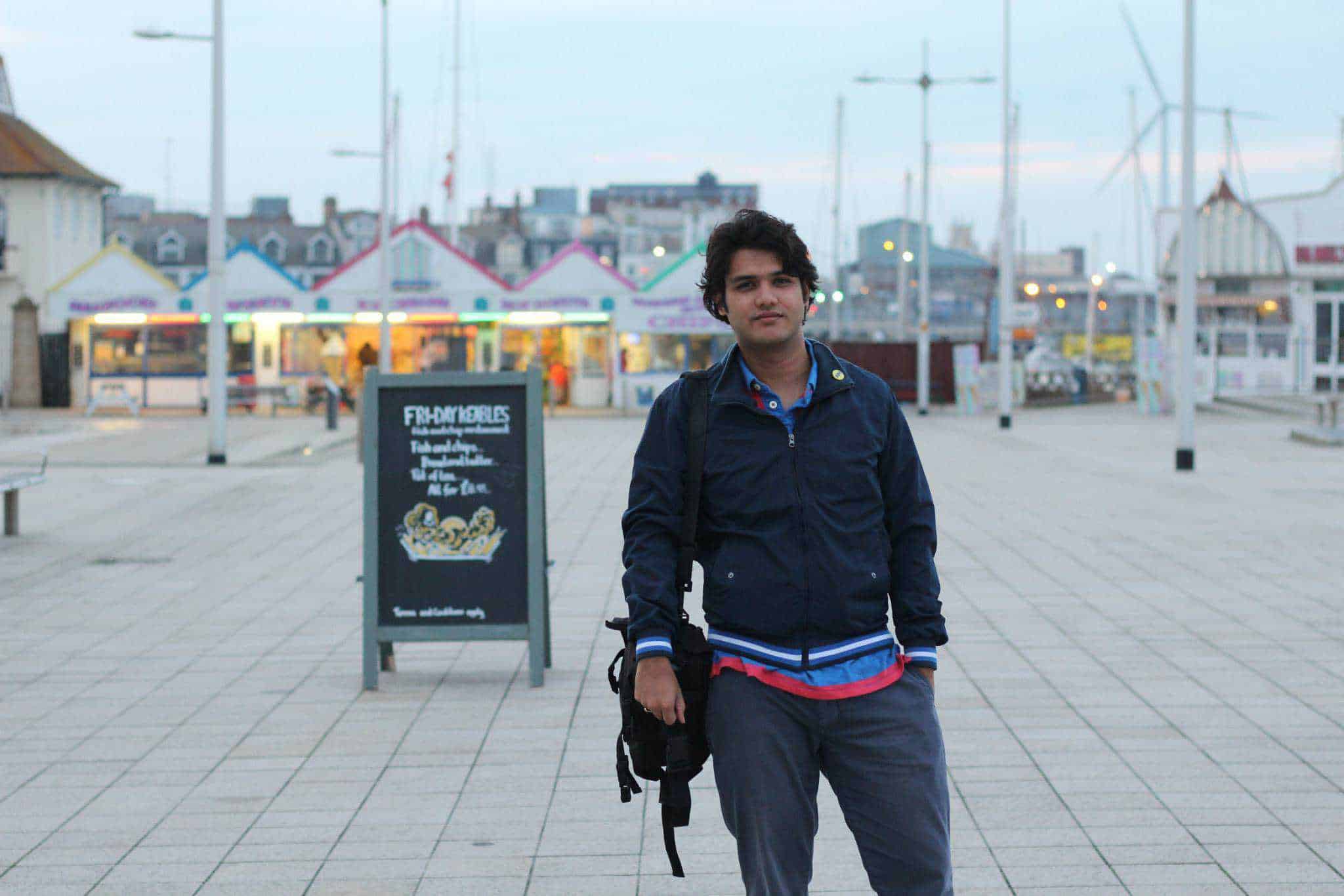 A copywriter by day, cine-connoisseur by night, fascinated by facts & figures of films, sports, finance. Most days strategizing startups' success. It's always lights, camera, business!