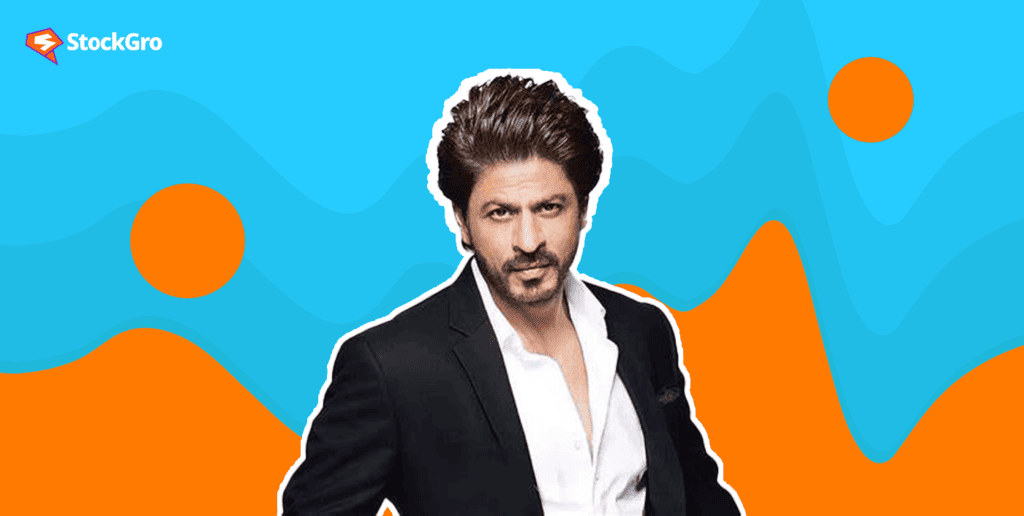 About Shah Rukh:
Shah Rukh Khan, naam toh suna hi hoga! The world of Bollywood has witnessed the rise of many stars, but there is one name that shines brighter than the rest – Shah Rukh Khan.
Often referred to as the Badshah of Bollywood, SRK has not only captivated audiences with his mesmerising performances but has also become a force to be reckoned with in the world of business. From his own production house to a myriad of investments, this charismatic actor has proven that he is more than just India's biggest superstar.
Bio:
Name:
Shah Rukh Khan
Place of Birth:
New Delhi, India
DOB:
2 November 1965 (age 57)
Relative:
Gauri Khan (Wife) Suhana Khan (Daughter)Aryan Khan (Son)
Movie fees:
100-150 crores (Including Profit sharing)
Net worth:
₹6050 Crore
Personal Investments
Worth over Rs. 930 Crore
Properties:
Mannat, Bandra, Mumbai worth – ₹200 Cr
Signature Villa at Palm Jumeirah, Dubai, worth-₹100Cr
Holiday home, Alibaug, worth – ₹15 Cr
Palatial Villa, Central London's Park Lane – ₹183 Cr
Businesses owned
IPL team
Kolkata Knight Riders – 55% stake worth Rs. 200 Cr
South African Premier League
Cape Town Knight Riders
Byju's
Undisclosed % stake
Production company (Red Chillies Entertainment)
Annual turnover ~Rs 500 Cr
Kidzania properties
(amusement parks for kids)
RC VFX studio
–
Shah Rukh's Luxury car collection:
BMW 6 series
₹90 Lakh
BMW 7 series
₹2.50 Crore
BMW i8
₹2.3 Crore
Audi A8
₹1.60 Crore
Rolls Royce Drophead Coupe
₹7.60 Crore
Mitsubishi Pajero
₹30 Lakh
Toyota Land Cruiser
₹1.47 Crore
Bugatti Veyron
₹11.39 Crore
Bentley Continental GT
₹4.04 Crore
Vanity van worth
₹4 Crore
You may also like: Virat Kohli: The iconic modern-day cricketer mastering the game of life
Box Office
| | | |
| --- | --- | --- |
| Movie Name | Year | Box Office performance |
| Dilwale Dulhania Le Jayenge | 1995 | ₹200 Cr |
| Kuch Kuch Hota Hai | 1998 | ₹106 Cr |
| Kabhi Khushi Kabhi Gham | 2001 | ₹136 Cr |
| Devdas | 2002 | ₹168 Cr |
| Kal Ho Na Ho | 2003 | ₹86 Cr |
| Veer Zara | 2004 | ₹104 Cr |
| Main Hoon Na | 2004 | ₹89 Cr |
| Kabhi Alvida Na Kehna | 2006 | ₹113 Cr |
| Don | 2006 | ₹106 Cr |
| Chak De! India | 2007 | ₹109 Cr |
| Om Shanti Om | 2007 | ₹150 Cr |
| Rab Ne Bana Di Jodi | 2008 | ₹157 Cr |
| My Name is Khan | 2010 | ₹223 Cr |
| Ra.One | 2011 | ₹207 Cr |
| Don 2 | 2011 | ₹203 Cr |
| Jab Tak Hai Jaan | 2012 | ₹235 Cr |
| Chennai Express | 2013 | ₹423 Cr |
| Happy New Year | 2014 | ₹394 Cr |
| Dilwale | 2015 | ₹376 Cr |
| Fan | 2016 | ₹182 Cr |
| Dear Zindagi | 2016 | ₹136 Cr |
| Raees | 2017 | ₹304 Cr |
| Jab Harry Met Sejal | 2017 | ₹153 Cr |
| Brahmastra Part One | 2022 | ₹431 Cr |
| Pathaan | 2023 | ₹1050 Cr |
Taking matters in his own hands
When it comes to the glitz and glamour of Bollywood, SRK's production house, Red Chillies Entertainment, stands at the forefront. Founded in 2002, this powerhouse has been responsible for producing some of the biggest blockbusters in Indian cinema.
From heartwarming love stories to gripping action flicks, Red Chillies Entertainment has consistently delivered films that have struck a chord with audiences worldwide.
Lights, camera, cricket!
But SRK's entrepreneurial ventures don't stop there. He has also dipped his toes into the world of sports, co-owning the Kolkata Knight Riders, a franchise in the immensely popular Indian Premier League (IPL). KKR is one of the few IPL teams to have been there from the
Beyond the realms of entertainment, Shah Rukh Khan has expanded his investment portfolio to diverse industries. SRK's business acumen also extends to the world of real estate, as he owns luxurious properties in Mumbai, Dubai, and London.
Who knew that the King of Bollywood would also be the King of Investments?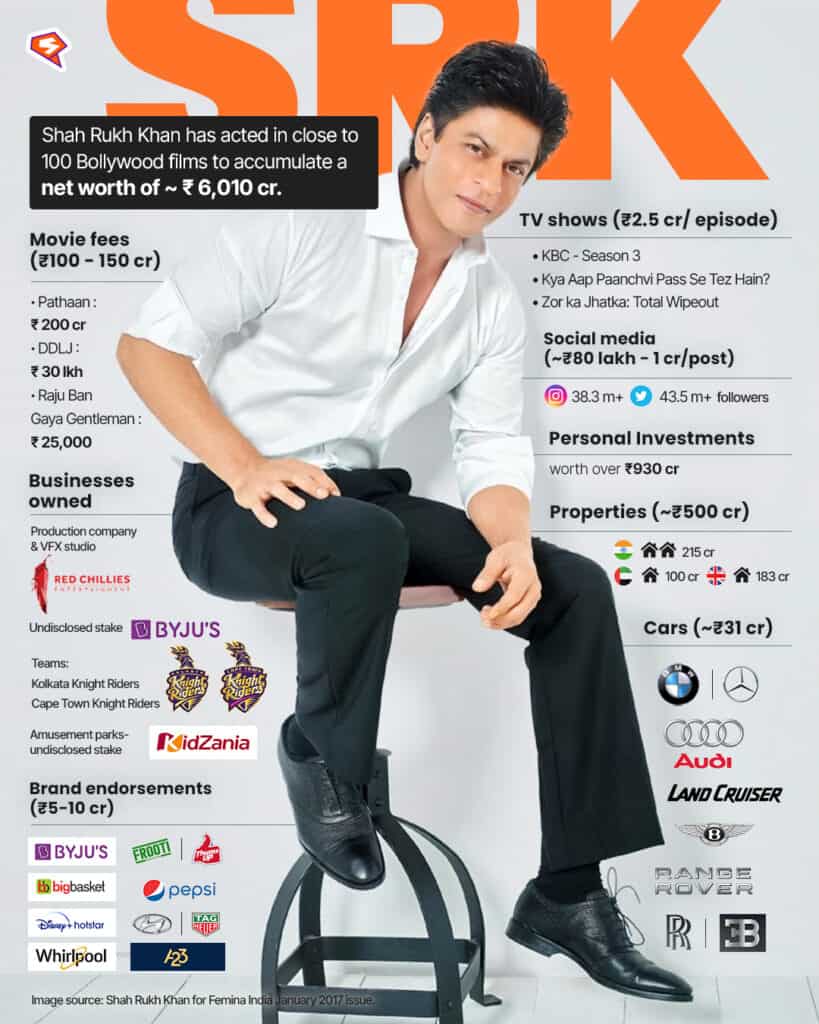 Shah Rukh Khan's net worth:
It's fascinating to see how SRK seamlessly juggles his roles as an actor, producer, and entrepreneur. His ability to balance the demands of the film industry with his entrepreneurial pursuits is nothing short of remarkable.
This multi-faceted approach has contributed to his net worth and solidified his position as one of the most influential people in the world. At over $700 million, many people still find it hard to believe that his net worth may have surpassed many of Hollywood's biggest actors.
Also Read: The phenomenal Captain Cool: Unveiling the empire of MS Dhoni
A Khan-do attitude:
What sets Shah Rukh Khan apart from his contemporaries is his business acumen, charisma, and relatability. Despite his larger-than-life persona, he remains grounded and relatable, connecting with his fans on a personal level. His wit and charm are on full display during interviews and public appearances, making him the epitome of a true superstar.
Such is his star power, according to Bollywood Hungama, Jio Cinema purchased the digital rights of Dunki for a record amount of Rs. 155 crores, making it the largest-ever digital transaction for a Bollywood film, even months before the film's release.
A baazigar and a businessman:
As Shah Rukh Khan continues to dominate the silver screen and expand his business empire, one thing is certain – his journey is far from over. With each passing year, he sets new benchmarks and continues to inspire millions around the globe.
Whether it's ruling hearts with his on-screen performances or conquering new business frontiers, SRK is a true testament to the fact that dreams can be turned into reality with hard work, dedication, and a touch of that quintessential Bollywood magic.
Also Read: From Sidekick to Superstar to Super villain – Know Saif Ali Khan's net worth
Conclusion:
With Pathaan, SRK gave one of the biggest hits of his life in 2023. With two big films on the way – Jawaan and Dunki, King Khan has started a new innings in his already illustrious career.
So, sit back, grab some popcorn, and prepare to be enthralled by the cinematic genius and entrepreneurial prowess of Shah Rukh Khan.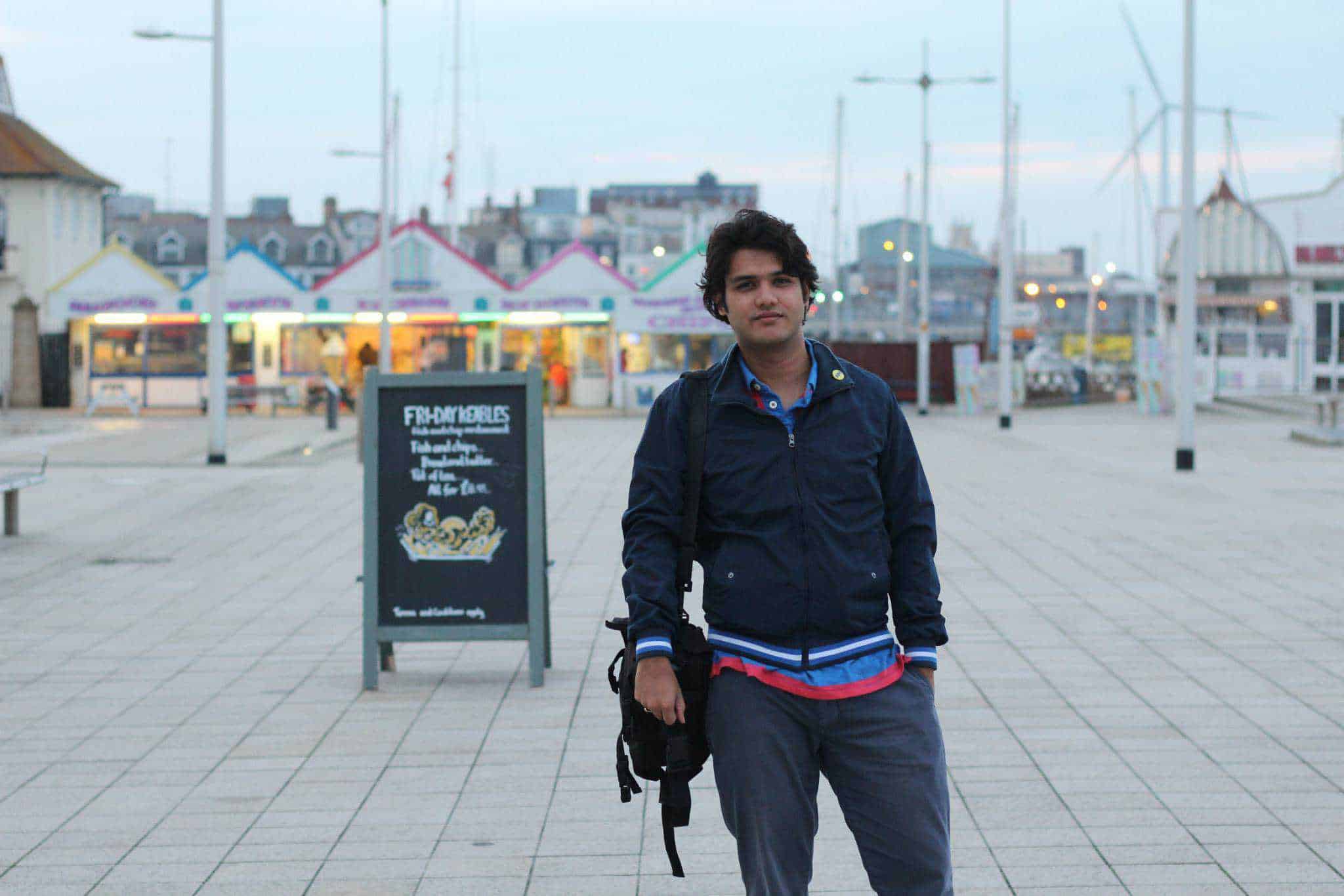 A copywriter by day, cine-connoisseur by night, fascinated by facts & figures of films, sports, finance. Most days strategizing startups' success. It's always lights, camera, business!