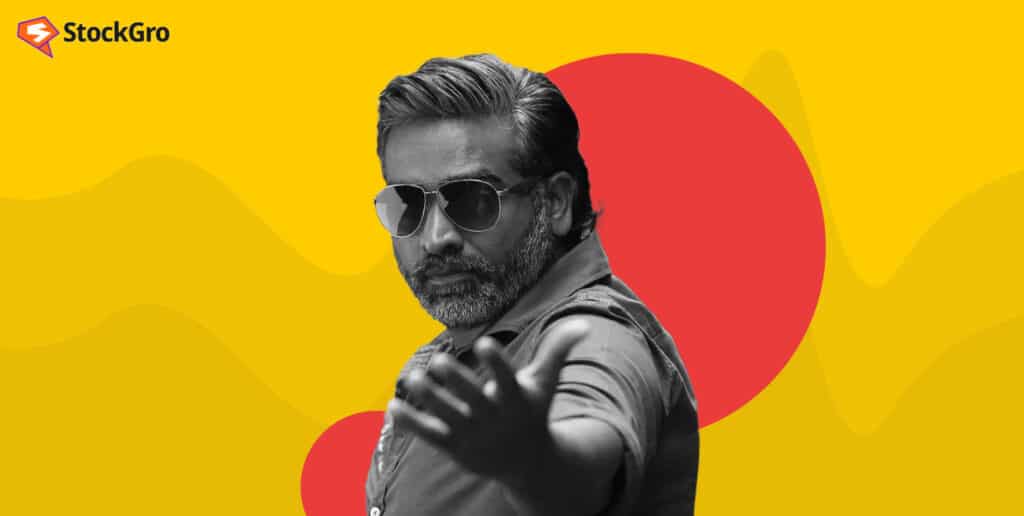 From north to south, in the vast landscape of Indian cinema, where talent reigns supreme, few actors manage to carve a niche as unique and compelling as Vijay Sethupathi. Known as the "Makkal Selvan" (People's Man), he is a versatile actor who has taken both the South and Hindi film industry by storm with his impeccable acting skills.
In this blog, we delve into the remarkable journey of Vijay Sethupathi, exploring his career, earnings, investments, and the business acumen that sets him apart.
Bio: 
| | |
| --- | --- |
| Name: | Vijaya Gurunatha Sethupathi |
| Place of Birth: | Rajapalayam, Tamil Nadu, India |
| DOB: | 16 January 1978 (age 45) |
| Relative: | Jessie Sethupathi (Wife) |
| Movie fees: | ₹15-20 crores |
| Net worth: | ₹140 Crore |
| Properties: | – Luxurious properties in Kilpauk, Ennore, and North Chennai – The Chennai home is worth approx. ₹50 crore- Has several properties all throughout Tamil Nadu |
| Luxury assets: | BMW 7 – ₹1.60 crore Mini Cooper – ₹39 lakh Toyota Innova – ₹20 lakhToyota Fortuner – ₹35 lakh |
The rise to stardom
Vijay Sethupathi's journey in the film industry is a testament to his unwavering determination and sheer talent. Born on January 16, 1978, in Rajapalayam, Tamil Nadu, he initially pursued a career in accountancy before realising his true passion lay in acting.
He began his acting career with small roles in Tamil television and gradually transitioned to the silver screen.It wasn't until the critically acclaimed film "Pizza" (2012) that Vijay Sethupathi gained widespread recognition.
His portrayal of a pizza delivery boy trapped in a mysterious house showcased his acting prowess and marked the beginning of an extraordinary career. His ability to effortlessly blend into diverse roles soon became his trademark.
You may also like: Deepika Padukone: an icon, inspiration and investor!
Diverse roles and critical acclaim
What sets Vijay Sethupathi apart from his contemporaries is his willingness to take on unconventional roles. He's not just a hero; he's a performer who brings depth and authenticity to each character.
Whether it's the lovable rogue in "Soodhu Kavvum" (2013), the transgender woman in "Super Deluxe" (2019), or the menacing antagonist in "Vikram Vedha" (2017), he leaves an indelible mark on the audience.
His performances have earned him critical acclaim and a dedicated fan following. His ability to portray complex emotions, impeccable timing in delivering dialogues, and genuine on-screen presence make him a standout performer in the Indian film industry.
| | | |
| --- | --- | --- |
| Movie name | Year of release | Worldwide Box office |
| Vikram | 2022 | ₹500 Cr |
| Master | 2021 | ₹300 Cr |
| Sye Raa Narasimha Reddy | 2019 | ₹240 Cr |
| Vikram Vedha | 2017 | ₹60 Cr |
| Chekka Chivantha Vaanam | 2018 | ₹90 Cr |
| Petta | 2019 | ₹240 Cr |
| Uppena | 2021 | ₹100 Cr |
| Kaathuvaakula Rendu Kaadhal | 2022 | ₹70 Cr |
Earnings that match talent
Vijay Sethupathi's meteoric rise in the film industry has translated into significant earnings. He is one of the highest-paid actors in South Indian cinema, reportedly earning around 3 crores per film.
His ability to draw audiences to theatres has made him an invaluable asset to filmmakers. Producers are willing to invest in his projects because they know that his presence guarantees a strong box-office performance.
Apart from his acting fees, Vijay Sethupathi has also ventured into other aspects of filmmaking, such as production and playback singing. These additional income streams have bolstered his overall earnings. His calculated approach to his career and business ventures reflects his shrewd financial sense.
Also Read: Akshay Kumar – The khiladi of bollywood 
Investing in films
Vijay Sethupathi's business acumen extends beyond his acting career. He has shown a keen interest in film production and has co-produced several successful movies.
His production house, "Vijay Sethupathi Productions," is dedicated to backing innovative and compelling scripts. This not only allows him to explore different genres but also provides a platform for emerging talent in the industry.
One notable production is "Orange Mittai" (2015), a heartwarming film that showcased his versatility not only as an actor but also as a producer. His investments in quality cinema reflect his commitment to the art and the industry as a whole.
Vijay's diversifying investments and net worth
While Vijay Sethupathi's primary focus remains on the film industry, he has also diversified his investments. Like any savvy entrepreneur, he understands the importance of securing his financial future.
Reports suggest that he owns a fleet of luxury cars, demonstrating his penchant for the finer things in life. He also owns his own production house – Vijay Sethupathi Productions, which is based out of Chennai.
The actor earns a huge amount of money from this business as well. Apart from this, he also has worked as a lyricist for several songs, which also contributes to his annual income. According to sources he has a net worth of Rs. 140 Crore. 
He owns luxurious properties in Kilpauk, Ennore, and North Chennai. The actor also bought several properties all throughout Tamil Nadu. His Chennai home is worth approx ₹50 crore. 
Also Read: Rajinikanth: The living legend of Indian cinema
In addition to material investments, he has invested in the emotional bank of his fans. His social media presence is marked by interactions with his audience, building a strong and loyal fan base. This investment in fan engagement not only keeps his career thriving but also ensures long-term success in the industry.
Conclusion
Vijay Sethupathi's journey from an accountant to one of India's finest actors is a testament to his talent, determination, and business acumen. His career is an inspiring example of how passion and a calculated approach to choosing the right roles and investments can lead to not just financial success but also immense creative satisfaction.
As he continues to mesmerise audiences with his diverse roles and dedication to the craft, Vijay Sethupathi remains a beacon of hope for aspiring actors and entrepreneurs alike. His ability to do 5-7 films a year while still leading in many films, as well as ability to switch between negative and positive characters is truly remarkable.
In the ever-evolving world of Indian cinema, he stands tall as the "Makkal Selvan," the people's man, who has left an indelible mark on the industry.
He will next be seen in one of the most expensive Indian movies ever made – Jawaan, alongside Shah Rukh Khan and we are sure this movie will break all kinds of box-office records and help create more wealth for everyone involved.
Are you looking forward to seeing Sethupathi in Jawaan? We sure are!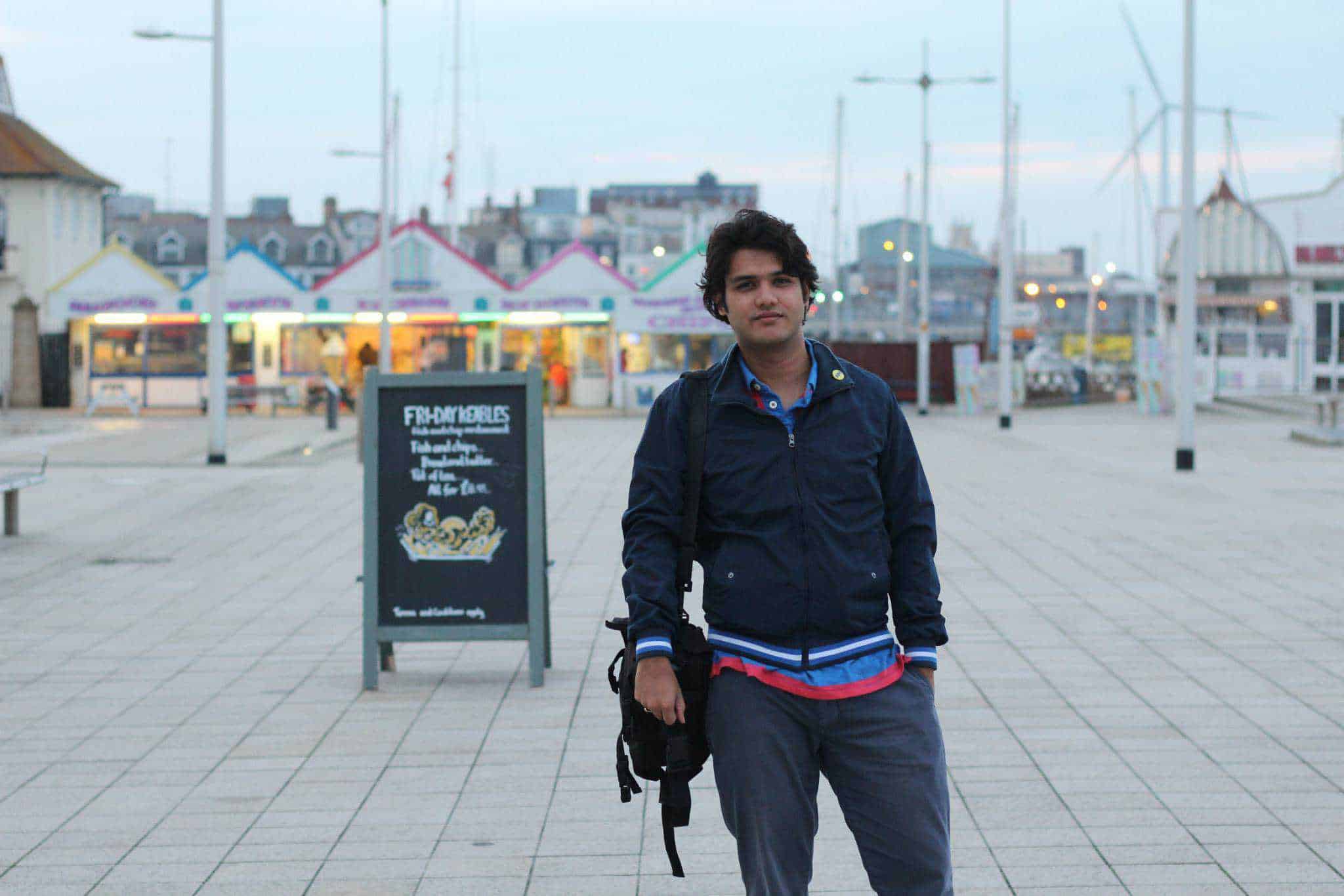 A copywriter by day, cine-connoisseur by night, fascinated by facts & figures of films, sports, finance. Most days strategizing startups' success. It's always lights, camera, business!