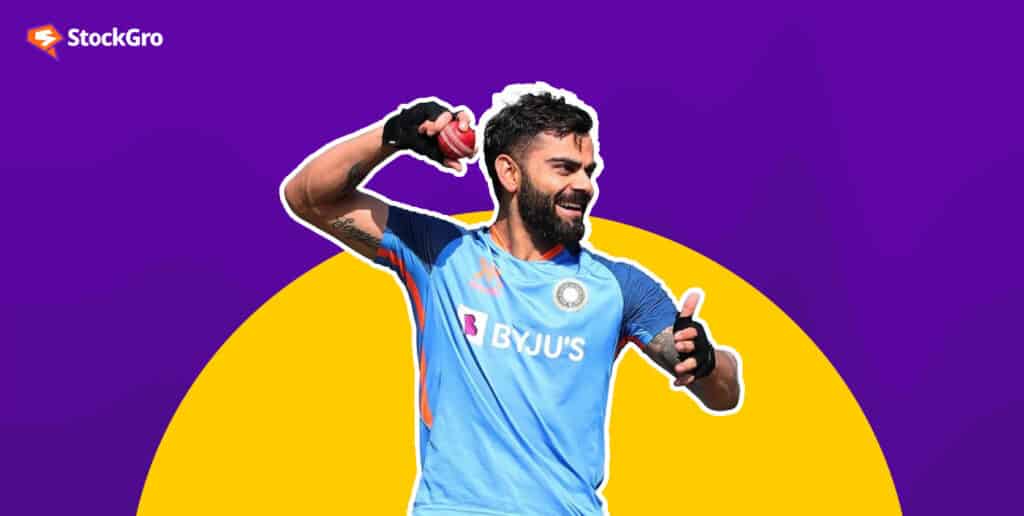 In the realm of Indian cricket, there is one name that resonates with power, passion, and unparalleled talent – Virat Kohli. Known as one of India's finest batsmen, Kohli has left an indelible mark on the cricketing world.
However, his influence extends far beyond the boundaries of the cricket pitch. His remarkable achievements, captivating persona, and shrewd business ventures. Virat Kohli has emerged as a modern-day icon, embodying the perfect blend of sporting prowess and entrepreneurial acumen.
Bio: 
| | |
| --- | --- |
| Name: | Virat Kohli    |
| Place of Birth: | Delhi, India |
| DOB: | 5 November 1988 (age 34) |
| Relatives: | Anushka Sharma (Wife) |
Cricket fees :
| | |
| --- | --- |
| Team India Salary (Grade A+ player) | ₹7 Crore (annually) |
| Test match | ₹15 Lakh (per match) |
| ODI | ₹6 Lakh (per match) |
| T20 | ₹3 Lakh (per match) |
| T20 League | ₹15 Crore (annually) |
Virat Kohli's investments
Startups Funded By Virat Kohli
Rage Coffee
Undisclosed
Blue Tribe
Undisclosed
Sport Convo
Undisclosed
Universal Sportsbiz
Invested $2.53 million (₹19.30 crores)
Galactus Funware Technology Pvt Ltd (MPL)
Undisclosed
Digit
Invested $262K (₹2 crore)
Chisel Fitness
Invested $11.81 million (₹90 crore)
Hyperice
Undisclosed
Startup Brands Owned by Virat Kohli
One8 Commune
Restaurant – Launched in 2017
Nueva
Dining bar and restaurant – Founded in 2017.
Puma One8
Athleisure brand – Launched in 2017
FC Goa
Professional football club – Co-founded in 2014
UAE Royals
Tennis team – Co-owned in 2015
Bengaluru Yodhas
Pro wrestling league – Co-owned in 2015
Stepathlon Kids
Kids lifestyle brand – Launched in 2016.
Real estate investments
Mumbai house
Rs. 34 crores.
Gurugram house
Rs. 80 crores.
Luxury cars
Car
Price
Audi R8 V10 Plus
₹2.72 crore
Audi R8 LMX
₹2.97 crore
Audi A8 L
₹1.58 crore
Audi Q8
₹1.33 crore
Audi Q7
₹69.27 – 81.18 lakh
Audi RS 5
₹1.11 crore
Audi S5
₹79.06 lakh
Renault Duster
₹10.49 – 13.59 lakh
Toyota Fortuner
₹29.98 – 37.58 lakh
Range Rover Vogue
₹2.11 crore
Bentley Continental GT
₹3.29 – 4.04 crore
Flying Spur
₹1.70 – 3.41 crore
Cricketing Brilliance:
Virat Kohli's journey from a young Delhi lad to an international cricket sensation has been nothing short of extraordinary. Kohli's technique, determination, and hunger for success have shattered records and rewritten history.
But what sets him apart is his ability to adapt to different formats of the game effortlessly. Whether it's the Test arena, the adrenaline-pumping ODIs, or the high-octane T20s. Kohli's bat seems to wield magic, leaving bowlers perplexed and spectators in awe.
World cup glory:
The 2011 Cricket World Cup holds a special place in the hearts of every Indian cricket fan, and Virat Kohli played a crucial role in India's historic triumph. He showed remarkable composure and resilience as a young player, shining in crucial moments.
Kohli's contributions during the tournament were instrumental in propelling the Indian team to victory, and his ferocious batting style and unwavering focus left a lasting impression on cricket enthusiasts worldwide.
You may also like: The phenomenal Captain Cool: Unveiling the empire of MS Dhoni
Leading the batting battalion:
Virat Kohli leads India's batting lineup after the retirements of Tendulkar and Ganguly.
Together with Rohit Sharma, Kohli had spearheaded India's batting prowess, captivating audiences with their incredible partnerships and awe-inspiring stroke play. Their combined brilliance has turned matches into spectacles, giving fans countless reasons to cheer and opponents sleepless nights.
The captain leading from the front:
Virat Kohli's leadership qualities have been well-documented. As the captain of the Indian cricket team, he has infused a new sense of passion, discipline, and determination into the squad.
With his unwavering commitment to excellence and ability to lead by example, Kohli has instilled a winning mentality within the team. He has created an environment that fosters growth, encourages camaraderie, and pushes each player to realise their full potential.
You may also like: From Sidekick to Superstar to Super villain – Know Saif Ali Khan's net worth
Business beyond the boundary:
While Virat Kohli's cricketing exploits are widely celebrated, his entrepreneurial ventures have also garnered significant attention. Recognising the importance of capitalising on opportunities outside the cricket arena, Kohli has made astute investments and ventured into various business domains.
From establishing his own clothing line, Wrogn, to launching a fitness brand, One8, Kohli has demonstrated a keen eye for business opportunities and an innate ability to diversify his portfolio.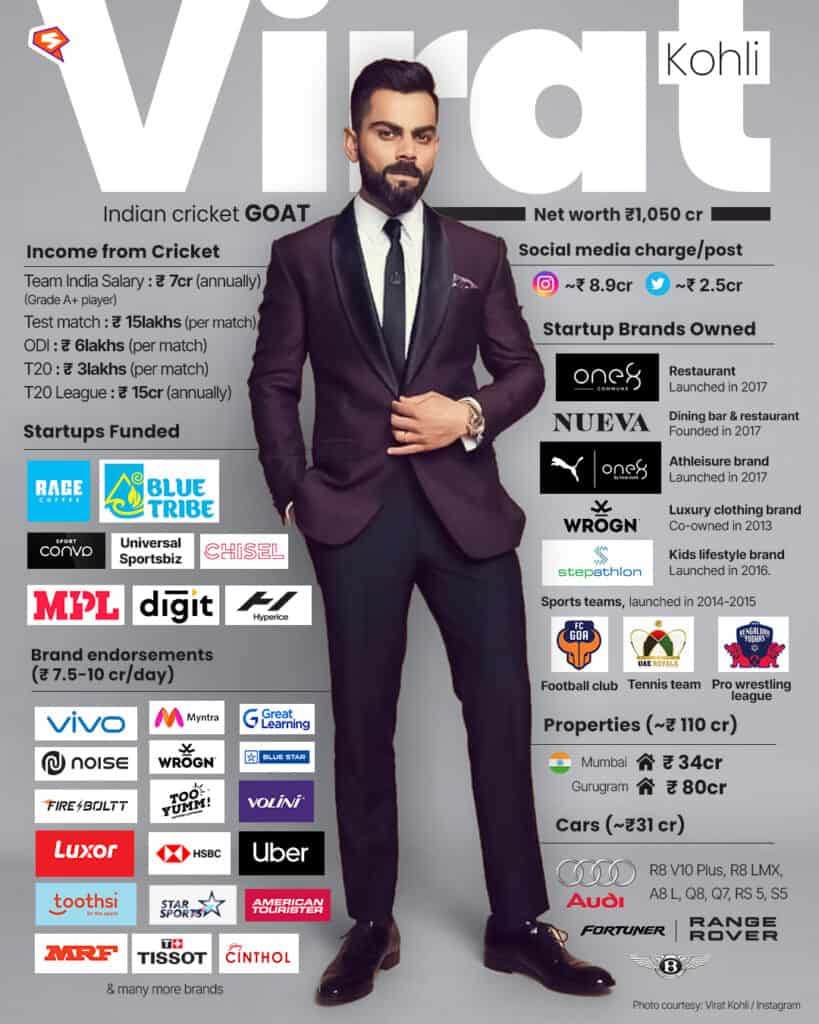 Virat Kohli's net worth
Virat Kohli has amassed a mammoth wealth. As per multiple sources, Virat Kohli's net worth is close to ₹1050 crores. His cricketing career, brand deals, companies he owns and his investments in multiple sectors and industries have helped him become King Kohli in the real sense.
His wife Anushka Sharma, one of the top actresses in Bollywood and also an astute business woman too has net worth of ₹250 crore.
Behind the persona:
Beyond the statistics and the success, there is a human side to Virat Kohli that resonates with fans around the world. His fiery on-field persona is balanced by a humble and grounded manner off the field.
Kohli's outspoken nature and emotional investment in the game make him relatable to fans who appreciate his authenticity and raw passion. He wears his heart on his sleeve, celebrating victories with unbridled joy and showing vulnerability in defeat.
Also Read: From 'Raazi' to Riches, this bollywood Star shines in every role!
Conclusion:
Virat Kohli has carved his own unique path in the world of cricket, leaving an indelible mark that will be remembered for generations to come. His exceptional batting skills, leadership qualities, and astute business ventures have elevated him to the status of a modern-day great.
With every inning, he continues to inspire millions, both on and off the field. Virat Kohli is not just a cricketer; he is an embodiment of passion, perseverance, and the indomitable spirit of chasing one's dreams.
Virat Kohli's journey is far from over as he continues to conquer new milestones. We eagerly await the next chapter in his remarkable story.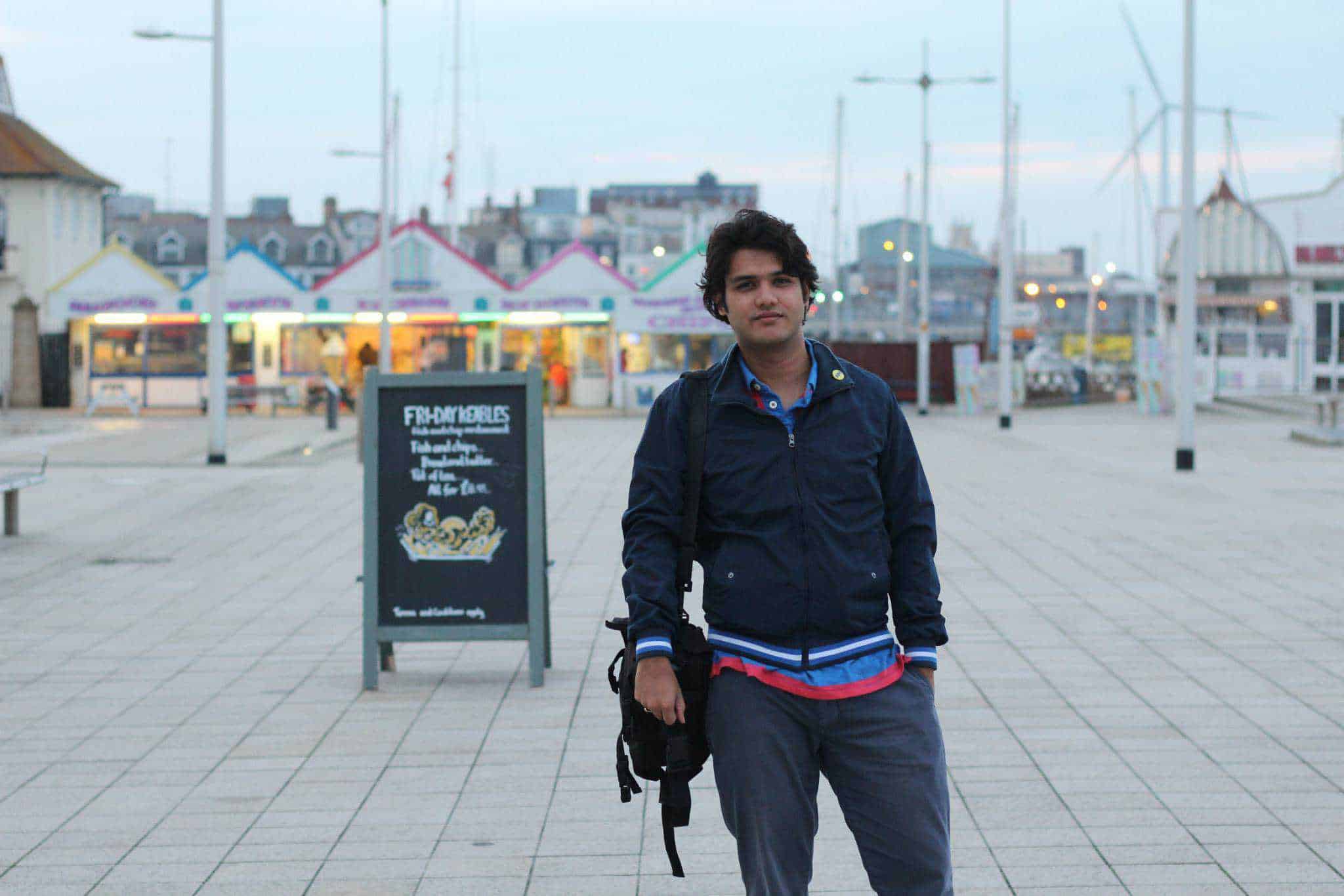 A copywriter by day, cine-connoisseur by night, fascinated by facts & figures of films, sports, finance. Most days strategizing startups' success. It's always lights, camera, business!