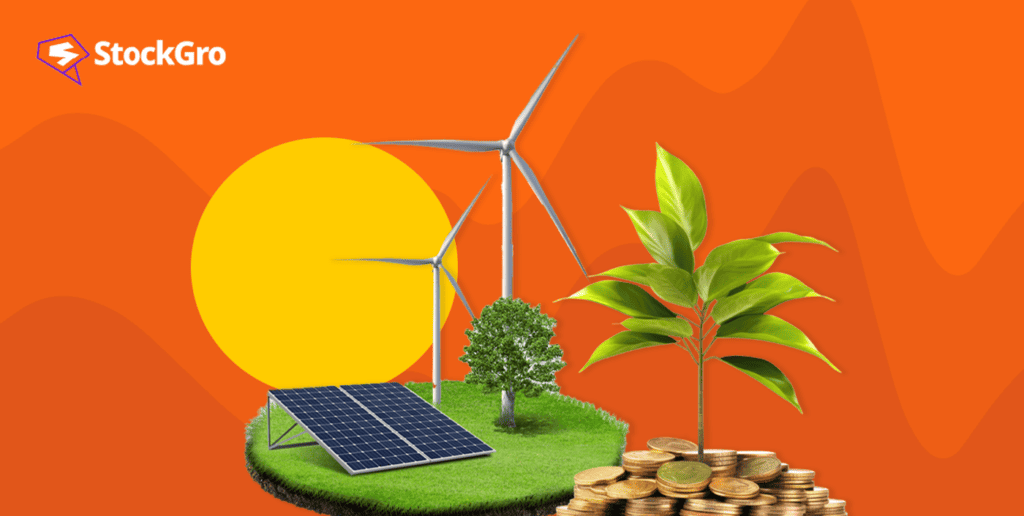 What does a green field mean to you? Does it remind you of agricultural lands because they are green in colour?
Well, in literal terms, it makes sense. But, green field is a broad term that generally denotes a land on which no structure has been built, in the past.
Do you know the relevance of a green field in finance? Greenfield investment is a term popularly used in finance in connection to Foreign Direct Investments (FDIs).
What is greenfield investment?
Greenfield investment is a type of foreign direct investment where a multinational company establishes its branch in a foreign country from scratch.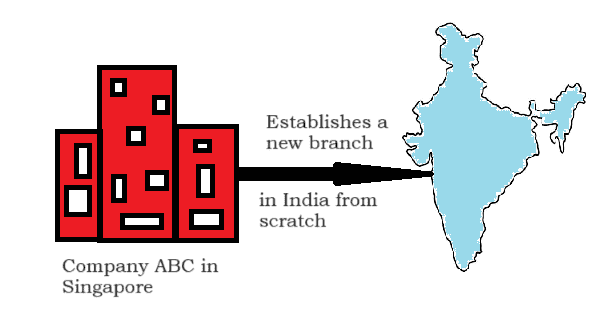 Let us first recall what FDI means.
Foreign direct investments refer to investments made in foreign countries, primarily by companies. So, when a company invests in the business of another company in a different country or extends its operations to another country, it is said to have made a foreign direct investment.
Also read: Diving into FDI: What it means for investors and countries
How greenfield ventures works?
A greenfield investment is a form of FDI where a company starts its subsidiary in another country and builds everything from the beginning, including physical structures.
It is called a greenfield investment because the company starts by purchasing vacant land to construct the office space and moves on to establish the entire operations in a foreign country. The purpose of such investments by companies is to gain complete control over the subsidiary entity.
Companies take various routes to expand their presence in other countries. Sometimes, they do so through mergers and acquisitions, some other companies prefer buying a portion of shares of another company.
But in these scenarios, the investing company may not have a significant say in the other company's operations. So, the purpose of investment helps in determining the type of FDI route.
Also read: Mergers vs. Acquisitions – How are they different from one another?'
There is another type of FDI called brownfield investments. It is similar to greenfield investments, except that it does not involve companies establishing their own facilities.
Companies enter into lease contracts or purchase already existing facilities in foreign countries. This type of FDI is a mid-way between indirect and greenfield investment. It is relatively easier and more reasonable than starting greenfield projects, as the renovation cost is usually less than the cost of constructing a fresh building.
Greenfield investments in India
India is rapidly growing and is ranked as the fifth-largest economy in the world by the International Monetary Fund (IMF). It is expected to be the third largest by 2027 if India continues to grow at the same rate.
Considering the development across various sectors in the country India is one of the most sought-after locations for FDI by foreign countries.
As of 2022, FDI inflows in India were at $49.3 billion, a 10% increase from the previous year.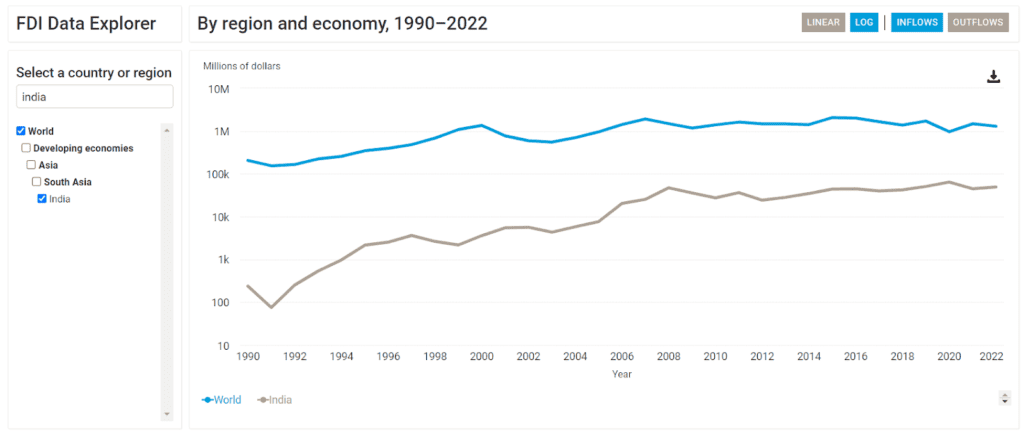 Source: UNCTAD
Let us go through a real-world example of greenfield investments.
Coca-Cola, the beverage giant, is a multinational company having its headquarters in the United States of America. It has had a strong presence in India since 1993.
In 2012, Coca-Cola committed to investing $5 billion in India to make it one of the largest-selling beverage brands in India. The company has invested in various greenfield projects since it entered into India.
In September 2022, Coca-Cola, through its subsidiary Hindustan Coca-Cola Beverages (HCCB), invested ₹660 crores to build a greenfield enterprise in West Bengal, India. A fully digitised factory with the complete flow of manufacturing in one direction, HCCB believes this project to change the potential of manufacturing in India.
Recently in August 2023, Coca-Cola spoke about enhancing the facilities in its Telangana greenfield project by investing an additional ₹647 crores. Coca-Cola also mentioned their plans to start the next greenfield project in Telangana.
Currently, the overall greenfield investments of Coca-Cola in manufacturing facilities in India is more than ₹2,500 crores.
Benefits and limitations
Pros of greenfield investment:
This form of foreign direct investment offers the highest control and authority to the investing company, as compared to other forms of FDI.
Developing countries use various strategies like offering subsidies and tax incentives to foreign companies in order to attract more FDI that can help boost the host country's economy.
Greenfield investments allow customisation. The foreign company has the liberty to plan its environment according to its vision, whereas other forms of FDI do not offer this flexibility.
Greenfield enterprises help in creating jobs in the home country. Apart from factory and corporate jobs, it also provides opportunities to labourers in the construction sector.
Cons of greenfield investments:
Greenfield projects are considered the most risky forms of FDI, given the high cost of investment it requires.
Apart from the costs involved in establishments, the cost to enter is high, as well since most countries have restrictions on foreign investments.
Economic issues such as political instability impact greenfield ventures to a large extent.
Since it involves high costs, it requires long-term commitments from companies to start getting returns on their investments.
Bottomline
Greenfield enterprises are tools for companies to enter a foreign market and target local customers there, without having to follow trade restrictions on imports and exports.
They also play a significant role in boosting a country's economy as they contribute to the country's GDP in various ways. Though it is risky, greenfield projects are one of the popular ways chosen by large organisations to expand their global presence.
Further reading: DII: The power players of India's economy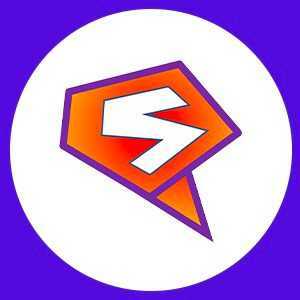 StockGro is India's first and largest 'Social Investment' platform aimed at helping you master the art of "Trading & Investment". Trade, Invest and get rewarded to Learn everything about 'Investments' the fun-filled way.