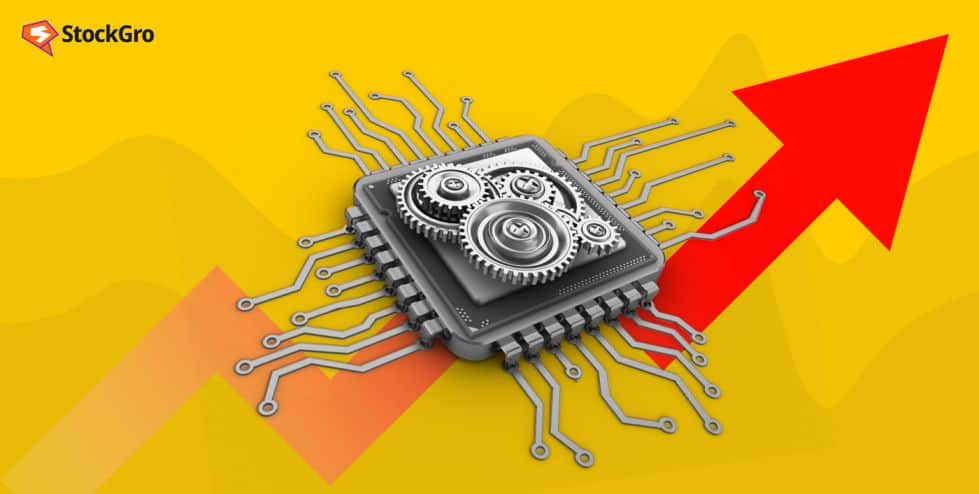 We're rapidly moving towards a world where every little thing that can realistically be digital either already is or is soon going to be. This revolution is driven by smartphones, computers, electric vehicles, artificial intelligence, and so many other little things we don't pay attention to. Just like semiconductors.
Often overlooked, semiconductors play a pivotal role in an average person's everyday life. They're used in everything ranging from mobile phones to military equipment, and the world as we know it would quite literally shut down without semiconductors.
In this article, we're going to explore what semiconductors are, the companies that manufacture and brand them, their stock values, and figure out if these stocks are good investments in general. Let's dive right in.
You may also like: Exploring the bond market for beginners
What are semiconductors?
Semiconductors are, in the simplest terms, small devices that control the flow of electricity inside an appliance. When they're used properly, they make sure that electricity flow isn't too aggressive and isn't too weak either. While they were used in cutting-edge technology some decades back, they're now found in almost everything.
The 2020 pandemic disrupted the global semiconductor industry by posing several large logistical problems. Despite huge losses, the industry has now recovered to clock valuations worth a little less than $600 billion today.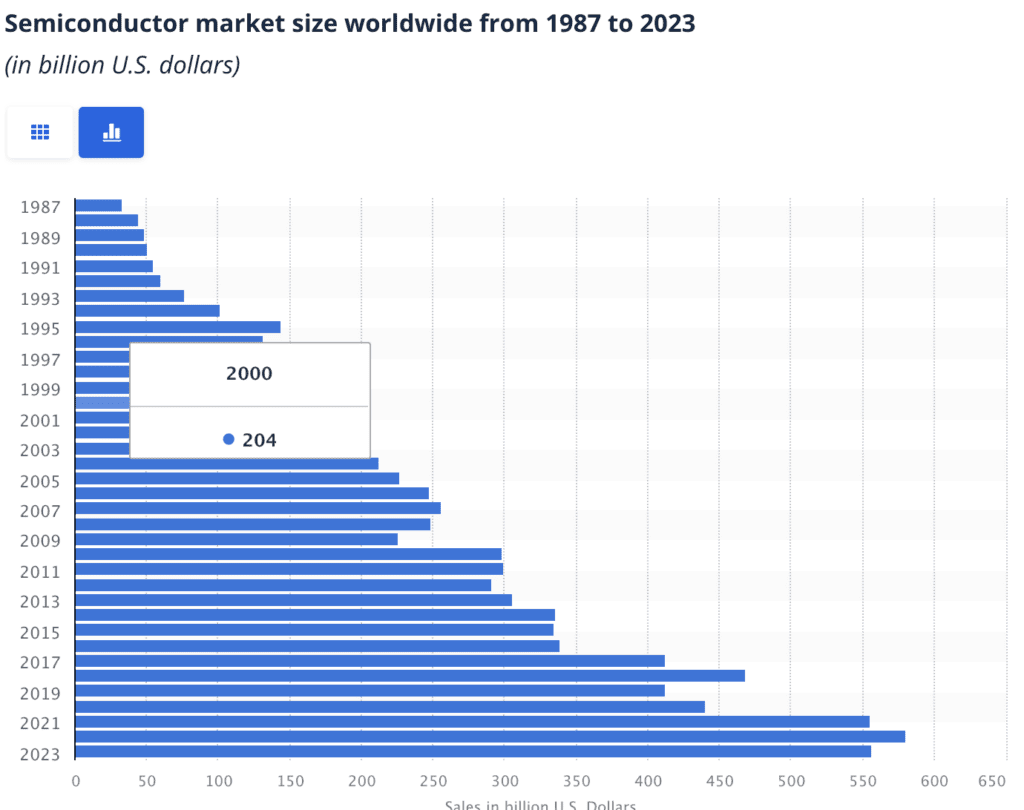 Also read: The world of multibagger stocks, and should you invest in them?
The semiconductor industry in India
As the world reeled under an acute semiconductor shortage during and after the pandemic in 2020, top Indian tech companies felt the crunch too. Since global markets froze up, Indian companies saw an opportunity to ramp up domestic manufacturing and preserve the supply of chips.
During Prime Minister Modi's visit to the United States in June 2023, the two countries signed pacts to improve partnerships in developing semiconductor technology together. An MoU was also signed between the two countries on Semiconductor Supply Chain and Innovation Partnership.
Now, these developments have started to materialise. US chipmaker Micron Technology recently announced that it would invest more than $820 million to build a semiconductor assembly plant in Gujarat. The fiscal responsibilities are being jointly divided between the state government, the central government, and the company.
Also read: Trading the triple top pattern: A guide
Investing in semiconductor companies
The Indian semiconductor industry is definitely in a growth phase. According to experts, it's supposed to grow at a CAGR of more than 19% from FY 2023 to FY 2026. This is mostly driven by government efforts in expanding semiconductor manufacturing in the country to meet rising demands. If this takes off, India could soon become self-reliant in semiconductor supply.
Here are some interesting investment options you could look into:
Tata Elxsi is currently a global leader in tech design and tech-related services. Its two segments – system integration, and development – both work together on cutting-edge innovation. Currently, it offers AI tools and frameworks to enhance framework optimisation, and has partnered with Syntiant to develop AI solutions that could potentially overhaul semiconductor functionality.
Fundamental metrics (at time of writing):
P/E ratio – 100.16
P/B ratio – 34.39
ROE (FY '21-'22) – 37.23
HCL Technologies is one of the biggest IT firms in the country. Recently, management announced that they expect to double their semiconductor services business in 3-4 years. This comes after senior officials revealed that the company would focus its efforts on developing electronic chip plants around the country. The group firm, HCL Group, is among the group of companies that are taking advantage of the Scheme for Compound Semiconductors to set up these plants.
HCL Tech actively works with large companies like Intel, NXP, and Taiwan Semiconductor Manufacturing Company (TSMC) to enhance chip production.
Here's some information about HCL Tech:
Market cap – ₹3,47,000 cr
Book value per share – 341.56
P/E ratio – 19.79
P/B ratio – 4.49
Vedanta is one of India's largest natural resources and tech conglomerates. In July of this year, they announced that they were going to expand their ventures into semiconductors too. This comes at a sweet point when India is ready to capitalise on the growing semiconductor demand both domestically and abroad.
Vedanta plans to leverage its expertise in large-scale manufacturing and operational efficiency to drive the semiconductor business. Akarsh Hebbar, the Global MD of Vedanta's Semiconductor Business said in a report that they believe the semiconductor industry will spawn multiple ancillary industries that could create more jobs and boost overall GDP.
Here are some fundamental metrics for Vedanta Ltd.:
Market cap – ₹88,358 cr
P/E ratio – 4.09
Shareholding pattern – More than 68% of shares are held by promoters, followed by 11.10% in retail investor holding.
Choosing the right semiconductor stock
Here are some points you should consider when choosing semiconductor stocks to invest in:
Consider investing in firms that are well-established with a strong market presence and a history of innovation.
Look for companies that cater to diverse markets and don't have a heavy revenue dependence on any one sector.
Ever since the pandemic, semiconductor supply chains have been somewhat disrupted. While investing, look for the company's supply chain resilience to make sure it can navigate hiccups well.
Just like with any other stock, it is also important for you to fundamentally analyse the stocks and consider key financial metrics.
Valuation also matters. Assess whether the stock is underpriced or overpriced using metrics like the Price-to-Earnings (P/E) ratio, and Price-to-Book (P/B) ratio.
Companies that have a global reach in supply tend to have more diversified revenue streams, which subsequently mitigate regional risks like regulation etc.
Conclusion
Although semiconductors are most definitely the next big thing, you must remember that these investments are, in the end, stock investments. Every single thing that you've ever learnt about investing in the market applies to these stocks as well. So, make sure you're doing your own research and factoring your risk appetite into your trades or investments. Until then, good luck!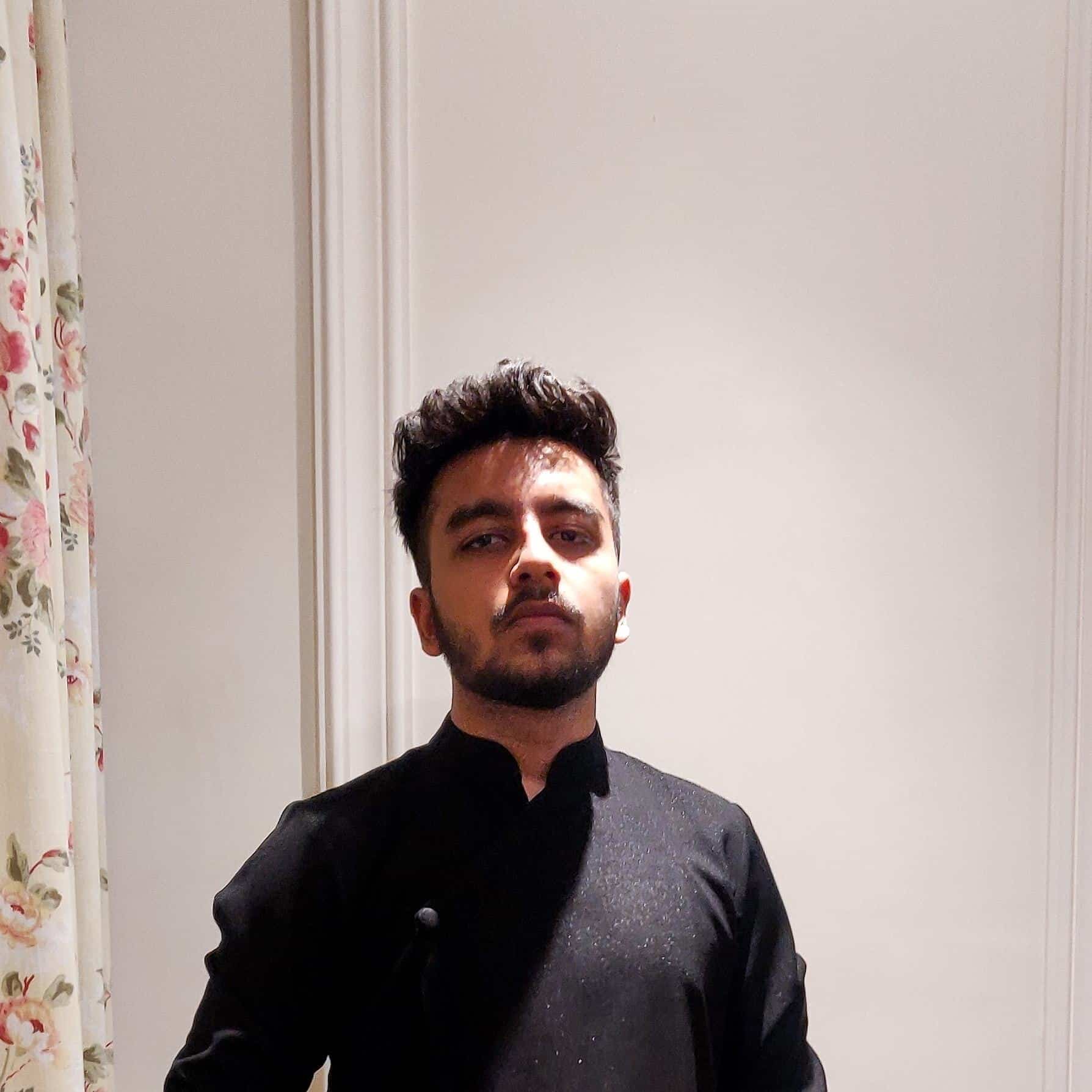 I am passionate about stock investing and have a knack for simplifying complex market concepts. Providing readers with valuable insights and empowering them to make informed investment decisions is my jam.