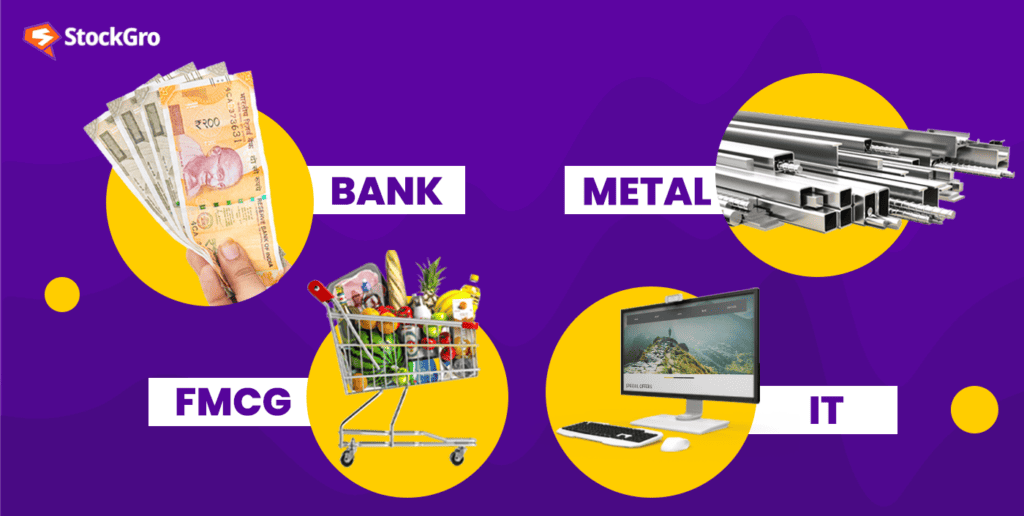 Just like a restaurant menu helps foodies focus on their favourite type of food, sectoral indices can guide you in the vast and complicated world of stock markets. Let's dive into nifty sectoral indices and find out how they can be a game-changer for your investment journey.
What are sectoral indices?
Sectoral indices act like a spotlight focusing on a specific part of the stock market, like healthcare, technology, or finance. These indices give a quick snapshot of how well or poorly a particular industry is performing.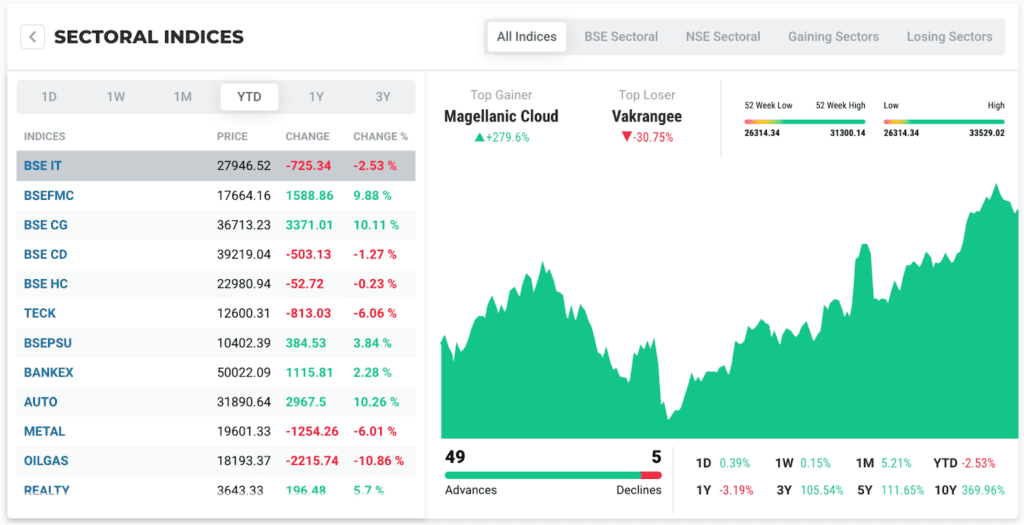 Sectoral indices offer streamlined overviews and comparative metrics focused on particular industries or sectors. These indices allow investors to gauge the performance of individual stocks in relation to their respective sectors.
Companies in the trading environment belong to specific economic sectors, and those offering similar products or services are categorized together. This classification facilitates comprehensive evaluations of the broader economic landscape by investors.
Examples of sector indices include those for Energy, Services, Healthcare, Consumer Products, Industrial, Materials, Utilities, Technology and communications, and Financial sectors.
Both NSE and BSE offer their versions of sectoral indices, commonly referred to as NSE sectoral indices and BSE sectoral indices. These are your go-to indices if you're interested in investing in specific sectors.
You may also like: Index Options: Understanding its types and function
Understanding nifty sectoral indices
Nifty sectoral indices are a part of the National Stock Exchange (NSE), one of the biggest stock exchanges in India. These indices represent various economic sectors such as automobiles, healthcare, technology, and many more.
Following the nifty sectoral indices helps you understand which sectors are currently hot and which are not. This is incredibly useful because if a specific sector is doing well, the companies in that sector are likely doing well too.
Exploring the different nifty sectoral indices
Understanding the various nifty sectoral indices is akin to exploring a buffet. Each dish (or index) offers a unique flavour, and knowing what's what can help you make a more satisfying choice for your investment appetite.
Let's delve into each one to understand what they represent and why they might be significant for you.
Nifty auto – The speedsters of the market
The Nifty Auto index focuses on companies in the automobile sector. Think cars, motorcycles, trucks, and even the parts that make these vehicles. This index can have a maximum of 15 companies.
Nifty bank – The financial giants
In simple terms, Nifty Bank represents how well the big, liquid banks in India are doing. It might include up to 12 different banks. This index is crucial for anyone interested in the banking sector, from SBI to HDFC.
Nifty consumer durables – More than just gadgets
When we talk about Nifty Consumer Durables, we're looking at companies that produce goods like washing machines, refrigerators, and air conditioners. It's a specialized focus on how consumer electronic goods companies are doing..
Nifty FMCG – Everyday products, everyday performance
FMCG stands for Fast-Moving Consumer Goods, and the Nifty FMCG index gives you a snapshot of how companies making everyday products like toothpaste, soap, and food items are performing.
Nifty IT – The tech titans
In today's digital age, the IT sector is more crucial than ever. The Nifty IT index helps you keep tabs on how the IT companies are performing. Companies involved in software development, IT services, and hardware might be part of this index.
Nifty media – The entertainers and informers
The Nifty Media index concentrates on companies in the media and entertainment sectors. This could include firms involved in broadcasting, publishing, and even online media.
Nifty metal – The backbone of industries
Metals and mining are fundamental to many other industries, and Nifty Metal helps you gauge how this sector is performing.
Nifty oil & gas – Fueling the economy
The Nifty Oil & Gas index provides a lens into how companies in the oil, gas, and petroleum sectors are performing. In an economy heavily dependent on these resources, this index is vital for understanding market trends related to energy.
Nifty pharma – The health of healthcare
Pharmaceuticals are critical, especially in times of health crises. The Nifty Pharma index gives you insights into how the major pharma companies are doing.
Nifty PSU bank – Public banking on performance
This index focuses on public sector banks, providing insights into how our government-run financial institutions are performing.
Nifty private bank – Personalized financial services
The Nifty Private Bank index gives you a snapshot of how private-sector banks are doing. Banks like ICICI and Axis fall under this category..
Nifty realty – Building the future
The Nifty Realty index is a key indicator of how the real estate sector is performing. Keep an eye on this index if you're interested in real estate investment or even just understanding how this industry is doing.
Nifty financial services – Beyond the banks
While banking is crucial, the world of financial services is much broader. The Nifty Financial Services index looks at insurance companies, non-banking financial companies, and other firms that make the financial world tick.
Also Read: Difference between Nifty and Sensex
NIFTY financial services 25/50 – A balanced financial menu
This index is a variant of the Nifty Financial Services index but comes with an interesting twist.
As the name suggests, the index is capped; no single stock can have a weightage of more than 25%, and all stocks with an individual weight greater than 5% cannot exceed 50% of the total index.
This design ensures more balanced exposure, preventing the index from being too reliant on a few high-performing stocks. 
NIFTY healthcare – The pulse of the health industry
The NIFTY Healthcare index is designed to capture the behavior and performance of companies in the healthcare sector.
It encompasses a maximum of 20 companies and uses a base value of 1000 points, with the base date being April 1, 2005. This index covers not just pharmaceuticals but also healthcare providers, equipment manufacturers, and other sub-sectors within healthcare.
Types of NSE Sectoral Indices: Infographic
The table below provides a quicker reference for understanding the various NSE sectoral indices, their industries, the number of constituents, and their tradability status.
Sectoral Index
Industry/
Sector
No. of Constituents (as of Dec 27, 2021)
Description
Tradable
in F&O segment
Year to Date % return
NIFTY Auto
Automobile
15
Car & auto parts makers
Non-tradable
24.59%
NIFTY Bank
Large Banks
12
Indian banking benchmark
Tradable
1.76%
NIFTY Financial Services
Financial Industries
20
Includes banks, insurance, etc.
Tradable
2.64%
NIFTY Financial Services 25/50
Financial Industries
20
Capped version of Financial Services index
Tradable
17.83%
NIFTY FMCG
FMCG
15
Non-durable consumer goods
Non-tradable
16.45%
NIFTY Healthcare
Healthcare
20
Healthcare sector stocks
Non-tradable
18.77%
NIFTY IT
IT Companies
10
IT and related services
Discontinued by NSE
11.14%
NIFTY Media
Media & Entertainment
10
Media and publishing
Non-tradable
13.02%
NIFTY Metal
Metal Sector
15
Metal and mining
Non-tradable
-2.33%
NIFTY Pharma
Pharmaceuticals
20
Pharma manufacturing
Non-tradable
20.04%
NIFTY Private Bank
Private Banks
10
High-frequency private banks
Tradable
12.01%
NIFTY PSU Bank
Public Banks
13
Listed & traded public banks
Tradable
21.13%
NIFTY Realty
Real Estate
10
Residential & commercial construction
Non-tradable
31.61%
NIFTY Consumer Durables
Consumer Durables
15
Home & electronics goods
Non-tradable
20.37
NIFTY Oil and Gas
Oil & Gas
15
Oil, gas & petrol companies
Non-tradable
9.74
How to use sectoral indices?
Using sectoral indices is like reading a weather report before planning a picnic. It's all about understanding the climate of the sector you're interested in. Here are some pointers:
Keep an eye on trends: Check whether the index is moving up or down over time. An upward trend usually indicates a healthy sector.
Compare and contrast: Use the nifty sector wise indices to compare the performance of one sector with another.
Look for opportunities: A declining sector might offer low-priced buying opportunities, while a growing sector may present chances for quick gains.
Diversify: Don't put all your eggs in one basket. Use sectoral indices to help you spread your investments across different sectors.
Stay updated: Indices are reviewed semi-annually, using data from the previous six months.
Also Read: Do Indian markets mirror global trends?
Eligibility criteria
To be part of a nifty sectoral index, companies must meet specific criteria, which may include:
Being a part of the Nifty 500 index.
Belonging to the relevant industry universe.
Having a certain minimum number of shares.
Having a minimum free-float market value.
Conclusion
Understanding nifty sectoral indices is like having a treasure map in the complex world of investments. They provide insights, guide your decisions, and could significantly improve your investment outcomes.
With sectoral indices by your side, you no longer have to be lost in the maze of the stock market. So why wait? Start your investment journey today with a keen eye on the nifty sectoral indices.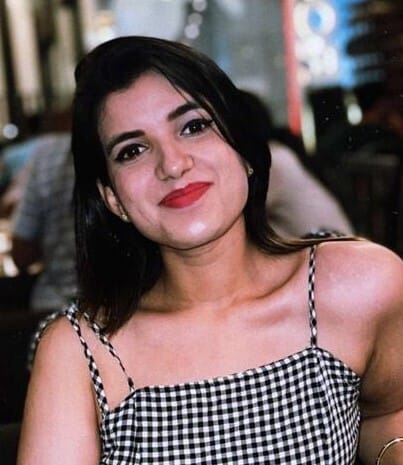 With extensive writing experience and years deep in the stock market and fintech sectors, I excel at transforming intricate financial concepts into clear, actionable insights. I'm dedicated to guiding readers on their financial paths with confidence and clarity.