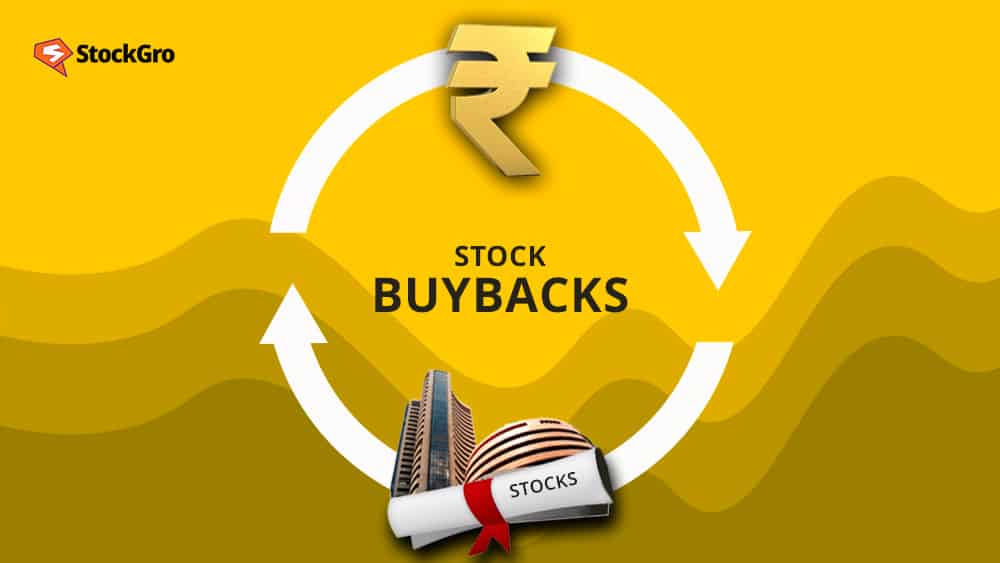 If you have been following stock market news daily, you must have encountered the Wipro share buyback. If not, let's give you a brief. So, Wipro, a Big Tech giant, has announced a buyback of 26.97 crore shares at a share price of Rs.445. That amounts to a humongous Rs.12,000 crore that Wipro has planned to pay in exchange for its shares.
If you have invested in Wipro, this may be a huge opportunity to earn some big bucks. But to fully understand this, you need to know what is buyback of shares with example, of course. So, let's get down to that!
What is a buyback of shares?
Buyback, also known as a share repurchase, is when a company buys back its shares from the stock market. A stock buyback can be initiated through various methods, such as open market purchases, a tender offer, etc.
It may seem that buybacks are not a common phenomenon. Why? They do not make headlines so often. But when they do, the firm involved wants to buy back shares in big digits. Or for a higher value, as opposed to the existing share price. For example, the Wipro buyback was worth Rs.12,000 crore.
In reality, however, buybacks are a common practice in the stock market and are subject to regulatory guidelines issued by the Security and Exchange Board of India (SEBI).
You may like: Why has the RBI withdrawn Rs. 2000 notes?
Types of share buyback
Usually, when a share buyback is announced, it is initiated through one of the following pathways:
Tender offer
Open market through stock exchange
Tender offer buyback
As the name suggests, the company planning to buy back its shares submits an offer to its shareholders. This offer contains a predetermined price at which shareholders can sell their shares. If you accept this offer, the money corresponding to a number of buyback shares is credited directly into your bank account.
Buyback through the stock exchange
In this method, the company buys back shares directly from the stock exchange (NSE or BSE). There is no predetermined buying price. Instead, this buyback activity is spread across a longer timeline to avoid any major market fluctuation.
Although there is no predetermined buying price, a buyback through the stock exchange does have a maximum buyback price. So the company plans to buy back shares at a price equal to or lower than the maximum value.
Wipro share buyback – tender offer or open market?
Given this background, under which category does the Wipro buyback fall?
You're right, under the 'tender offer buyback', Wipro has announced a predetermined price of Rs.445 per share. But here's where things get interesting: As of May 23, 2023, 1:30 pm, Wipro's share price stands at Rs.398.50.
The last time Wipro's share price existed at Rs.445 was almost a year ago, on May 25, 2023. So, if you have currently invested in Wipro shares, a buyback would help you make a profit.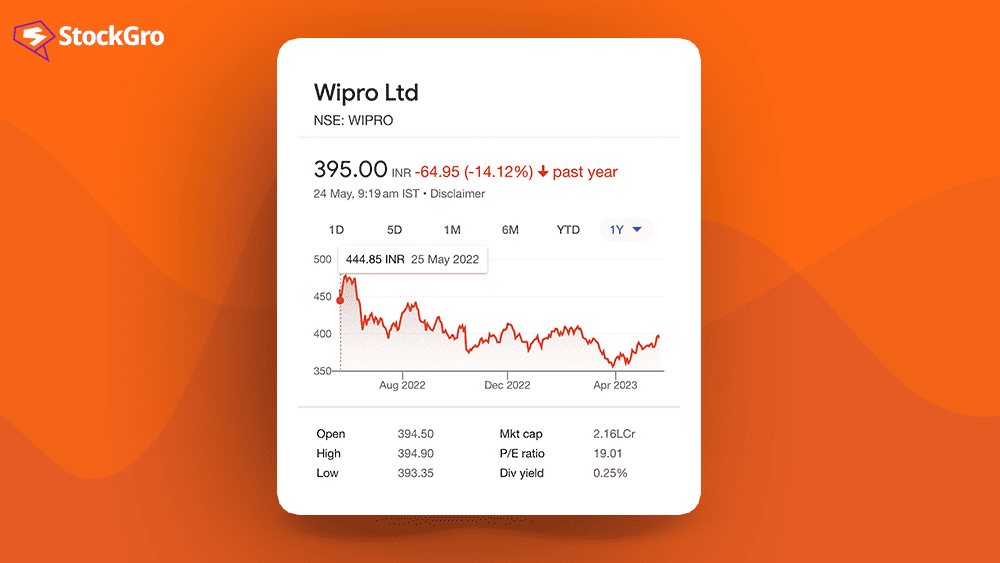 Simply because the buyback price exceeds the current market price. This is precisely why investors like buybacks. At least one of the main reasons.
Also read: The 20% TCS buzz and its impact on international credit cards
Current or ongoing buybacks 2023
To understand how common a share buyback phenomenon is, here's a table of recently initiated share repurchases. This can also help you track upcoming buybacks and make a profit in case you have invested in those shares.
Company Name
Ongoing/Upcoming
Type of buyback
Current share price (as of May 23, 2023, 1:30 pm)
Wipro Limited
Ongoing
Tender Offer

Share price = Rs.445
Rs.398.50
Hinduja Global Solutions Limited
Upcoming

Closing date – June 02, 2023
Tender Offer

Share price = Rs.1700
Rs.1,160.20
Emami Limited
Upcoming

Closing date – July 19, 2023
Open Market through stock exchange

Maximum buyback price = Rs.450
Rs.392.40
Natco Pharma Limited
Upcoming

Closing date – September 20, 2023
Open Market through stock exchange

Maximum buyback price = Rs.700
Rs.619.70
Why do companies consider a buyback of shares?
Recently, if you have noticed multiple companies announcing a buyback, don't worry. You are not the only one. As mentioned before, share buyback is a common phenomenon for many reasons. Some common ones include:
Lack of investments
According to an article by Motilal Oswal, IT giants like Infosys, TCS, and Wipro tend to have "billions of dollars in cash". However, very few investments. Their systems are already established, and the engine is working fine. So, there is no new venture or scope to invest unless they plan a major acquisition.
Now, sitting on a huge amount of idle cash is a costly affair because of cash-handling charges and other expenses. So, what's the solution? A share buyback!
In fact, buybacks are not a common phenomenon among Big Tech giants. Let's come back to Wipro. Prior to the 2023 share buyback announcement, the IT company in 2020-21 as well as 2019.
Following are some brief details about Wipro's buyback history:
Buyback: 2020-2021
Timeline – December 20, 2020, to January 11, 2021
Number of shares bought back – 22,89,04,785
Total value – Rs.9,156 crore
Share price – Rs.400
Buyback: 2019
Timeline – December 14, 2019, to August 28, 2019
Total value – Rs.10,500 crore
Improving the valuation of the company (in theory, at least)
Typically, when companies initiate a share buyback, their number of "outstanding shares" reduces. Even their capital base, or the amount of money earned through IPO/publicly traded shares, also comes down.
In theory, this results in a higher earnings-per-share (EPS) as well as return-on-equity (ROE). Why? Because the earnings remain the same while the number of shares has gone down.
With both metrics improved, the price-earnings (P/E) ratio would also improve. Sounds logical, right? But only in theory. Because the P/E ratio depends more on the growth of the company over a quarter or year. Not just EPS or share price.
Confused with too much technical jargon? Let's give it a "human psychology" twist!
When a buyback is initiated, more often than not, it is interpreted as a company having zero or limited investment opportunities. This automatically reduces the P/E ratio for investors, even if, in theory, the ratio seems promising.
Thus, while some companies may announce a share buyback to improve their valuation, it can take a different turn.
Read also: How to benchmark like a boss: Your guide to investment success!
Signalling the stock to be undervalued
This is, perhaps, the most common reason for announcing a share buyback. And to solidify the claim of undervalued stock, the company is prepared to spend a huge chunk of money to repurchase its shares.
Such a buyback is usually announced by companies which have witnessed a sharp fall in their share price, despite no fundamental flaws or troubling macroeconomic conditions. And what's the result? Public or retail investors get the idea that there are more buyers for this stock than sellers. Thus, creating a "price bottom".
In the case of Wipro, signalling undervaluation could be a possible reason. As reiterated, the stock price has not touched Rs.445 since May 2022. Moreover, the IT giant is willing to pay Rs.12,000 crore to repurchase shares. Not at all a small amount.
Thus, undervaluation could be a reason. But this is just a conjecture, not a fact!
As a trader/investor, what should concern you is the reason behind initiating a buyback. If you keep an eye out for a reason, you might make big bucks if a large-cap repurchases its shares!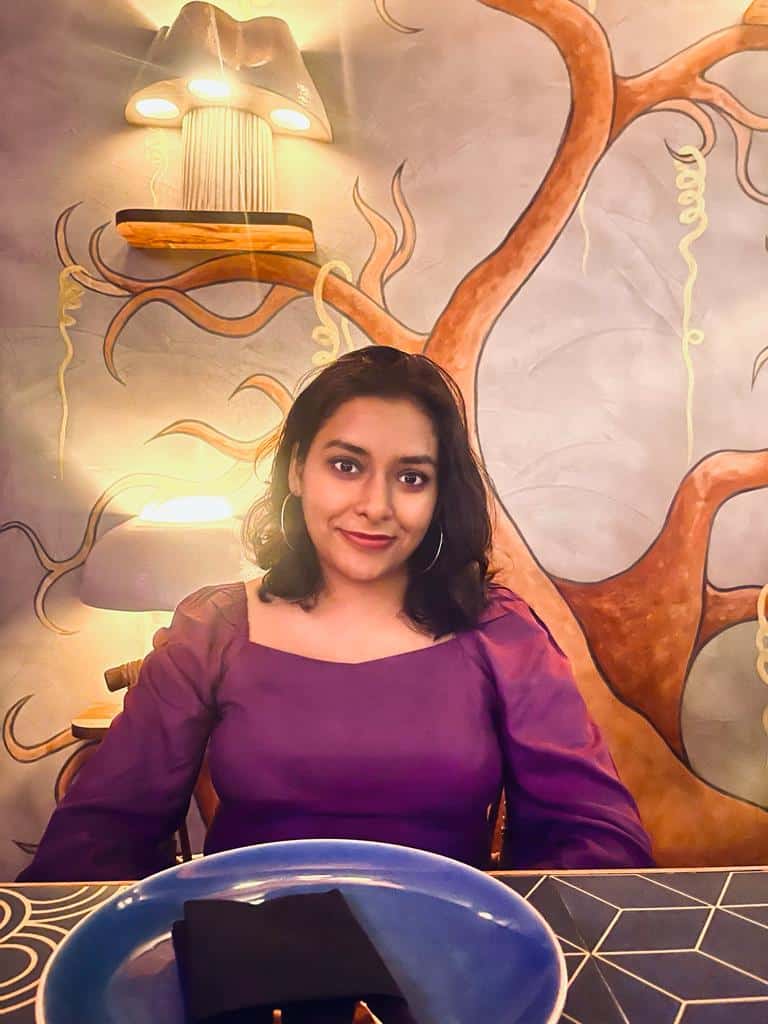 A finance-junkie and journalist-by-heart, I endeavour to dive deep into anything that tickles my curiosity. This 'anything' mostly relates to stock market and money matters.