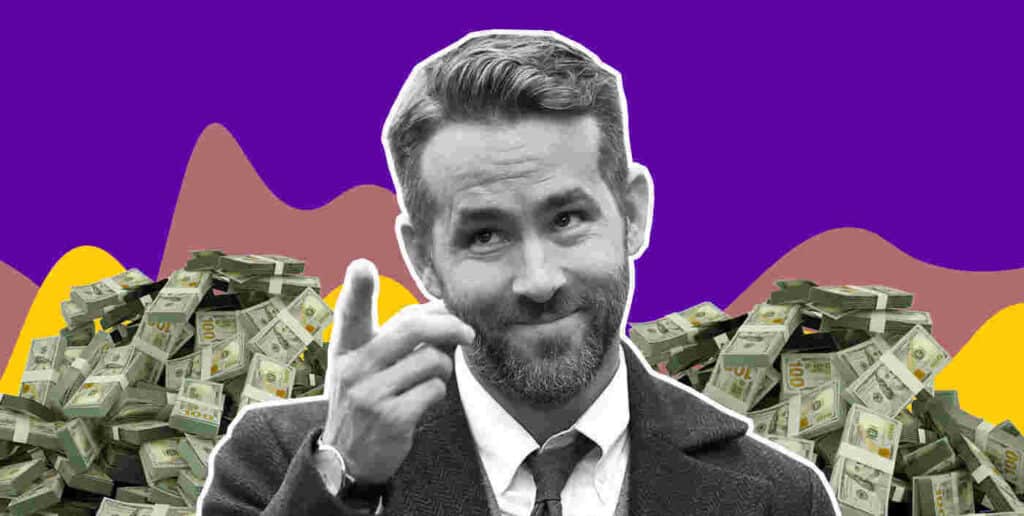 Ryan Reynolds worth went from USD 75 million to USD 150 million in just 5 years! In 2020, Forbes named him the 2nd highest-paid actor, second only to Dwayne Johnson, a.k.a. The Rock.

All thanks to his business mojo. And, of course, Deadpool, an R-rated superhero movie, smashing box office collections with a whopping USD 783 million.

Question is – how much did Ryan Reynolds get for Deadpool? A whopping USD 22 million (unlike the mere USD 2 million announced "officially").

Read Also: Turbulence ahead with Tata mega merger

But wait, how can an R-rated superhero movie become a top-grosser? It doesn't fit the mold. At least, that's what Hollywood believed.

Until Ryan Reynolds proved them wrong.

Before we dive into Ryan Reynolds, the red-hooded superhero, here's one question –

What makes' Ryan Reynolds sell?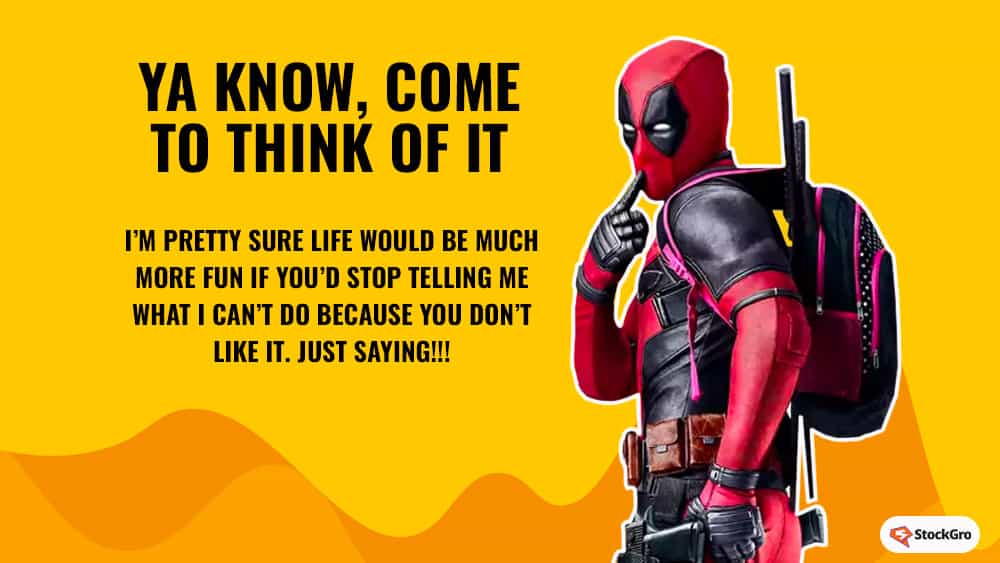 His looks – nope.
His charming personality – maybe.
His R-rated humour – a big YES.

Humor is his forte. That's his personality. And so, not much he flexes that hotshot body; people connect more to his quick wit and sarcastic jibes. No wonder the Canadian actor enjoys a celebrity net worth of USD 150 million.

In fact, a US-based publication Parade calls him one of the "highest-grossing film actors of all time," with his box-office collections touching a giant USD 5 billion. But today's talk is about Deadpool. So, how much did Reynolds earn from his red-and-black, spandex alter-ego?

Reports suggest that the Deadpool actor was paid a base salary of USD 2 million. But his contribution to the making of Deadpool earned him an extra USD 20 million. Now that's some excellent profit! Imagine losing all that money because Reynolds' humour was "too bold."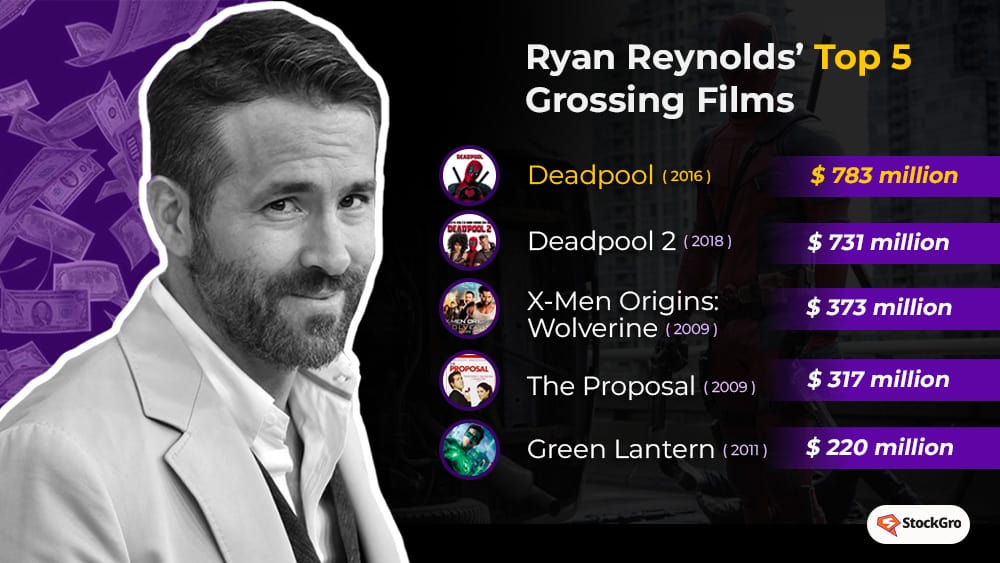 What is Ryan Reynolds' Portfolio of Investments?

Here's a fun fact – Ryan Reynolds' net worth in 2023 is likely to cross USD 300 million following his sale of Mint Mobile to T-Mobile for a whopping USD 1.35 billion, according to a Fortune report. Clearly, he's minting money faster than Flash!

Undeniably, Reynolds has solid business acumen, apart from smart film choices. Until recently, he owned a huge stake in Aviation Gin. Although the figure is a mystery, the brand got sold for USD 610 million, and Ryan enjoyed a big slice of that cake.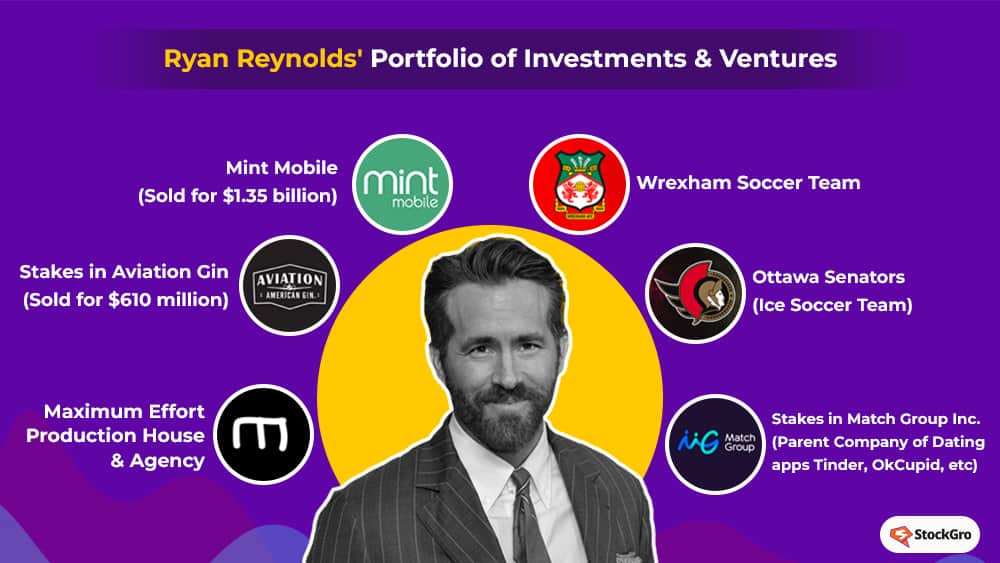 Speaking of cakes, the Deadpool actor has co-founded Maximum Effort Productions and Maximum Effort Marketing. Incidentally, Maximum Effort was part of Deadpool 2's production team. So you know both ventures are profitable, giving our man a run for his precious dime!

Oh, how can we forget sports? Reynolds recently invested in the Welsh soccer team Wrexham, which costed him and Rob McElhenney £2 million, as reported by the BBC. Some reports also suggest Ryan's intentions of buying the ice-hockey team, Ottawa Senators.
Undoubtedly, the man's love for sports is as big as his bank balance!
Now, time to dive into Deadpool's success spree.

How did Deadpool's Value Boost From USD 58 million to USD 783 million?

How did Ryan come across Deadpool? Well, flashback to 2004, when Reynolds read the Deadpool comic. It had clever humour, charming characters, and of course, bold, R-rated humour. All three elements made Reynolds fall head-over-heels.

But but but…not enough to convince producers. Even after 46 attempts spread across 11 years. Hollywood didn't budge. Then came the marketing tactic.

Here's a question for you – how to make the public talk about your idea? Simple. Make it go VIRAL!

And that's precisely what the Deadpool actor did. Suddenly, a clip containing Deadpool's leaked footage went viral on social media. So much so that the Hollywood money machines had no choice but to give in. So, Century Fox takes up the movie. However, there's a catch.

A meagre USD 58 million budget.


But wait, it does sound like a big budget. Even Brahmastra, India's 2022 top-grosser, was made at a gigantic USD 48 million approx. But that's not a fair comparison. Why? Because
Superhero movies always have a higher budget!


We've all grown up watching superhero movies like Batman (1993), X-Men (2000), Iron Man (2008)…the list goes on. Among these top-grossers,
Man of Steel (2013) had a budget of USD 225 million
The First Avenger (2011) was made with a budget of USD 140 million
Even X-Men, released almost two decades prior to Deadpool had a higher budget i.e., USD 75 million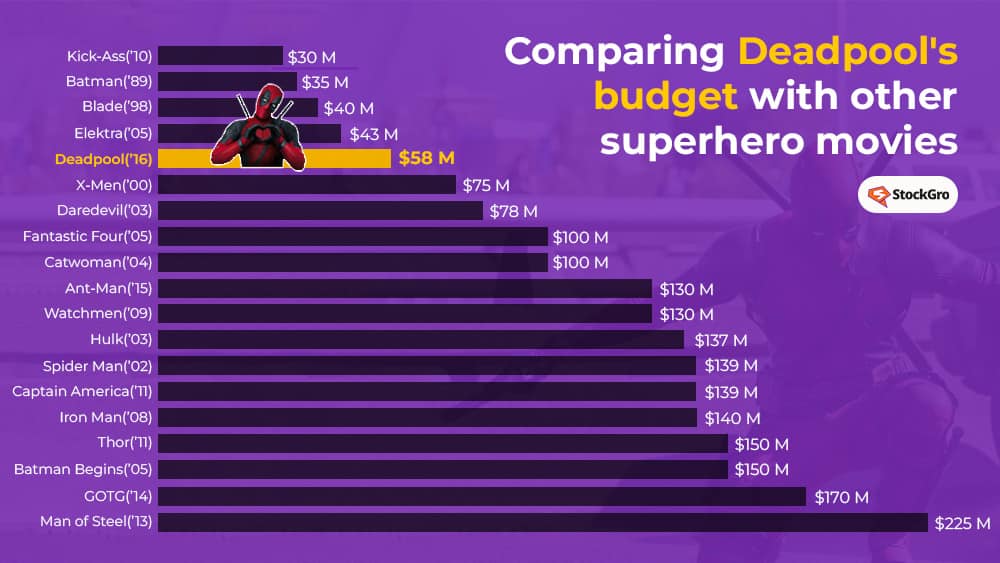 But wait, the logic around superhero movies is this – R-rated and action don't go together. Especially after the 2009 Watchmen debacle, which made merely USD 10-15 million more than their production budget.

Mixed performance by R-rated movies

Let's look at some other R-rated films belonging to the same genre.
| | | |
| --- | --- | --- |
| Movie Name | Estimated Budget | Opening Weekend Earnings |
| Darkman (1990) | USD 14 million | USD 8.1 million |
| Blade (1998) | USD 45 million | USD 17 million |
| Kick Ass (2010) | USD 30 million | USD 19.8 million |

You might argue – none of these films have Ryan Reynolds' star power. Well, we have got that point covered too.


Deadpool is not Ryan's first superhero stint. Back in 2011, he was casted as the lead in Green Lantern. His romantic life sure hit the jackpot with Blake Lively. But the film broke records for all the wrong reasons – Grossing at USD 220 million against a production budget of USD 200 million, it became one of the biggest box-office bombs in Hollywood's tumultuous history.

Comparatively, Deadpool earned USD 132.8 million on its opening weekend itself, surpassing its entire budget.

So, while the logic of producers was justified, you cannot ignore social media in today's day and age, And if netizens want Deadpool, even Hollywood is likely to budge.

But holding the 11-year obsession tight, Reynolds accepted the budget. And delivered 1,350 percent ROI, becoming the highest-grossing R-rated film of all time. Now that's a challenge not won, but SMASHED!
Also Read: Do Indian markets mirror global trends?
So lesson time!

There is much to learn from the life and decisions that the Deadpool star took. As a trader, here are two lessons to learn from the actor –

Lesson #1: Always strive for a diverse portfolio

Along with his acting chops, Ryan invested in multiple ventures, and hence, created multiple sources of income. No wonder, he has a gigantic net worth. Taking inspiration from him, you need to strive for a diverse investment portfolio. And not limit yourself to one security.

Lesson #2: No need for huge capital

You don't always need a big budget to earn big bucks. Similarly, you don't need to trade huge capital to make a profit. Even with meagre savings, you can yield good returns. All you need is guts to stand relentlessly with your dream, just like Ryan did with his Deadpool obsession!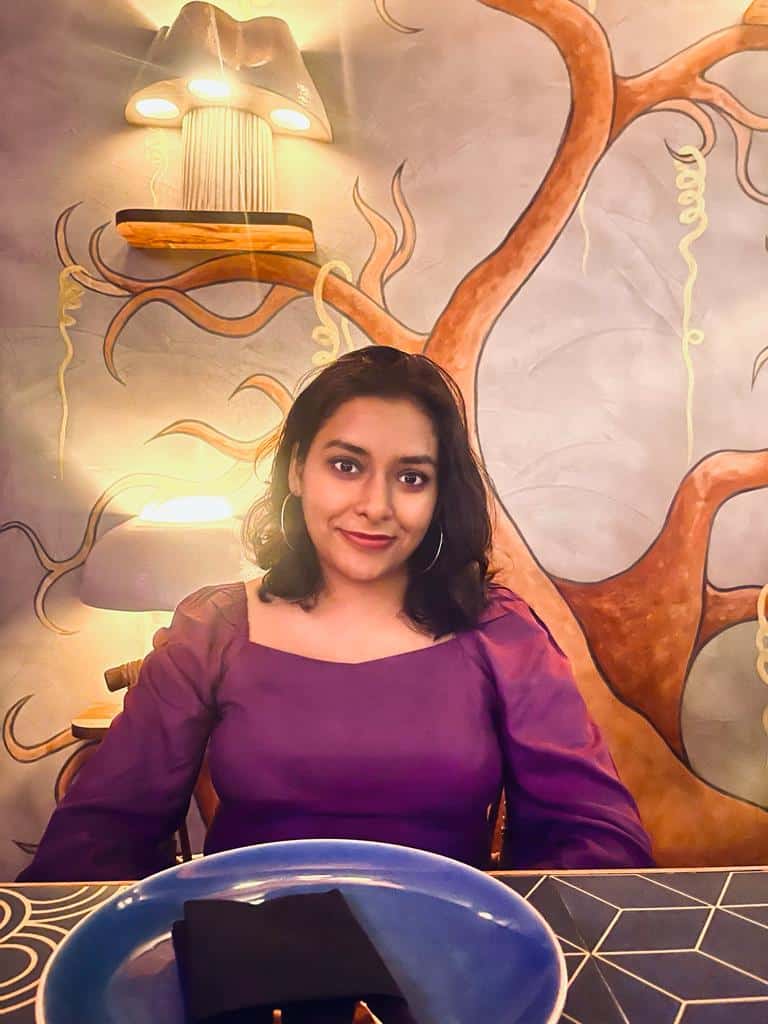 A finance-junkie and journalist-by-heart, I endeavour to dive deep into anything that tickles my curiosity. This 'anything' mostly relates to stock market and money matters.