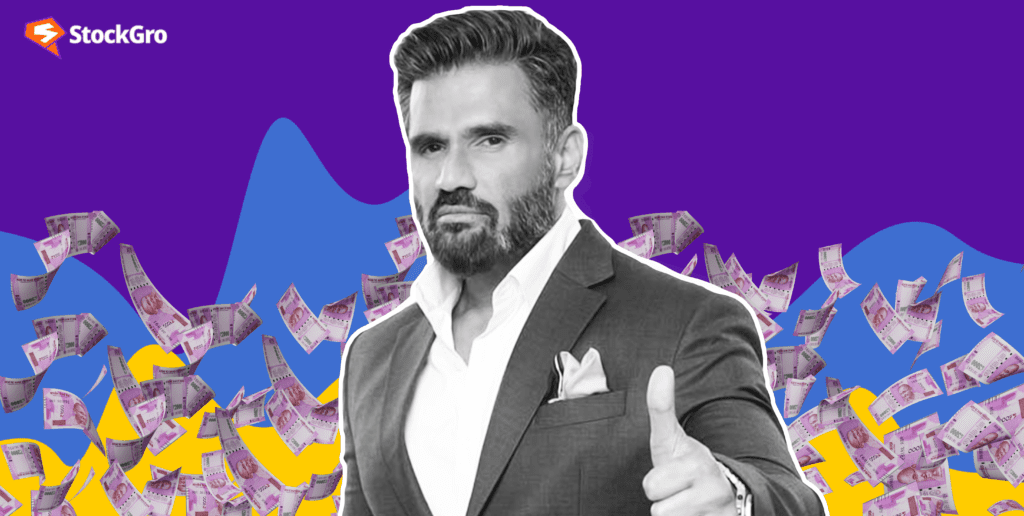 With the announcement of Hera Pheri 3, the iconic movie franchise that gave us some unforgettable moments and countless memes, it's worth discussing Suniel Shetty's financial journey of building wealth through investments, businesses, and startups. Let's dive deep into Suniel Shetty net worth –
We all know Suniel Shetty as a Bollywood superstar, but did you know he's an even more successful entrepreneur and investor?
Often referred to as the Ambani of the Bollywood industry, Shetty and Mukesh Ambani share a similar background in building upon their fathers' legacies.
Shetty's father was a humble hotelier, and he grew the family business into a chain of luxury hotels, restaurants, and resorts, prioritising his customer's comfort and enjoyment.
In contrast, Mukesh Ambani's father had a vast empire in the petrochemical industry, which he took over and diversified into telecommunications, retail, and entertainment.
Shetty started his Bollywood journey in 1992, which is when his investment career also took off. Let's take a look at his top 5 blockbuster movies and how they fared at the box-office.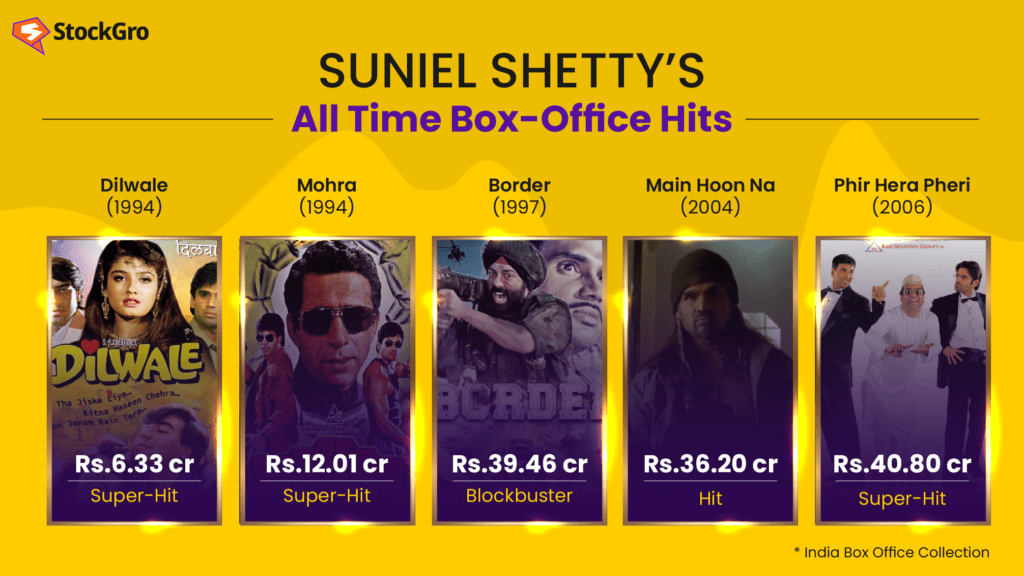 Just the way he graced the silver screen with his charisma, he also charmed his way into the business world.
Early days of his life

Suniel Shetty, who grew up in a traditional Shetty family in Mangalore, started working at his father's restaurant at 16. He developed a strong work ethic working long hours in the kitchen of his father's restaurant during major sports tournaments. This drive helped him succeed in various business initiatives he pursued later in life.
By 21, he was already a successful restaurateur. But at 24, he was drawn to fashion merchandising and took the leap to start his first venture, Mischief. Later, at 28, he surprised his friends by giving up his fashion enterprise to pursue a career in acting.
Suniel Shetty's continued transition from a restaurateur to a merchandiser, retailer to an actor, NGO head to real estate baron, brand ambassador to mentor, and film producer to startup founder. This way, he established many successful businesses.

Read Also: From ₹90 cr debt to $410 Mn in 2023, here's Big B's comeback
Diversification is key

Suniel Shetty's savvy investment choices reflect the significance he places on diversification. Evidently, he has taken calculated risks and spread out investments across different sectors.
By spreading out his investments, he smartly minimised the risk of losing his money and maximised the growth potential.
Some of the sectors in which Suniel Shetty has invested include:
Hotel/Restaurants/Real Estate Business: Mischief Dining Bar and Club H20 in Mumbai.
Media & Film: Mr. Shetty co-founded a production company called Popcorn Entertainment, which produced several successful films, including "Bhagam Bhag," "Mission Istanbul," and "Thank You." In the past also, he has invested in a casting company called FTC, India's first online talent and casting platform.
Fitness Industry: Suniel Shetty launched a chain of fitness centres called "FITTR", which offers a range of fitness programs and services.
Edtech: Sai Estate Management & Skills Institute (SEMSI) is one of his online enterprises offering online courses and certifications in real estate, sales, and marketing.
Others: He has also invested in Beardo (men's grooming product range), Kochi-based health startup – Vieroots, and Meta Man (a men's jewellery brand).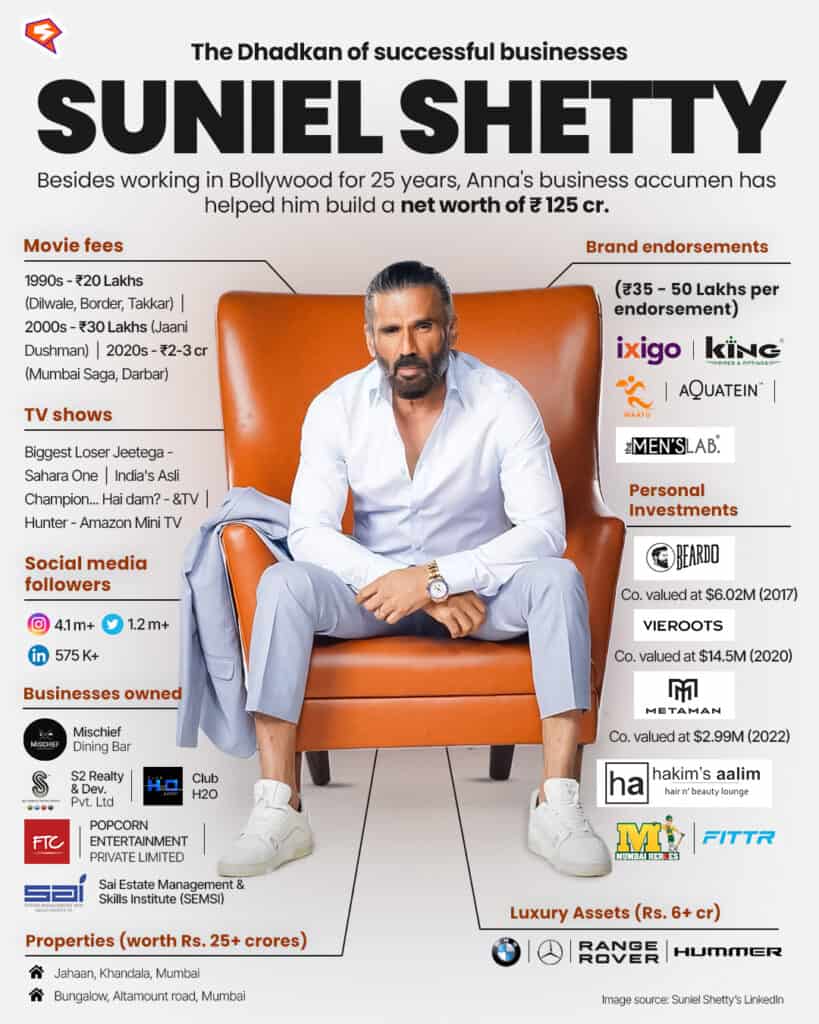 Suniel Shetty has built a strong financial foundation for himself and his family by diversifying his portfolio. His life serves as an inspiration to youngsters looking to build successful financial portfolios. He's not just a Bollywood superstar; he's also an astute entrepreneur and investor.
Importance of financial literacy

At 61, this stunningly fit superstar says, "You have to be financially fit to achieve success in the long run." His risk-taking attitude has taught him to stay updated about market trends before making any informed decisions.

Read Also: Amul vs Nandini: The battle of India's dairy giants
His investment philosophy reflects in the businesses he chooses to run, be it fitness, wellness, grooming, or entertainment. He has hand-picked sectors that he has substantial knowledge about.
What also makes his business acumen so sharp is the time he spent observing his father's businesses right from childhood.
Suniel Shetty has internalised his father's teachings to zoom his personal wealth to an estimated USD 10 million. His marathon thinking and stable growth principle have resulted in an ultra-luxurious life for him and his family.
This actor-turned-investor's life is filled with lessons on how to make money work for you!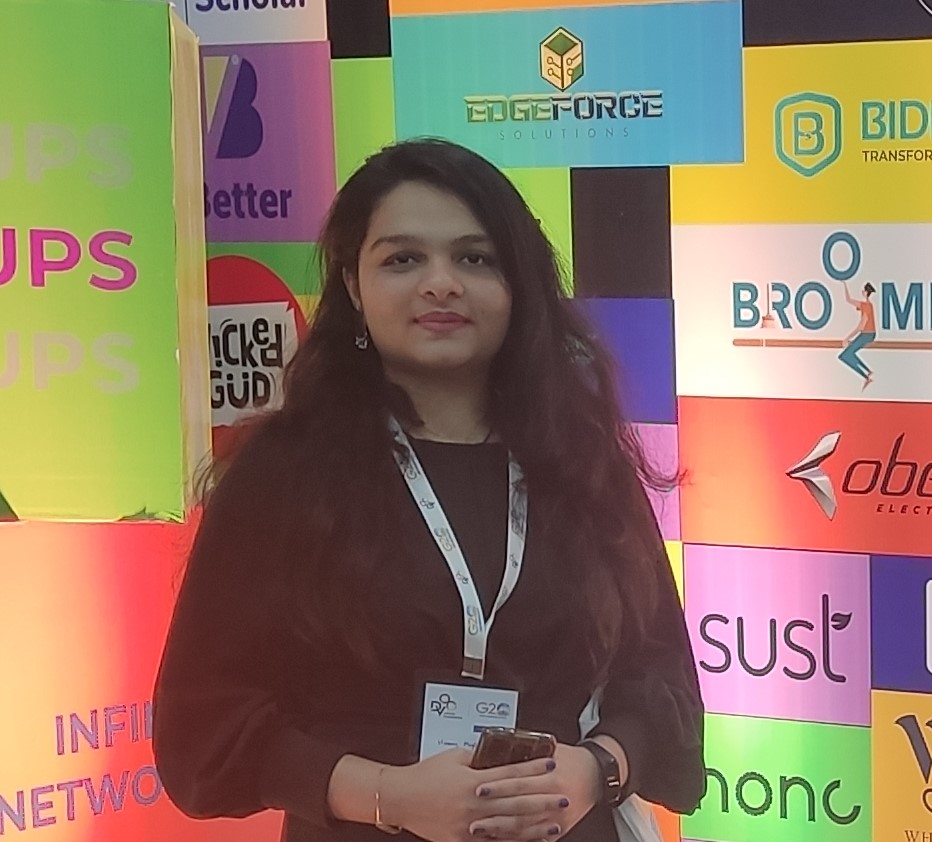 A curious mind, a love for writing, and a passion for all things finance – that's me in a nutshell. Whether I'm exploring the latest stock market trends or diving into the nitty-gritty of personal finance, marketing, and AI. I'm always on the hunt for the next big story.