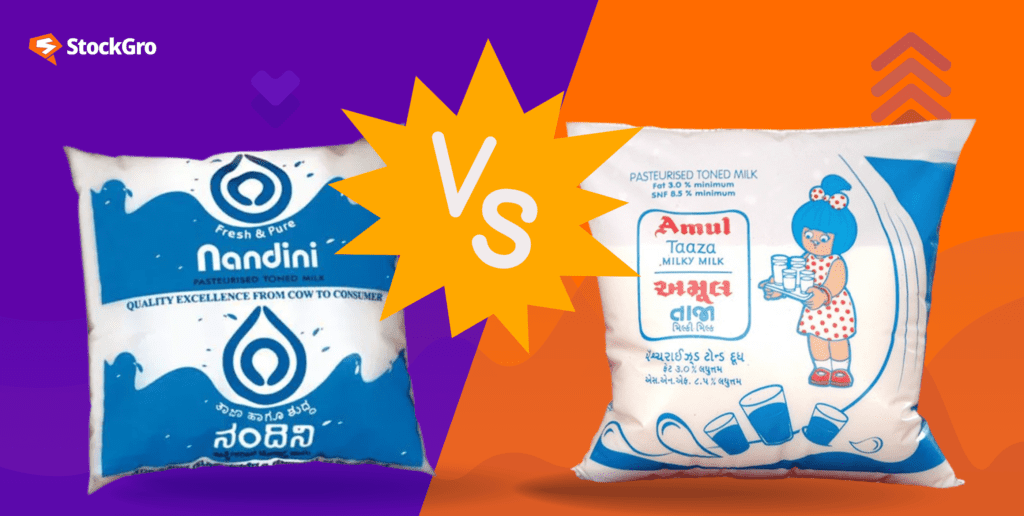 Amul produces 20% of the world's milk & controls 30% of India's liquid milk market, whereas Nandini controls 70% of Bengaluru's market. Amul vs Nandini – why are they clashing now?
Have you heard about the latest Amul vs Nandini dairy drama in India? Well, Amul, India's most cherished dairy brand the "Taste of India," has decided to enter the Karnataka market, and it's causing quite a stir.
On April 5, 2023, Amul announced on Twitter that it would introduce milk and curd in Karnataka.

Since then, Amul has become the target of criticism and backlash on the social media platform Twitter, with the trending hashtag #GoBackAmul. P.C. Rao, the president of the Bruhath Bangalore Hotels Association, representing over 5000 restaurants, has also decided to boycott Amul products for its members.
While Amul has had a significant presence in Karnataka with its ice cream business for a long time, the move to sell fresh milk and other dairy products has sparked controversy. The sudden churn in the pot has left many wondering who Nandini is and why there is such a hue and cry over Amul's entry into the market.
Also Read: India's neighbours are in economic trouble! How is India booming?
Nandini milk: The local brand taking on Amul in Karnataka

Nandini, a local cooperative owned by the Karnataka Milk Federation (KMF), has been the undisputed king of the Karnataka dairy market for years. It's actually the second-largest milk producer in India, with over 2.4 million milk producer members and 14,000 milk producers' cooperative societies.

That's a lot of milk! In fact, it makes up about 70% of Bengaluru's milk market, which is about 33 lakh litres per day.
Nandini
Amul
Overall
Among India's largest milk cooperatives
Largest milk & dairy cooperative in the country
Founded
1974
1948
Location
Bengaluru, Karnataka
Anand, Gujarat
Annual Turnover
Rs 19,784 crore
Rs 55,000 crore
No. of producers
2.4 million
3.64 million
Total milk handling capacity
1 million litres/day
5.2 million litres/day
Average milk collection
81.3 lakh litres/day
26.3 million litres/day
Face to face
Has nearly 18 varieties of
milk, including the popular toned, full cream, and low fat milk.
Has nearly 18 varieties of milk, including the country's most sold Amul Gold &Amul Taaza
| | |
| --- | --- |
| Also in | All major categories like Curd, Lassi, Butter Milk, Ghee, Butter, Ice Cream, Dairy Whitener & Chocolate |
Source: Cooperatives

So, what's the secret to the country's largest dairy cooperative, Gujarat Cooperative Milk Marketing Federation (GCMMF) – popularly known for its brand Amul's success?
Amul vs Nandni: Examining the business models

It's all in their 3-tier model! Milk producers (aka farmers) are members of the Village Dairy Cooperative, which then forms the District Dairy Cooperative Union.
Members of these unions then process and package milk products that are sold directly to consumers through the State Milk Federation. This model ensures the elimination of middlemen and gives milk producers control over procurement, processing, and marketing.

Amul is also known for its iconic ad campaigns that we all know and love. And their success didn't go unnoticed because, in 1969, they launched the White Revolution initiative, which made Amul a model that was replicated throughout the nation.
And get this, their milk farmers and producers get a whopping 80% of the consumer price, which amounts to around 12,000 crores in cash for those who supply raw milk.
Nandini works on a similar three-tier Amul model and serves around 22,000+ villages with 65+ milk products. The only difference is that Nandini products are cheaper than Amul. One of the reasons why they can serve their customers at a lower price than Amul is because the state government incentivizes their milk farmers.
In fact, today, its milk farmers receive as much as Rs. 6 per litre incentive, making their milk and derivative products cheaper than most other larger cooperatives in the country.
Read Also: Ethical dilemma of taxing alcohol and cigarettes
Factors behind Nandini's low prices

Speaking of price points, Nandini is keeping things affordable at Rs 39 per litre for its packet of milk. On the other hand, Amul Taaza and Amul Gold will be available for Rs 54 and Rs 64 per litre respectively in Karnataka's capital.
Price Comparison
1 Litre toned milk
Rs 39
Rs 54
1 kg curd
Rs 47
Rs 67
Full cream milk
Rs 50 per 900 ml
Rs 66 per 1000ml
But Amul isn't taking this lying down. They want a piece of the Karnataka pie. The problem is their entry into the market has triggered political controversies, with people accusing Amul of threatening the interests of local dairy farmers.
Now, here's where the controversy comes in.
Does Amul pose a threat to Nandini?

Amul, which is the largest dairy cooperative in India, has announced that it's entering Karnataka. The problem is that Nandini is the market leader in the area, so people are worried that Amul's entry will negatively impact Nandini.

People wonder whether Amul, a big dairy company, could easily undercut Nandini's prices and drive it out of business. However, this is unlikely to happen because Amul is also a cooperative organisation, which means that most of its profits go to its primary producers. Therefore, it is not easy for them to reduce their margins just to gain prominence in a single market.

However, Amul's managing director has clarified that they're only looking at e-commerce/quick commerce channels for now and don't have any plans to bring down their price points or enter the general trade market.

Although Amul's toned milk at ₹54 per litre is more expensive than Nandini's toned milk at ₹39 per litre, it is likely to sell more as a premium product in the state. In contrast, Nandini's milk is more affordable, making it a preference for the masses.

Mehta, the current MD of GCMMF, stated that there is no competition between Nandini and Amul, and both cooperatives work together in coordination and cooperation. He further clarified that Amul has been selling fresh milk in North Karnataka since 2015-16, with a volume of only 8,000-10,000 litres per day, compared to Nandini's sale of approximately 1.30 lakh litres of milk per day in these two districts.

Mehta also mentioned that the recent launch of Amul Taaza in Bengaluru was only through e-commerce platforms based on customers' search data on online platforms.

Mehta emphasised that there cannot be an "Amul versus Nandini" scenario as both are cooperatives owned by farmers and have been working together for decades to build India's cooperative dairy industry. Competitors or not, only time will tell who gets to be the market leader in Karnataka!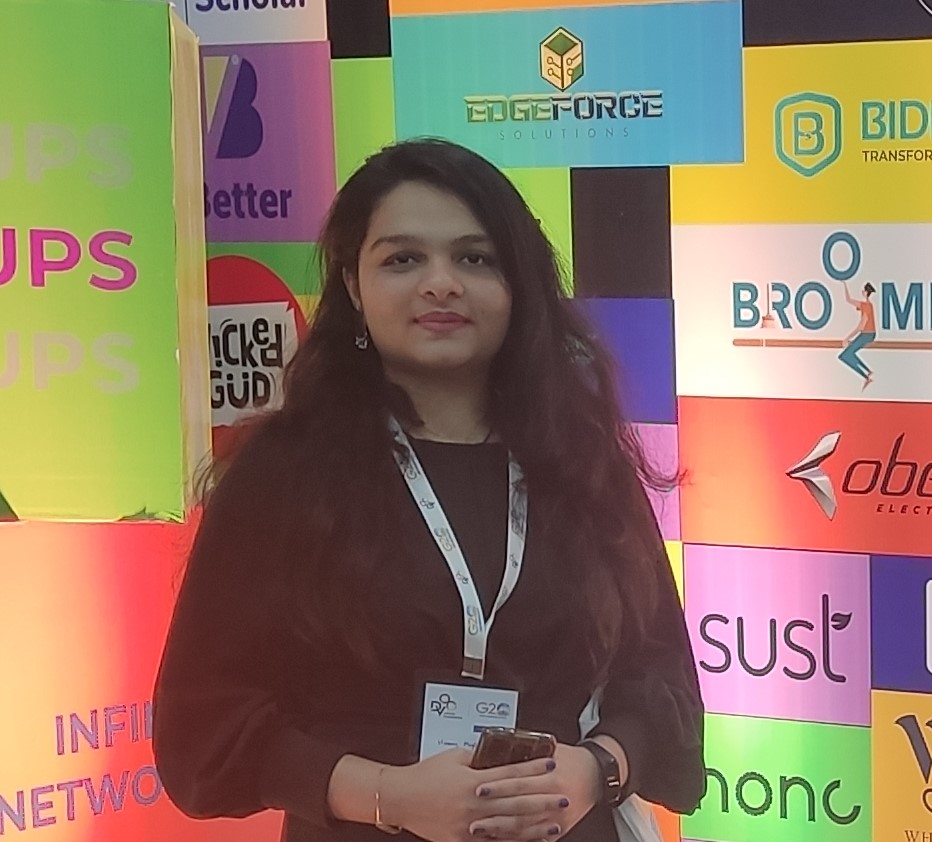 A curious mind, a love for writing, and a passion for all things finance – that's me in a nutshell. Whether I'm exploring the latest stock market trends or diving into the nitty-gritty of personal finance, marketing, and AI. I'm always on the hunt for the next big story.