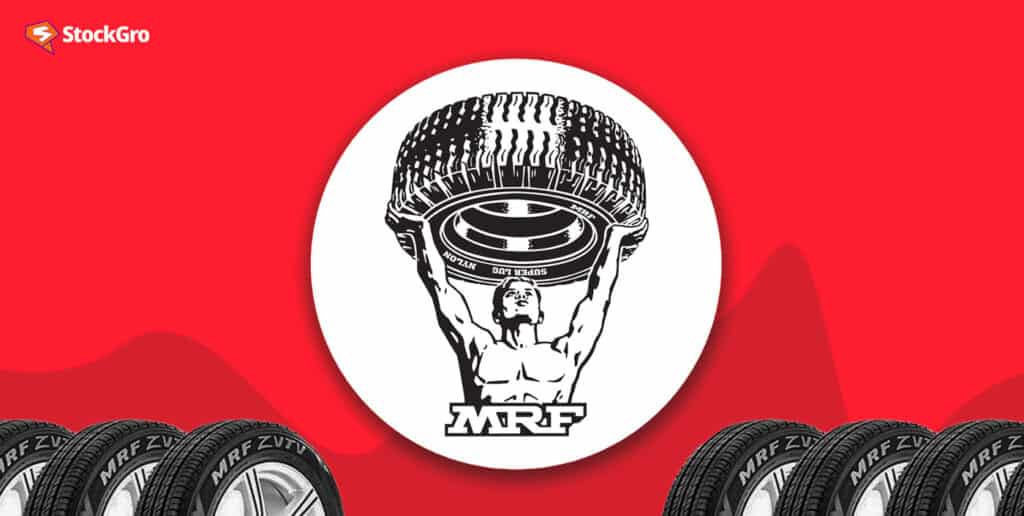 Have you ever wondered what makes a company's share price soar to incredible heights?
Let's uncover the mysteries and unveil the secrets behind this incredible number.
On 8th May 2023, MRF's shares reached a 52-week peak of 99,933.50 ₹ – just a hair's breadth away from the coveted ₹ 100,000 mark before settling at ₹ 97,750, making it the most expensive stock in India.
Following this, MRF achieved a significant milestone when its stock crossed the Rs 1,00,000 mark in futures trading. This makes MRF the only stock in the country to reach a six-digit figure. However, it's important to note that this milestone refers to the futures market price, and the cash market price of MRF shares is yet to touch the Rs. 1 lakh mark.
After that, MRF also became the second-strongest tyre brand in the world – that's quite an achievement! According to Brand Finance, a renowned brand valuation consultancy, MRF has emerged as a powerhouse in the tyre industry.
Before getting into facts and figures, let's start by getting to know MRF a little better. MRF, short for Madras Rubber Factory, is an Indian company that specialises in manufacturing tyres.
History of MRF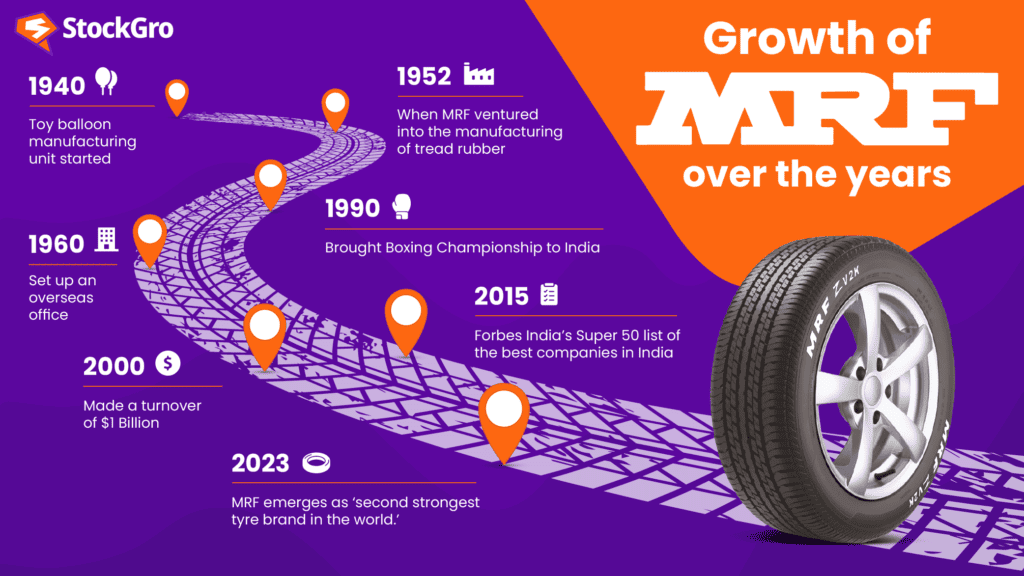 The foundation of MRF Tyres was laid with KM Mammen Mappillai's toy balloon unit in 1946 with a humble investment of ₹14,000. But it was in 1952 that MRF made its mark by entering the tread rubber manufacturing business, swiftly capturing 50% of the market.
In 1961, a game-changing collaboration with Mansfield Tire & Rubber Company from the USA propelled MRF into tyre manufacturing. They made history by becoming the first Indian company to export tyres, establishing their presence in Beirut.
MRF's tyre empire expanded further, encompassing passenger car tyres made with Nylon technology in the 1970s and two-wheeler tyres in the 1980s. They also ventured into the world of sports with the MRF Pace Foundation.
Sports sponsorship became a defining characteristic of MRF, including the MRF World Series Cricket Tournament and hosting the 6th World Cup Boxing Championship in Mumbai.
The company's success soared, with a turnover of 1 billion dollars in 2007 and recognition in Forbes India's Super 50 list in 2015. MRF's journey is far from over as they continue to make their mark in various industries.
MRF, in collaboration with Hasbro International USA, started a subsidiary company called Funskool India Limited, which produces and distributes toy licences from top brands like Monopoly and LEGO. MRF holds a 60% stake in the venture.
You may also like: Festival de Cannes 2023 – Economics of a world-renowned film festival
The power of MRF brand and reputation
According to a report by Brand Finance, a UK-based brand valuation consultancy, MRF scored 83.2 out of 100 in brand strength, with a AAA- brand rating. It also emerged as the second-fastest growing tyre brand in the world.
So, what makes MRF so special? Well, the tyre major scored high in almost all parameters, including Sustainability Perception Value. It's also the only Indian tyre manufacturer to be featured in the top 10. Moreover, MRF is the most valued Indian tyre brand.
MRF wanted to transform itself from a mere manufacturer to a recognisable brand. So, they brought Alyque Padamsee, the father of Indian advertising, to work his magic. Alyque had an impressive track record, having worked with numerous top brands like Bajaj, Surf, and Fair and Handsome.
When Alyque joined MRF, he knew the key to success was connecting with the customers directly. So, he decided to meet truck drivers, who had valuable insights about tyres. They emphasised that a tyre should be strong and powerful.
Inspired by their feedback, Alyque came up with the idea of the MRF Muscle Man in 1964. This iconic character embodied the strength of MRF's tyres and became a central figure in their TV commercials, even during the 1980s.
MRF has a strong brand value and is also associated with cricket, rally racing, and other sports. The company has sponsored prominent athletes like Sachin Tendulkar, Brian Lara, AB de Villiers and Virat Kohli, to name a few.
Let's take a closer look at some of the factors behind MRF's share price.
MRF's financial performance
MRF recently reported a mind-boggling 161% increase in standalone profit from continuing operations for the fourth quarter ending March 31. That's a whopping 4.11 billion Indian rupees! A cool off in Rubber prices and a surge in vehicle sales drove the heightened demand for MRF's tyres, contributing to their soaring profits.
| | | | |
| --- | --- | --- | --- |
| Year/Quarter | Q4 FY22 | Q4 FY23 | YoY Change |
| Consolidated Profit After Tax (₹ crore) | 168.53 | 313.53 | 86% |
| Consolidated Revenue from Operations (₹ crore) | 5304.8 | 5841.7 | 10.12% |
| Net Expenses (₹ crore) | 5142.79 | 5410.26 | – |
| EPS (₹) | 389.55 | 803.26 | – |
In the financial year ending March 2023, the company's international sales grew by 16%.
Dividend delights
MRF is not only driving profits but also showering its investors with generous dividends. The company declared a final dividend of 169 rupees per share for the fiscal year 2023.

And that's not all—MRF has a solid track record of rewarding its shareholders, having issued an equity dividend of 1500% at face value of 10 rupees per share for the fiscal year ending March 2022.
The Nifty50, a benchmark index comprising 50 prominent Indian stocks, pales in comparison with a mere 9% return. MRF has truly outperformed the market, offering investors a whopping 37% return on their investment.
Why is MRF stock so expensive?
Clearly, MRF's stock is expensive because of its consistent long-term growth. The MRF stock price has shown significant upward momentum over the years, starting from a listing price of ₹11 and reaching a lifetime high of ₹99,933.50. However, a high stock price alone does not determine a stock's quality.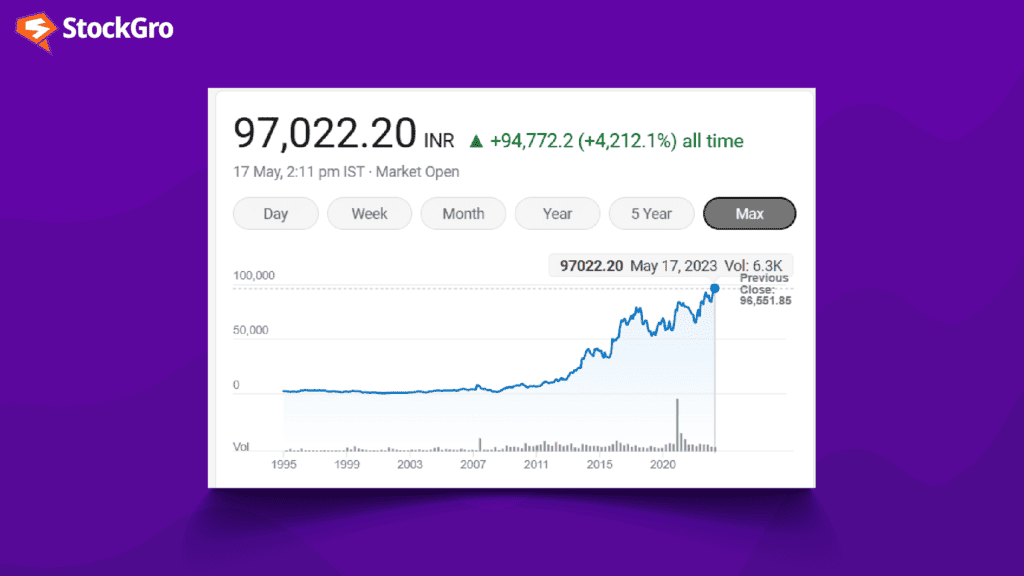 MRF's unique approach sets it apart from other companies. While some companies split their stock to increase liquidity, MRF has never split its stock or issued bonus shares. This lack of stock splitting is the primary reason for the high price of MRF shares.
Market analysts suggest that MRF's decision to avoid stock splitting may be driven by the desire to maintain a select group of serious investors and preserve decision-making power. With a high share price, retail traders with limited investment may be discouraged, allowing MRF to attract long-term, committed investors.
Supply and demand dynamics also play a crucial role in MRF's high per-share value. As a leading player in the tyre industry, MRF experiences strong demand for its shares. Investors eagerly seek to own a part of MRF, driving up the share price.
When demand exceeds supply, the value of a stock can skyrocket, just like MRF's per-share worth. Overall, MRF is a well-managed company with a strong track record of profitability.
So, have you invested in MRF? If not, would you consider investing in it? Let us know!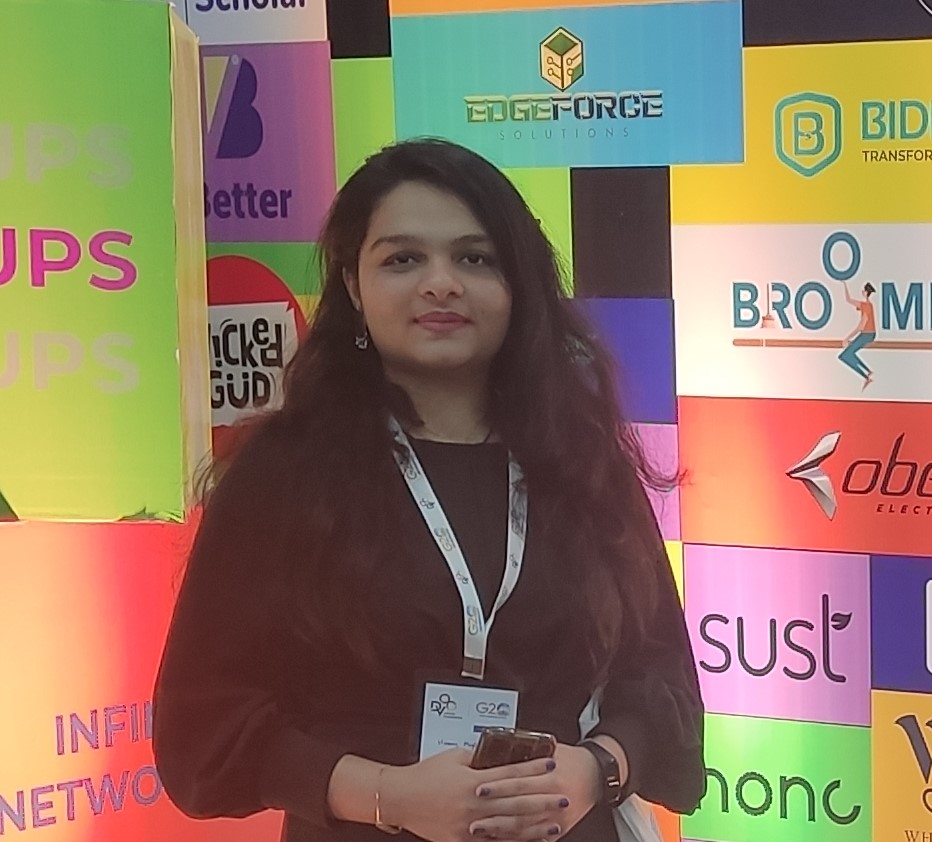 A curious mind, a love for writing, and a passion for all things finance – that's me in a nutshell. Whether I'm exploring the latest stock market trends or diving into the nitty-gritty of personal finance, marketing, and AI. I'm always on the hunt for the next big story.