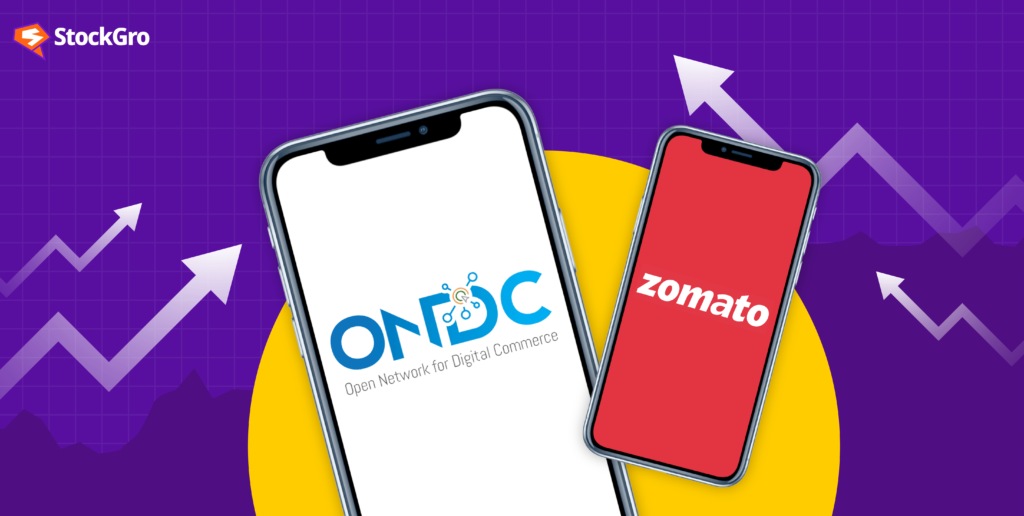 Out of curiosity, which app do you use to order food? Zomato or Swiggy, right? Well, there's a new player in town. Behold – Open Network for Digital Commerce or ONDC.
Since the introduction of government-backed ONDC, things have not been faring well for popular food aggregators Zomato and Swiggy. Zomato stock price today plunged 7 percent to Rs. 60.30 apiece on the National Stock Exchange (NSE).
Of course, it's true; Zomato stock price today (May 10, 2023) is faring better, ranging between Rs. 61 and Rs. 63 on NSE.
Clearly, the competition is intensifying, with experts feeling that ONDC, the free food delivery app, might just disrupt the food-delivery segment with its zero delivery costs and affordable pricing. But will this "disruption" be short-lived? Time to find out.
All about government-backed ONDC
Only last week, netizens on social media quivered with excitement, appreciating the affordable pricing model of ONDC,specially when comparing the costs of the same products on Zomato and Swiggy.
A recent report by the Economic Times claimed that items from significant food chains cost at least 30 percent less on ONDC compared to the other two players. These food chains include McDonald's, Taco Bell, WOW Momo, Pizza Hut, Cafe Coffee Day, etc.
You may also like: Why Manappuram Finance share price tumbled 20% last week
The difference in food prices – ONDC vs Swiggy vs Zomato
Let's compare the prices on all three platforms: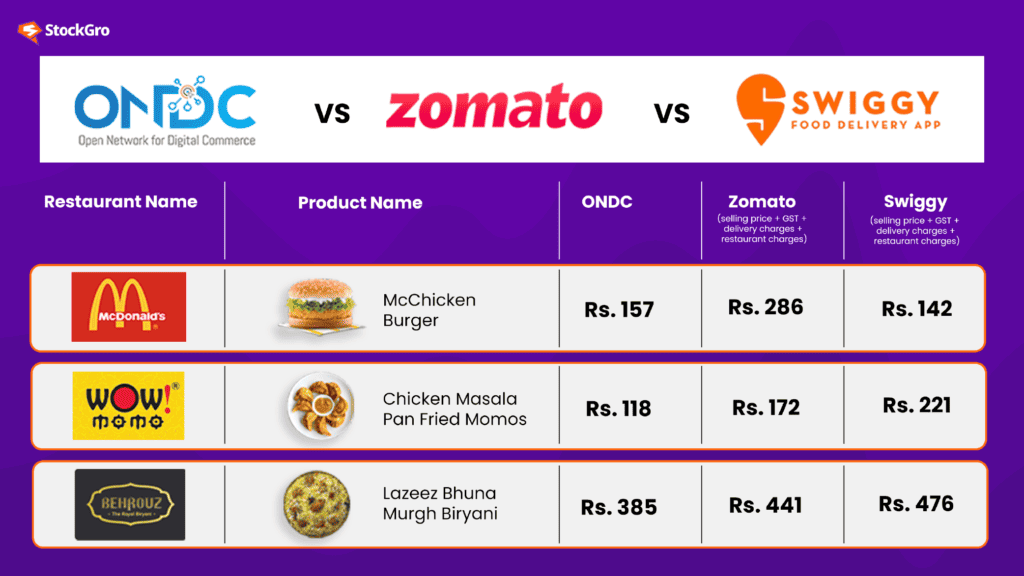 Take a look at the table above. Clearly, there is consistently low pricing on products in ONDC. However, the high-low prices keep fluctuating among products in Zomato and Swiggy.
Now here's where things get interesting – Remember when Swiggy was launched in 2014? Well, at that point, people took notice because of Swiggy:
Had their own delivery boys, tracking system and impressive logistics
No minimum order policy
Most importantly, a hoard of gift and discount coupons
While some lauded Swiggy's logistical prowess, others were impressed by the lower price points compared to the leading food aggregator back then, Zomato.
With ONDC's entry, however, even Swiggy's affordable pricing is being challenged. If these prices sustain for long, Swiggy and Zomato may have to tweak their pricing to not lose out on their customer base.
Also Read: GoFirst Bankruptcy: Airline's possibility of revival seems unlikely
How to order from ONDC?
Although ONDC, the free food delivery app, is considered a direct competitor to the duopoly of Swiggy and Zomato, it differs slightly in the ordering process.
Usually, when you open the Zomato or Swiggy mobile application, you directly search for the outlet, add the food items/products to the cart and choose the payment mode. Either UPI, credit card, debit card or some other option.

In the case of ONDC, the platform has tie-ups with two partner applications – Paytm and Magicpin. So, technically, ONDC does not have its own dedicated app. Instead, you will So, you need to download either Paytm or Magicpin and search for ONDC to access this popular food-delivery service.
In the case of groceries or other miscellaneous items, ONDC has partnered with Dunzo, Shadowfax and Loadshare.
Gradually, several other partnering apps would also accommodate ONDC. But here's an intriguing tit-bit:
ONDC has partnered with Magicpin. However, after a Series D funding round in 2021, Zomato now owns 16.1 percent stake in Magicpin. So, Zomato might just profit from the revenue earned through Magicpin.
Interesting, don't you think? Maybe, a topic of discussion for another day.
ONDC vs. Swiggy, Zomato – Key differences
Before getting into the crux of low prices, let's look at some key differences between ONDC and its direct competition. Particularly in terms of their pricing or business model.
According to a recent report by Inc42, key differences include:
Zomato, Swiggy
ONDC
Restaurants expected to pay 18-24 percent commission
Restaurants expected to pay 2-4 percent commission each to the seller, buyer and other apps (8-16 percent approx.)
In-house logistics and hence, delivery charges imposed
Zero delivery charges right now (may impose later, based on distance, by third-party agents)

Only the first order's delivery charges paid-off by the restaurant
Claim that delivery charges are passed-on to riders
Here, users might directly pay charges to third-party delivery agents
Delivery charges would be applied directly by third-party service and the amount will be added to overall cost of product.

Currently, restaurants bearing delivery costs
Discounts are not consistent across outlets
Avg discount of Rs. 50 offered across most outlets
Zomato delivers across 1000+ cities
Swiggy delivers across 500+ cities
ONDC is operational across 236 cities
Why ONDC charges a low price?
The main reason behind this 30-80 percent cost difference is the zero delivery charges. Moreover, there is a consistent discount of Rs. 50 on most orders on ONDC. However, the same cannot be said for Swiggy and Zomato.
What's yet to be seen is whether this low-cost pricing model would sustain for long. Why? Because currently, customers are enjoying zero delivery charges as restaurants themselves are bearing them.
As ONDC expands beyond its 236-cities coverage, restaurants may no longer want to bear the delivery costs. And so, depending on the availability of third-party delivery partners, customers would have to bear separate charges.

This factor would, then, call for a fair comparison between the duopoly of Swiggy, Zomato and the government-backed ONDC.
What do experts predict about ONDC?
While ONDC quickly garnered attention from netizens, it prompted mixed responses from experts and top-notch consulting firms. But these responses were mostly pertaining to a singular question – will ONDC disrupt the food-delivery industry?
A report by Economic Times suggests that the entry of ONDC has hurt the sentiments of those invested in loss-making Zomato. This explains Zomato stock price plunging to 7 percent low
ONDC is still in its nascent stage but a threat nonetheless. However, Zomato's nearest worry is Blinkit and not the newly-popular free food delivery app, the ET report added
McKinsey, a top-notch US-based consulting firm, had a different take on ONDC's capability.
The platform can increase India's digital consumption to USD 340 billion by 2030 i.e., five times more than the current figure.
Digitally transacting users would also witness a boost from 165-190 million to 450-500 million users
A recent HSBC Global Research note stated:
As of 2022, Zomato enjoyed 54 percent market share in the food-delivery space
The remaining 46 percent was enjoyed by Swiggy
Interestingly, experts predict that both market shares would be impacted by the gradual growth of ONDC. Not to mention the cost-cutting measures, layoffs, and top-level exits already impact both apps' domination.
Motilal Oswal suggests, "ONDC poses no threat to Zomato"
Amid mixed responses, Motilal Oswal, a leading brokerage firm, suggested that ONDC poses no threat to food-delivery giant, Zomato. At least, not in the near future. Why? For starters,
Zomato delivers 1.8 million orders a day while Swiggy delivers approx. 1.4 million. In comparison, ONDC currently fulfils only 10,000 orders
Besides food delivery, Zomato and Swiggy also cater to fine-dining options, groceries, small or local businesses, events and concerts, etc. Not to mention the subscription models that both apps run.
It will take a long time before ONDC not only expands into other cities but also into different categories
ONDC still falls short in terms of ordering options. This factor is enough to discourage consumers from using this platform
After the first free delivery, where the restaurant bears the cost, the delivery charges on ONDC are sometimes higher than Zomato or Swiggy
What will be made of ONDC, only the future knows. However, what's a bigger takeaway is that the duopoly of Swiggy and Zomato is not impenetrable.
And so, both platforms may have to introduce changes of their own to sustain their domination.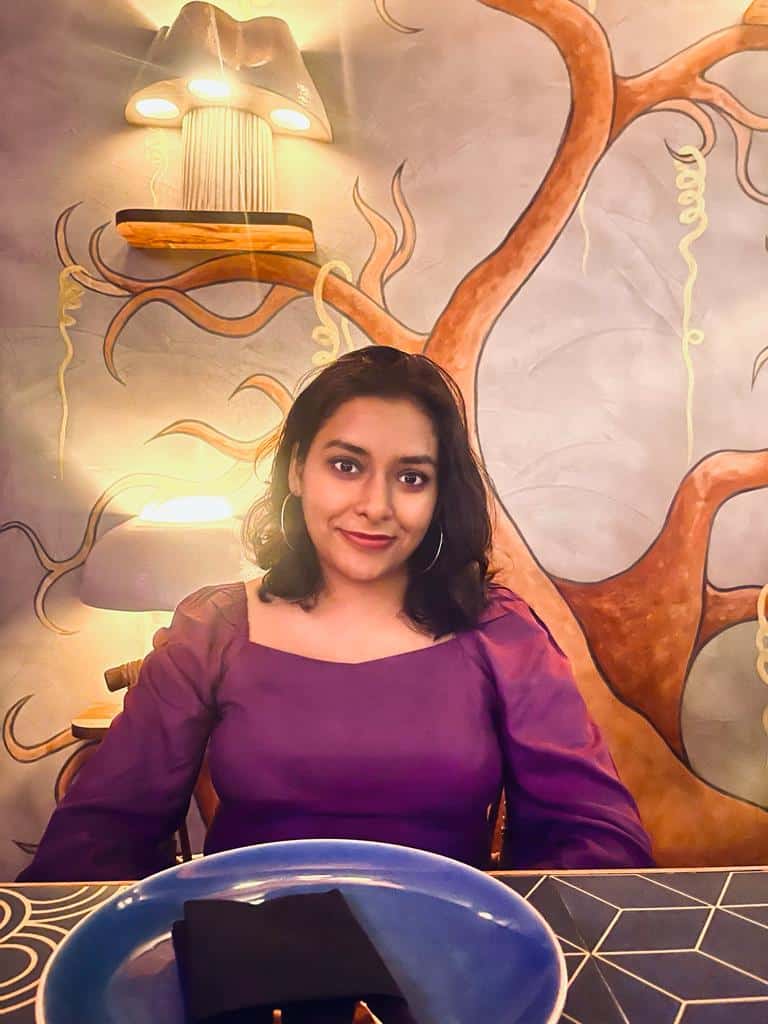 A finance-junkie and journalist-by-heart, I endeavour to dive deep into anything that tickles my curiosity. This 'anything' mostly relates to stock market and money matters.