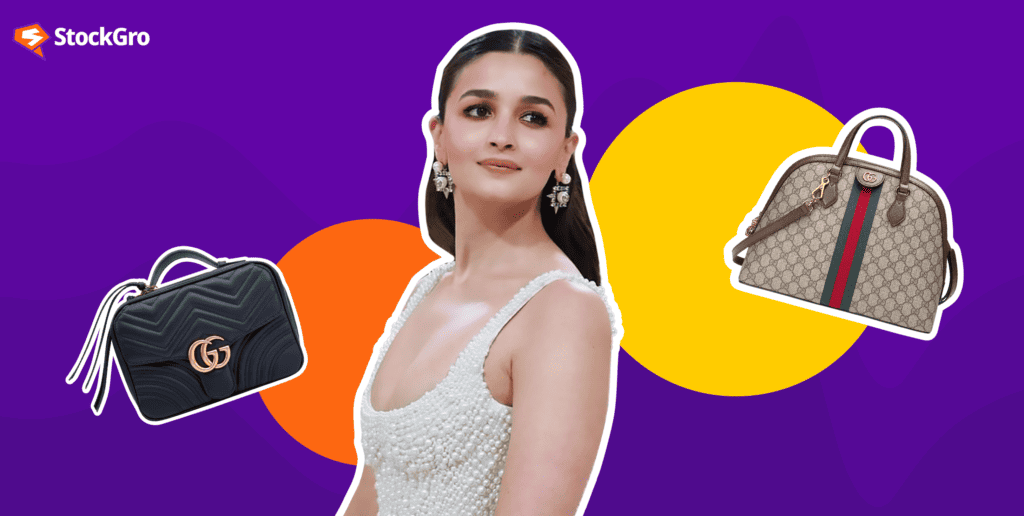 Congratulations India! Alia Bhatt has officially been announced as the global brand ambassador of Gucci. Incidentally, she's the first Indian ambassador of the iconic fashion house. However, this also represents a step in the right direction for South Asian women's representation.
Now, let's come to the question of the hour – how much will Alia earn from the Gucci ambassadorship? Something to wonder about, right? After all, Gucci is the world's fifth-most valuable luxury clothing brand, having USD 15.6 billion valuation, according to MoneyInc.
And well, Alia Bhatt is the fourth highest-paid Indian actress, with a per movie fee ranging between Rs.20-25 crores. So, this deal is indeed a goldmine for both parties.
Alia Bhatt brand endorsements
Before diving into this unexpected and prominent collaboration, let's get some clarity on Alia Bhatt's brand value. According to a report by the Economic Times,
The actress enjoys an impressive net worth of Rs.299 crore, with her earnings gradually increasing year-on-year
In fact, from earning Rs.39.88 crore in 2017, her earnings increased to Rs.59.21 crore in 2019 i.e., a 48.4 percent growth within just 2 years
Her expanding brand value also transgressed into an Rs.150 crore venture, Ed-a-mamma, a sustainable clothing line for children and pregnant women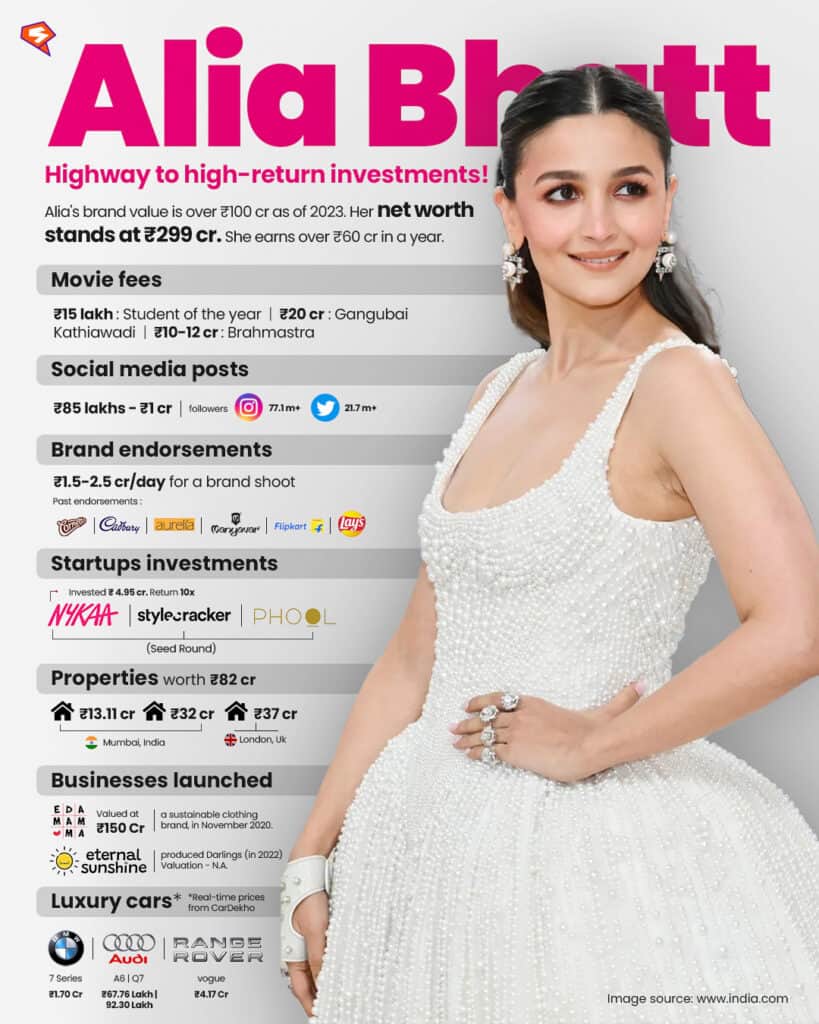 With back-to-back blockbuster films, an active production house, a successful clothing venture and multiple ventures, Alia Bhatt is, indeed, turning into an investment mogul.
Even while looking at Alia Bhatt's brand endorsements, it does not surprise anyone that the renowned actress charges Rs.1.5-2.5 crore (USD 1.8-3 million) for a brand shoot.
But wait, Alia Bhatt has been named the new 'global ambassador' of Gucci. So, is that different from 'brand ambassador'? Yes, of course. Both ambassadors might represent the same brand. But their extent of representation, collaboration and invariably, charges will differ.
Learn: Bond voyage: Unraveling the intrigue of Bonds
Difference between brand ambassador & global ambassador
As the name suggests, both ambassadors represent and endorse the brand on both offline and online platforms. Offline platforms include film festivals (Festival de Cannes), galas (Met Gala), award functions or even runaway shows. Ultimately, the aim is to increase brand awareness, improve its reputation and, of course, hike sales, especially if its a B2C or D2C venture.
Now, coming to the differences between both ambassadors, let's consider two real-time examples:
Varun Dhawan for 'Too Yumm'
RP Sanjiv Goenka Group announced a new product under its 'Too Yumm' brand called 'Top Yumm Namkeen'. As part of the product campaign, Varun Dhawan was announced brand ambassador, who also starred in the product's advertisement.
This is a clear example of a brand ambassador, as Too Yumm enjoys a presence mostly in India. Previously, the ambassador was Virat Kohli (not the same product but the same brand). So, this deal is for a limited period, maybe just for the launch campaign.
Being an India-centric brand, it's a 1 percent possibility of Dhawan representing the Too Yumm on an international level.
Also Read: Why did Pakistan's rupee, & bonds plunge to record low after Imran Khan's arrest?
Deepika Padukone for 'Louis Vuitton'
On the contrary, remember last year, when Deepika Padukone was named global brand ambassador of Louis Vuitton? The fresh luxury fashion house which BTW, the richest clothing brand in the world, enjoying USD 37.14 billion valuation.
As part of this deal, Deepika wore Louis Vuitton for Paris Fashion Week, the 2023 Qatar FIFA World Cup and, of course…the Oscars!
This global representation is a big deal, as Deepika contributed to the brand's global presence. Thus, a global brand ambassador.
Invariably, there is a similar expectation from Alia Bhatt now that she has been "crowned" the new face of Gucci.
Alia Bhatt bags brand ambassador for retail giant
How much will Alia Bhatt earn from Gucci? 
The exact amount supporting this ambassadorship is a mystery for obvious reasons. But a little bit of digging led to some pretty exciting figures.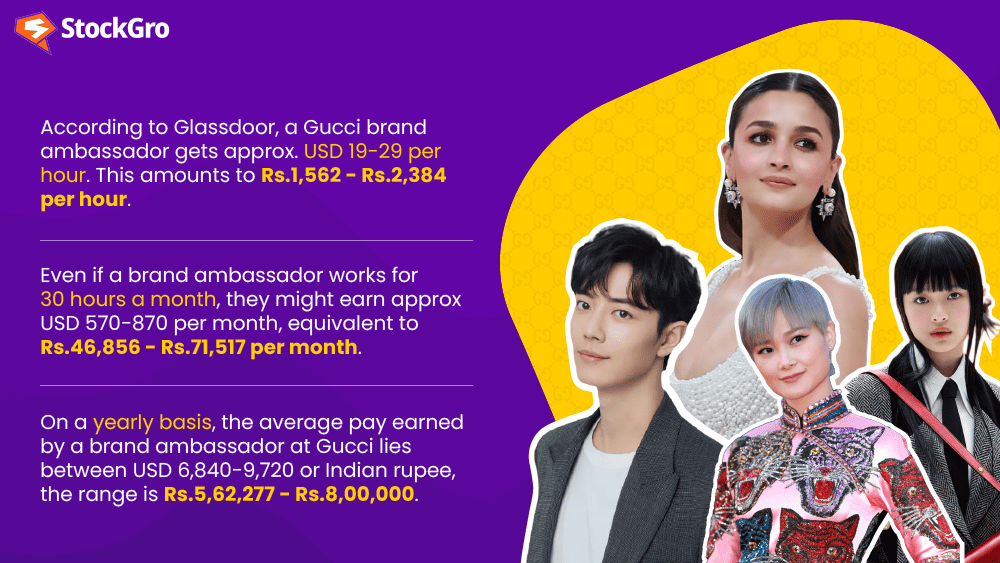 Thus, to summarise:
| | | |
| --- | --- | --- |
| Duration | Range (USD) | Range (INR) |
| Per hour | $19-29 | Rs.1,562 – Rs.2,384 |
| Per month (if working for 30 hours) | $570-870 | Rs.46,856 – Rs.71,517 |
| Per year (if working for 30 hours) | $6,840-9,720 | Rs.5,62,277 – Rs.8,00,000 |
Remember that this range is the bare minimum a brand ambassador might get, for putting in a mere 30 hours a month. However, this compensation increases with a hike in the time spent.
Indeed, the job search/recruitment portal had similar rates to the offer for Gucci. However, their math was based on a person dedicating a high number of hours per day i.e., 6-7 hours in a day.

| | | |
| --- | --- | --- |
| Duration | Range (USD) | Range (INR) |
| Per hour | $20.15 | Rs.1656 |
| Per day | $161 | Rs.13,235 |
| Per week | $806 | Rs.66,256 |
| Per month | $3,358 | Rs.2,76,042 |
| Per year | $40,297 | Rs.33,12,587 |
These rates mentioned by Glassdoor and Indeed might be for a nominal brand ambassador, not a leading Indian actress with a global presence. For all you know, her per-hour rate might just be USD 1200, equivalent to Rs.1,00,000.
Wild, don't you think? But don't get too excited. This is just a conjecture.
How much do brand ambassadors earn?
Out of curiosity, how much do brand ambassadors earn in the retail segment? Not just Gucci, but across other brands too.
According to Glassdoor,
| | | |
| --- | --- | --- |
| Experience | In USD/year | In INR/year |
| 0-1 years | $51,330 | Rs.42,19,548 |
| 1-3 years | $55,895 | Rs.45,94,810 |
| 4-6 years | $64,242 | Rs.52,80,970 |
| 7-9 years | $69,888 | Rs.57,45,095 |
| 10-14 years | $80,438 | Rs.66,12,351 |
| 15+ years | $104,097 | Rs.85,57,223 |
Remember that this pay scale is only valid for mid-range or medium-level brand ambassadors. However, high-net-worth ambassadors like Alia Bhatt would, of course, be charging a higher fee.
You can just guess how much if math and probability are your favourite subjects.
But the actual number shall, unfortunately, remain a mystery!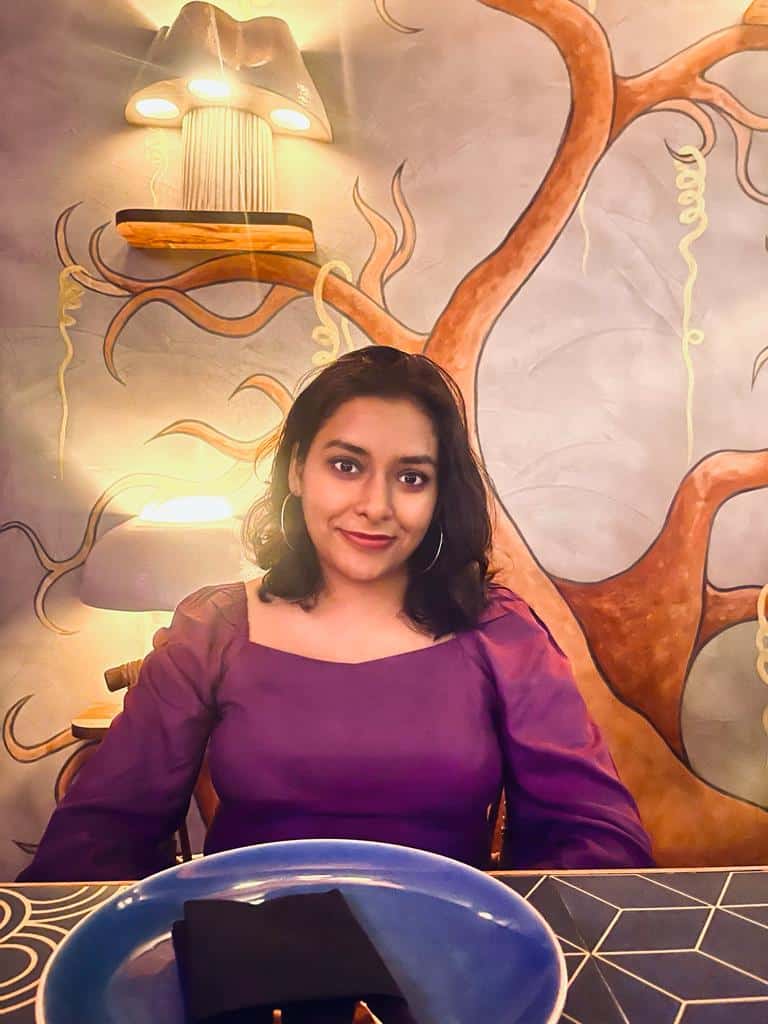 A finance-junkie and journalist-by-heart, I endeavour to dive deep into anything that tickles my curiosity. This 'anything' mostly relates to stock market and money matters.