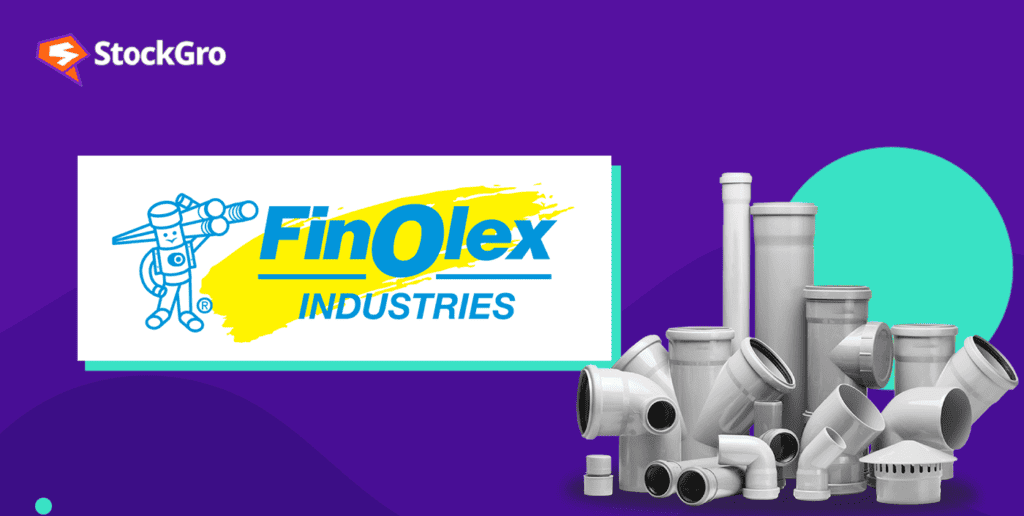 In this article, we're going to explore Finolex Industries Ltd. fundamentally, understand its business model and industry, and find out whether it's a good investment fit for you.
Finolex Industries Ltd.
Finolex Industries Limited (FIL) is one of the largest PVC Resin manufacturers in India, and is also the largest producer of PVC pipes and fittings. It is owned by the Finolex Group, which is a conglomerate based in Pune, India. Finolex Group comprises Finolex Cables Ltd., Finolex Industries Ltd., Finolex J-Power Systems Ltd. and Finolex Plasson Industries Ltd.
The company engages in providing customers with a wide selection of quality and durable PVC-U pipes and fittings that are used across various Indian economic sectors – agro, construction, industrial ops, real estate, residences etc.
It is currently the third-largest PVC player in the nation and has progressively captured market share ever since its inception. Today, the company is known to have at least 17% market share in the PVC industry and 13% revenue share in the plastic pipes sector.
You may also like: Beat the market: Your ultimate guide for fundamental analysis tools.
Is plastic products a good sector to invest in?
According to market experts and industry reports, the global plastic manufacturing industry was valued at more than $400 billion in 2020.
Currently, it is expected to grow at a CAGR of almost 4% from between 2021 to 2028. The Indian plastic market, similarly, is expected to grow from ₹3.50 lakh crore in 2022-23 to ₹10 lakh crore in 2027-28.
Plastics are some of the most versatile materials in the world. They could be, and are used, in almost every industry in some way or form. From engineering to manufacturing to packaging, plastic is everywhere.
Of course, this immense popularity stems from very legitimate advantages of using plastic, but at the same time, plastic is also one of the most damaging materials for our ecosystem. Since plastic uses a lot of water and energy to produce and even more energy to dispose of, they aren't sustainable in the long-term.
Another trend in the plastic manufacturing industry is the need for customisation and variation. Since PVC resin is a very versatile material, it can be moulded into virtually any shape or size a customer wants, which leads to an ever-increasing demand for customisation.
This is often a nightmare, both from the production angle as well as from the ecological angle.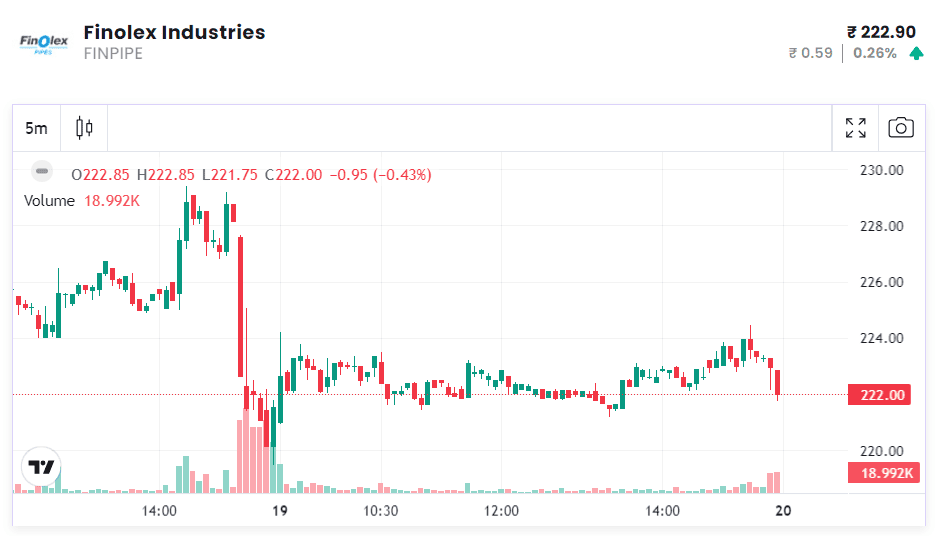 Also read: Unlocking financial insights: The power of ratio analysis
Who are FINPIPE's competitors in the luggage industry?
Here are some of FINPIPE's competitors:
Astral
Responsive Ind
Prince Pipes
Jai Corp
Supreme Inds.
Jain Irrigation

History of Finolex Industries Ltd.
The Finolex Group was founded in 1958 by P. P. Chhabria and K. P. Chhabria. The company, Finolex Industries Ltd., was incorporated in 1981 in Maharashtra as a private limited company. Eventually, it was converted into a public limited one. The company acquired a manufacturing plant in MIDC Chinchwad, Pune, and started production of PVC pipes early the same year. FINPIPE went public in 1989.
Investing in FINPIPE
Pros
Company has been maintaining a healthy dividend payout of 32.3%
It has a robust distribution network with more than 900 dealers and 21,000 retailers
They have a wide product portfolio, mostly operating in agro and infrastructure pipes and fittings
Cons
Company has a poor record of sales growth in the past 5 years, with less than 10% growth
Earnings numbers are substantiated by an 'other' income of ₹137 crore
Low return on equity percentage
Stock is also trading at more than 2.5x the book value
The finances
| | |
| --- | --- |
| Metric | Value |
| Market cap | ₹13,759 cr |
| Book value | ₹77.8 |
| Dividend Yield | 0.68% |
| ROCE | 6.13% |
| ROE | 4.88% |
| Face value | ₹2.00 |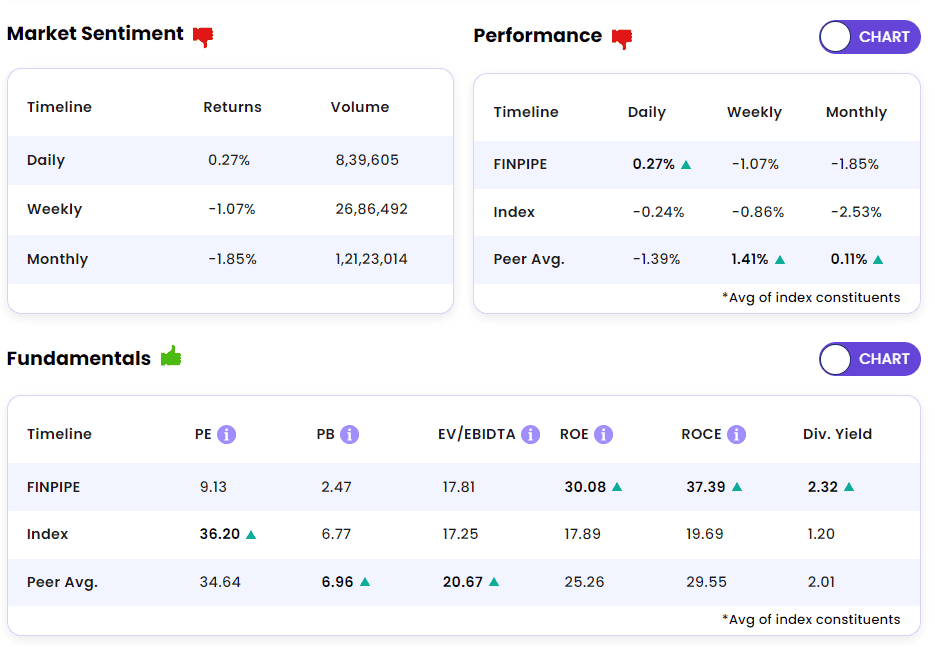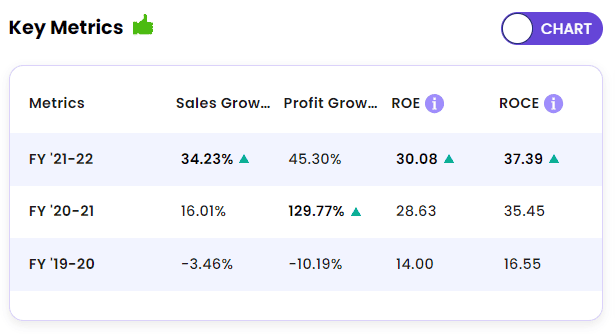 Also read: What is trend analysis? [Explained]
Shareholding pattern of Finolex Industries Ltd. equity
Here's what the shareholding pattern looks like for FINPIPE:
Promoters – 52.47%
Foreign Institutional Investors (FIIs) – 5.81%
Domestic Institutional Investors (DIIs) – 9.49%
Public – 32.22%
Others – 0.01%
Conclusion
So, that's a brief overview of everything you need to know about Finolex Industries Ltd before you decide to invest. This information is by no means exhaustive and we encourage you to do your own research before investing.
Need help with investing in the stock market? Trade with hundreds of other like-minded traders on StockGro – the social trading platform. Learn how to invest using virtual cash, practice, and get your trading game perfect before real money gets involved. Download the StockGro app now!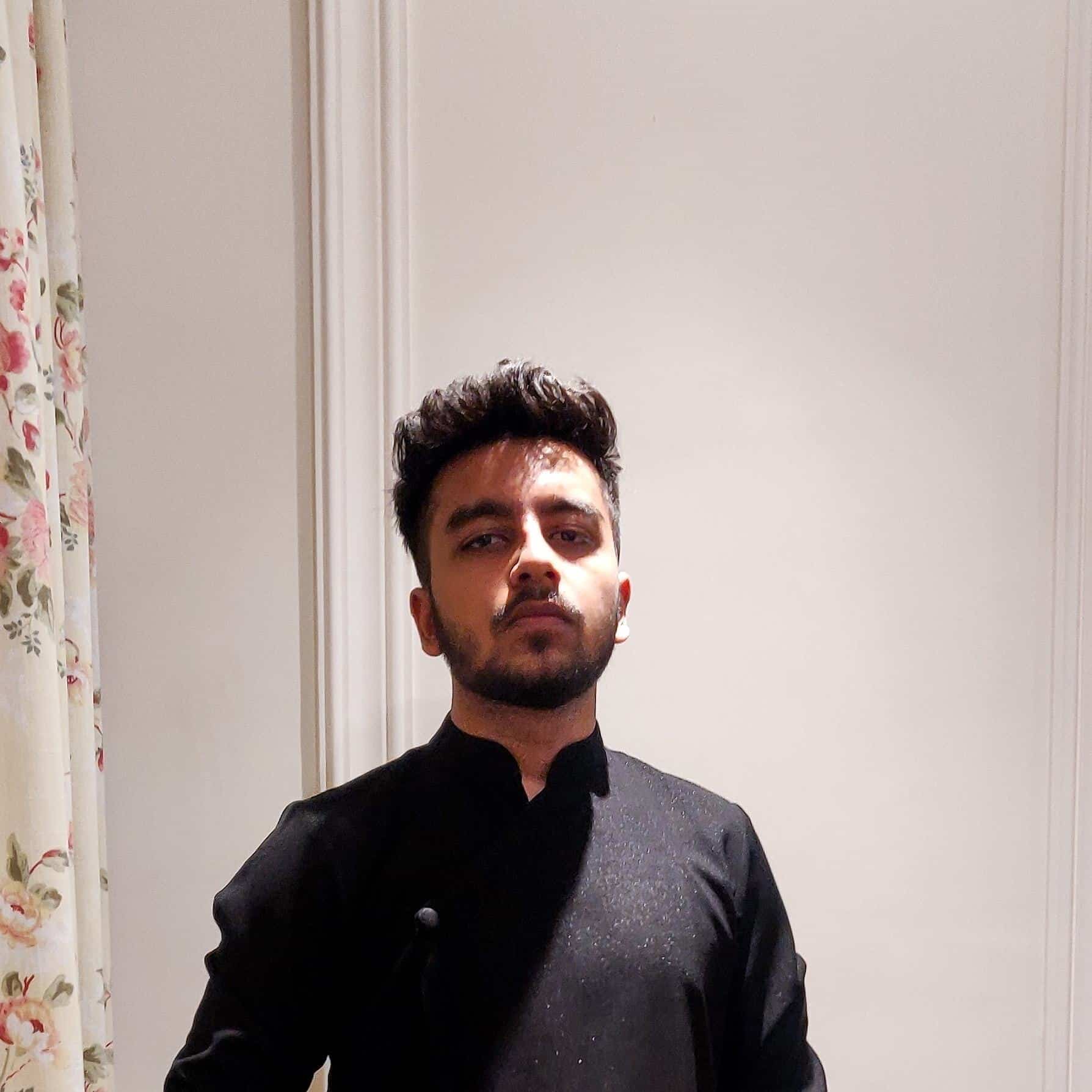 I am passionate about stock investing and have a knack for simplifying complex market concepts. Providing readers with valuable insights and empowering them to make informed investment decisions is my jam.