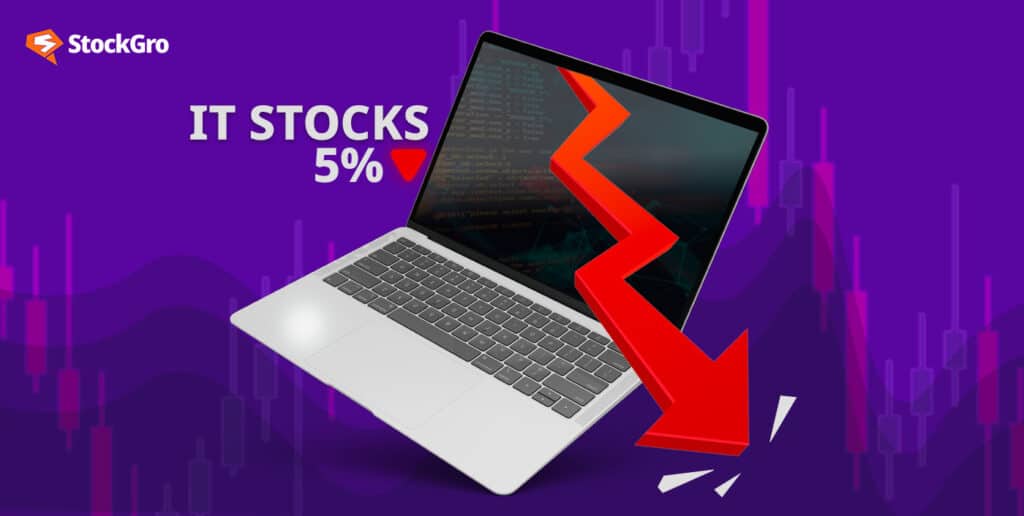 On Tuesday, Indian IT stocks experienced a sharp decline, with some notable losers in the mix. Persistent Systems, Mphasis, and Coforge, took the top spots as the biggest losers, with their shares falling by as much as 5.13%, 3.94%, and 3.60%, respectively.
Even the heavyweights of the industry, such as Tata Consultancy Services (TCS), Infosys, Wipro, and HCL Technologies, were not spared, as they all saw their shares drop by more than 1%. Ouch!
The Nifty IT index, which is a benchmark index that tracks the performance of IT companies, also took a hit. It was down by 2% on that fateful Tuesday. The index started the day at 29,003.50 but soon tumbled down to 28,662.65. So, what's the deal with these wild swings? 
Let's break it down and explore the key factors behind the recent decline.
Nifty IT index in the hot seat
The Nifty IT index managed to bounce back, rising by a staggering 5.8% in May. But let's not forget the rocky start to the year. From its peak of 31,434 points on February 16, the Nifty IT index took a nosedive, plummeting as much as 15% to 26,637 points on April 20. 
Indian IT Stocks Since April 12, 2023 
Company Name
Returns In %
TCS
0
Infosys
-10
HCL Tech
2.5
Wipro
7
TechMahindra
-2.7
Persistent
10
Mphasis
5
It was a roller coaster of emotions for investors, with weak results and guidance from Infosys and a banking crisis in the US and Europe sending shockwaves through the market.
However, just as the ride seemed unbearable, a glimmer of hope emerged. Buying interest resurfaced in IT stocks, riding on the coattails of a rally in the US's Nasdaq index.
But just when we thought the clouds were clearing, EPAM's decision to lower its full-year earnings and revenue guidance cast a shadow of uncertainty once again.
Profit booking
So, what's behind this rollercoaster ride? Two words: profit booking. You know when you're on a winning streak, and you start thinking, "Maybe it's time to cash in and secure my winnings"? Well, that's exactly what some investors did.
The Nifty IT index had a fantastic run last month, gaining about 6%. But in June, profit booking kicked in, with investors selling their stocks and pocketing those gains. Can't blame them for wanting to secure their bag, right?
The recent decline can largely be attributed to profit booking. This selling pressure led to the sharp fall in IT stocks we witnessed today.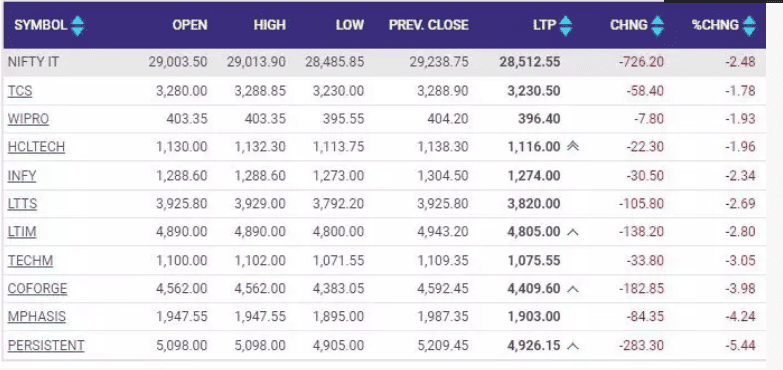 Fear of rate hikes:
But wait, there's more! Investors also have their eyes on the Federal Reserve (aka the Fed), the central bank of the United States.
Fed has hinted at pausing rate hikes in their latest policy meeting. But here's the thing—it's easier said than done. Inflation in the US remains elevated, and the job market isn't exactly looking rosy.
If the Fed decides to hit the brakes and raise interest rates again, it could spell trouble for the Indian IT sector. Why? Because the US is a crucial market for Indian IT companies. If the demand from the US slows down, it will put pressure on the growth prospects of these companies. And that's something investors are concerned about.
You may also like: Why IRCTC shares plummeted 3% after Q4 Results
Rupee's resilience: A double-edged sword
While the Indian rupee's resilience against the dollar is generally positive, it has had a negative impact on Indian IT stocks. As the rupee strengthens, foreign clients find Indian IT services more expensive, prompting them to seek cheaper alternatives elsewhere.
This reduces the competitiveness of Indian IT companies in the global market. Moreover, a stronger rupee means that revenue earned in foreign currencies translates into fewer rupees. This squeeze on profit margins adds further pressure to IT companies, as their operational costs in India remain unchanged.
EPAM's guidance: A glimpse into the forecast
EPAM Systems, the US-based IT services company, recently dropped a bombshell by slashing its growth expectations for the second quarter and the full year. Now, you might be thinking, "So what? How does this affect me?"
Well, my friend, when a big player like EPAM Systems stumbles, it sends ripples throughout the industry, and Indian IT is no exception. It's like a domino effect—when one falls, others follow suit.
The numbers speak
Let's get down to the numbers.
EPAM Systems has delivered a not-so-pleasant surprise with its revised guidance. They now expect a 2% decline in revenue at the midpoint of their projected range. That's definitely not what investors wanted to hear.
| | | | |
| --- | --- | --- | --- |
| Years | 2020 | 2021 | 2022 |
| EPAM constant curr revenue | 16% | 39.9% | 32.4% |
| | | | |
| --- | --- | --- | --- |
| Given In | Feb 2023 | May 2023 | June 2023 |
| Rev Growth | 9%+ | 2.5-3.5% | -0.5% to -3.5% |
To make matters worse, EPAM has slashed its CY2023E revenue growth expectation not once but twice by a whopping 13%. The street hasn't taken this news well, considering EPAM's reputation as a fast-growing company.
In the past two years, they achieved growth rates exceeding 30%. However, they now anticipate a revenue decline of 0.5-3.5% in 2023. This is the second time they have revised their guidance in as many months, and it starkly contrasts the 9%+ growth they projected earlier this year.
The EPAM effect comes at a time when the Indian IT industry is already facing headwinds. Weakening demand, thanks to concerns over a potential recession in the US and Europe following the Russia-Ukraine war, has put a dent in the sector's prospects. 
Also Read: A closer look at India's latest Q4 GDP data: Key takeaways
Now that EPAM Systems has sounded the alarm, all eyes are on Accenture, another major player in the IT world. They're set to report their earnings for the quarter later this month. Will they weather the storm or face a similar fate? It's a nail-biting wait for those closely watching the sector. 
The reasons behind the cut:
Now, let's take a closer look at what's behind this gloomy forecast. EPAM Systems cited a few factors for their guidance cut:
Client caution on 'Build' spends: It seems like EPAM's clients are feeling a bit hesitant when it comes to investing in new projects. They're being cautious and holding back on their spending, which doesn't bode well for the IT industry.
Slow pipeline conversion: The rate at which potential projects are turning into actual contracts is slower than expected. When clients drag their feet, the sector feels the pinch.
Reduction in the total pipeline: EPAM is experiencing a shrinkage in its pipeline of potential projects.
Analyst target prices: What's the outlook?
With all the ups and downs, what are analysts saying about the top IT companies in India? Are they positive about companies like TCS, Infosys, Wipro, and HCL Tech? Let's take a look at their target prices and expert opinions:
| | | | |
| --- | --- | --- | --- |
| Name | Rating  | Target price | % Upside |
| JP Morgan | Sell | Rs 2,700 | -16.6% |
| Morgan Stanley | Neutral | Rs 3,350 | 3.5% |
| Nomura | Sell | Rs 2,830 | -12.6% |
| Jefferies | Hold | Rs 3,375 | 4.3% |
| | | | |
| --- | --- | --- | --- |
| Name | Rating  | Target price | % Upside |
| BNP Paribas | Hold | Rs 1,500 | 17.1% |
| Kotak Institutional Securities | Buy | Rs 1,470 | 14.8% |
| Nomura | Neutral | Rs 1,290 | 0.7% |
| Jefferies | Buy | Rs 1,570 | 22.6% |
| | | | |
| --- | --- | --- | --- |
| Name | Rating  | Target price | % Upside |
| Morgan Stanley | Buy | Rs 1,160 | 2.8% |
| JP Morgan | Sell | Rs 880 | -22% |
| Nuvama | Hold | Rs 1,180 | 4.6% |
| ICICI Securities | Hold | Rs 1,065 | -5.6% |
| | | | |
| --- | --- | --- | --- |
| Name | Rating  | Target price | % Upside |
| Emkay Global | Buy | Rs 470 | 17.5% |
| Kotak Institutional Equities | Sell | Rs 360 | -10% |
| HDFC Securities | Buy | Rs 400 | NIL |
The outlook remains negative for the IT sector in the short term, with analysts expecting weaker revenues in the next quarter across the coverage universe.
Stock market experts believe that the unchanged interest rate by the RBI could attract foreign investors.
Also Read: Decoding the significance of market capitalisation
Will the storm pass?
Now, the big question remains: Will this storm pass, or are we in for a long rainy season? The truth is no one can predict the future with absolute certainty.

However, analysts believe that while the recent decline in the Indian IT sector may be a cause for concern, it might also present an opportunity for savvy investors. They might consider accumulating IT stocks, as they are available at highly discounted prices.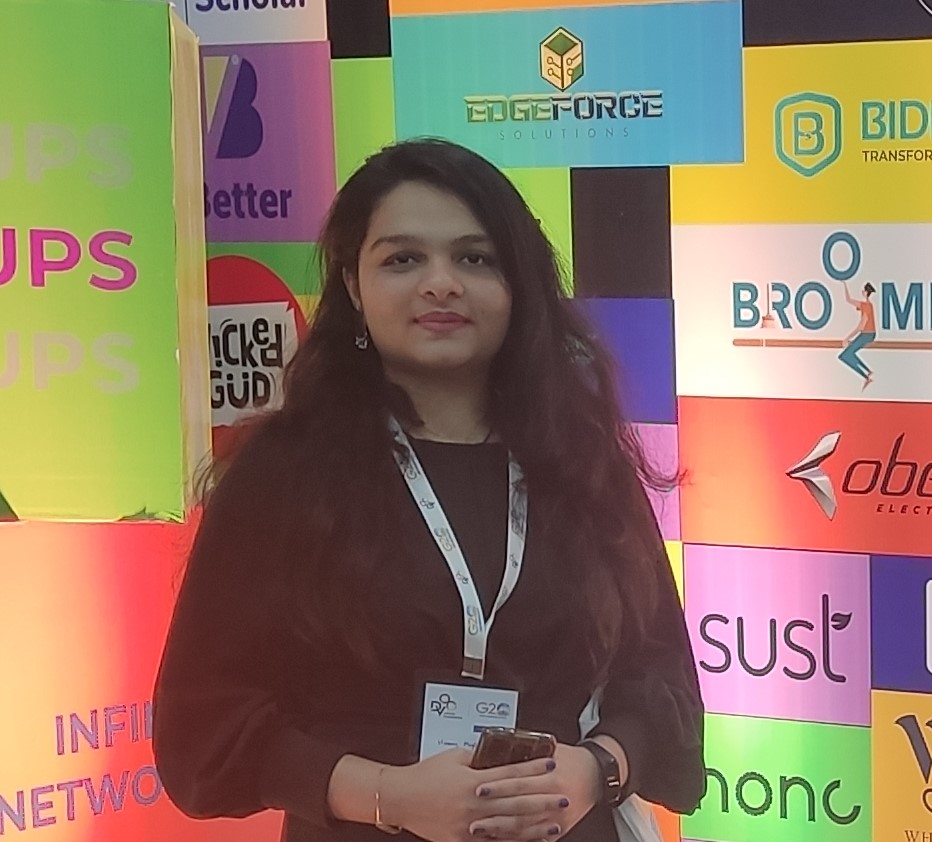 A curious mind, a love for writing, and a passion for all things finance – that's me in a nutshell. Whether I'm exploring the latest stock market trends or diving into the nitty-gritty of personal finance, marketing, and AI. I'm always on the hunt for the next big story.