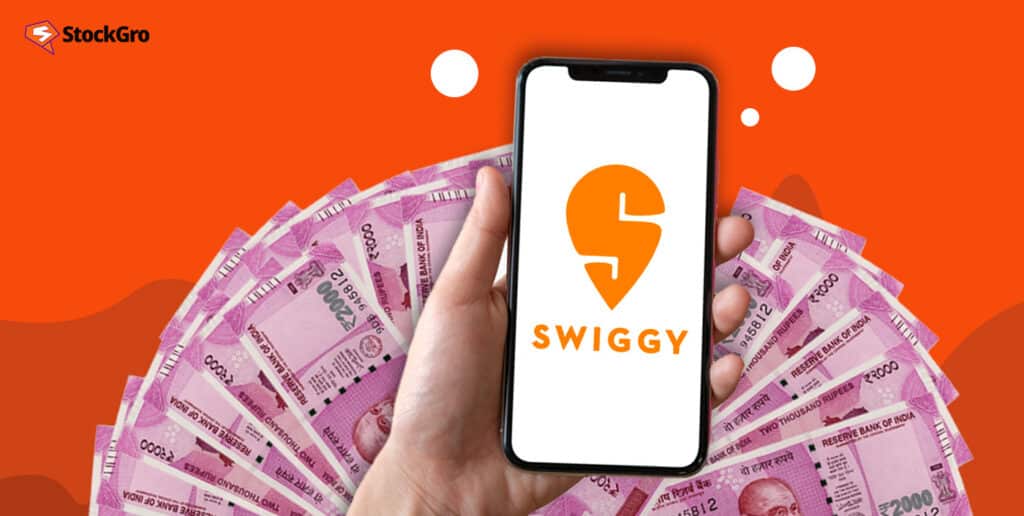 Did you know only 17 out of the 80 unicorns in India are currently profitable? These unicorns succeeded in achieving USD 1 billion valuations. And yet, it takes a lot more to earn profit and make ends meet. The struggle is real and well, Swiggy understood this. Almost 9 years after its inception, Swiggy's food delivery business turned profitable!
At least, this is what Sriharsha Majety, the chief executive officer (CEO) of Swiggy announced in his latest blog on the startup's website.
Our sharp focus on innovation, coupled with strong execution has led to yet another milestone- As of March 2023, Swiggy's food delivery business has turned profitable (After factoring in ALL corporate costs; excluding employee stock option costs). This is a milestone for food delivery globally, not just for us, as Swiggy has become one of the very few global food delivery platforms to achieve profitability in less than 9 years since its inception.

Sriharsha Majety
CEO, Swiggy
This is indeed good news, particularly from the industry standpoint. You see, the food-tech industry has long been impacted by high operational costs, layoffs, etc, to become profitable.
Incidentally, in January 2023, Swiggy's CEO had announced a layoff of 380 employees, marring the company's reputation. Now, with this good news, the food-tech startup might just be back-on-track.
Time to dive into some figures and a bit of competition analysis
You may like: The 20% TCS buzz and its impact on international credit cards
Swiggy's business and financials
Services offered by Swiggy
Let's get some clarity on the good news – Swiggy's food delivery arm has turned profitable. But the company encompasses a wide range of services including –
Online platform services to restaurants, grocery shops and delivery partners
Platform for advertising
Subscriptions
Sale of food and other traded goods
Dine-out services
Hosting platform for small businesses
Cloud kitchen facility (sold to Kitches@ in March 2023)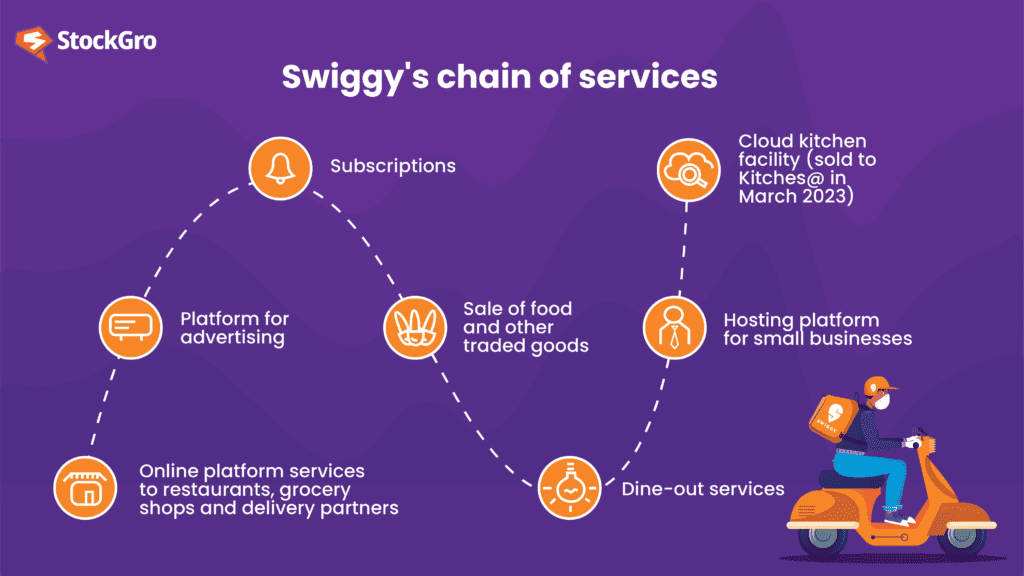 These specific services are offered in the form of Instamart, Gourmet, Guiltfree, Dineout and much more.
Swiggy's losses double in FY2022
Only recently, Swiggy was the topic of discussion for an entirely different reason – losses rendered in financial year (FY) 2022-23.
As per an Economic Times report,
Revenue of operations jumped by 124 percent to Rs. 5,704.90 crore
Losses doubled from Rs. 1,616.90 crore in FY 2021 to Rs. 3,638.20 crore
Rs. 2,036 crore earned from sale of grocery and FMCG products (growth by nearly four times)
Platform services became the biggest revenue stream, cloaking Rs. 3,444.40 crore as opposed to Rs. 1,878 crore
The former cloud kitchen business earned Rs. 87.50 crore, as opposed to Rs. 83.30 crore in FY 2021
Incidentally, prior to the results' announcement, the unicorn startup had also fired 250 executives as a cost-cutting measure. At that point, this figure was equivalent to 3-5 percent of the company's workforce.
Now, take a look at the figures above. What do you see?
Here are some obvious conclusions:
Their platform-based online services for restaurants, grocery stores and delivery partners remained the No. 1 reason for their success.
The company did channelise a part of their funds in ventures which didn't prove useful. Case-in-point, the cloud kitchen business.
Coincidentally, even Swiggy's CEO revealed their "disproportionate" investment in Instamart for the product's obvious importance to the company and their target audience. However, such massive investments would not be part of the company's future.
The peak of our investments is behind us and today, Instamart is one of the leading players in the quick commerce space globally. In addition, we've also made strong progress on the profitability of the business and we're on track to hit contribution neutrality for this 3-year-old business in the next few weeks.

Sriharsha Majety
CEO, Swiggy
Also read: US debt crisis – Is Biden planning on raising the current debt ceiling?
Time for competition analysis: Swiggy vs. Zomato
Swiggy vs. Zomato: growth in revenue
Despite losses doubling in FY2022, Swiggy turned profitable quite early on since its inception. Zomato, its biggest competitor, is likely to achieve profitability in FY2025, with a compound annual growth rate of 29 per cent in its revenue.
But these are hypothetical figures. Why not draw a comparison between Swiggy and Zomato's current revenue growth:
| | | |
| --- | --- | --- |
| Year | YoY sales growth for Swiggy | YoY sales growth CAGR for Zomato |
| FY 2022 | 124% | 110% |
| FY2021 | -26% | -23% |
| FY2020 | -23% | 98% |
| FY2019 | 170% | 182% |
| As of FY2022, CAGR = | 92% | 73% |
Source: Entrackr, Screener, LiveMint
After recovering from pandemic losses, both unicorn startups reported tremendous sales growth in FY2022. And Swiggy managed to surpass Zomato for the first time in the same year.
Moreover, Swiggy reported a higher CAGR of 92 percent as opposed to Zomato's 73 percent. However, the % sales largely remained the same in all four years.
No wonder the market share of Swiggy and Zomato remain almost equal i.e., 46 percent and 54 percent, respectively.
Swiggy vs. Zomato: losses so far
Till now, both platforms have rendered huge losses owing to pandemic stresses, inflation, surge in prices, etc. In fact, both platforms had to resort to similar cost-cutting measures, like layoffs, to sustain their business.
Clearly, both platforms are more similar than different.
| | | |
| --- | --- | --- |
| Year | Net profit for Swiggy | Net profit for Zomato |
| FY2022 | -Rs. 3,628 crore | -Rs. 1,222 crore |
| FY2021 | -Rs. 1,616 crore | -Rs. 816 crore |
| FY2020 | -Rs. 3920 crore | -Rs. 2,386 crore |
| FY2019 | -Rs. 2367 crore | -Rs. 1,010 crore |
Source: Entrackr, Screener, LiveMint
Even then, Swiggy has double the losses to compensate if it has to compete with Zomato actively. It would be interesting to see how Swiggy food delivery's profitability impacts its overall net profits.
Also read: Zomato stock dipped 7% – Will ONDC kill the discount war?
Swiggy vs. Zomato: How do other factors compare?
Ultimately, the competition between Swiggy and Zomato comes down to its number of orders and market penetration.
Moreover, even though Swiggy turned profitable, both startups are still incurring losses. Thus, for a fair comparison, why not look at their 'cash burn' i.e., cash reserves used by both firms?
| | | |
| --- | --- | --- |
| Factor | Swiggy | Zomato |
| Gross order value (first-half of FY2022) | USD 1.3 billion | USD 1.6 billion |
| Consumption of cash reserves (cash burn) – FY19-22 | Rs. 10,300 crore | Rs. 5,650 crore |
| Main driver of revenue | Hyperpure (supplying to restaurants) | Instamart (quick supply and commerce) |
Source: Business Today
Although Swiggy's YoY revenue grew 124 percent, its cash burn so far is miles ahead of Zomato. Thus, for it to surpass Zomato, Swiggy needs to reduce its cash burn, and be more diligent with its investors. Sort of what the CEO also said in his blog.
Despite Swiggy's dominance in grocery-delivery, Zomato still had a higher gross order value (GoV) – again a factor to focus on for a unicorn startup to surpass its competition. Even though it enjoys an upper hand in other factors.
Indeed, there is cut-throat competition. And with a new entrant like ONDC, this duopoly's competitive landscape has evolved to include new players to!
Nonetheless, Swiggy's profitability is a ray of hope for the food-tech industry at-large.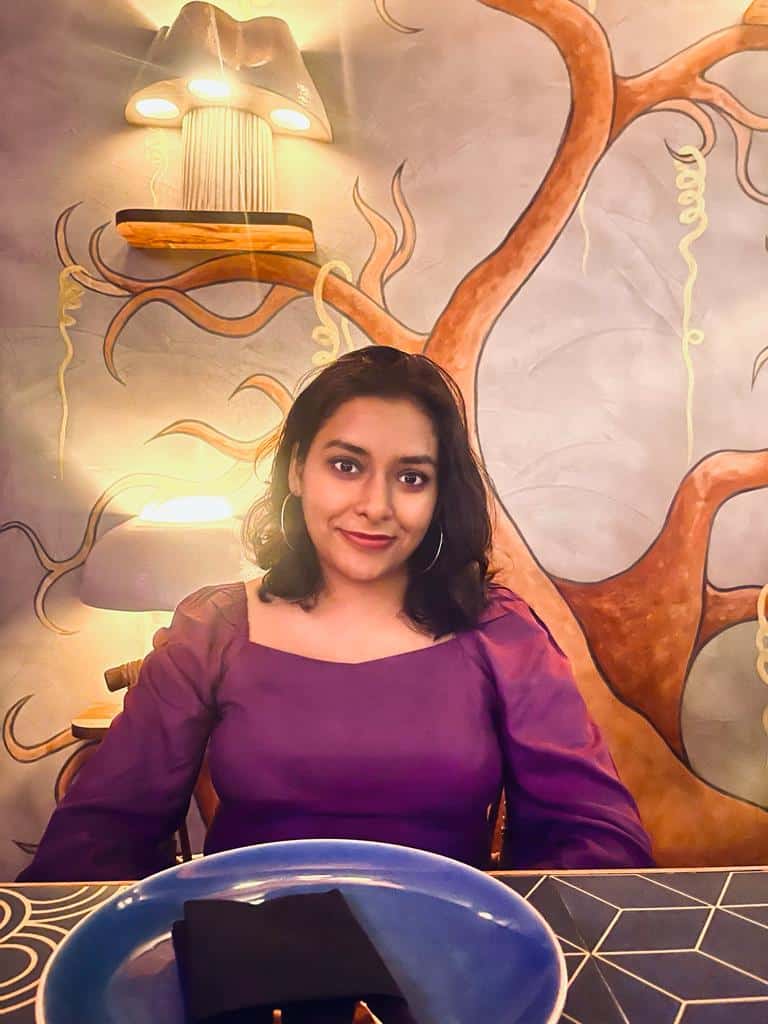 A finance-junkie and journalist-by-heart, I endeavour to dive deep into anything that tickles my curiosity. This 'anything' mostly relates to stock market and money matters.