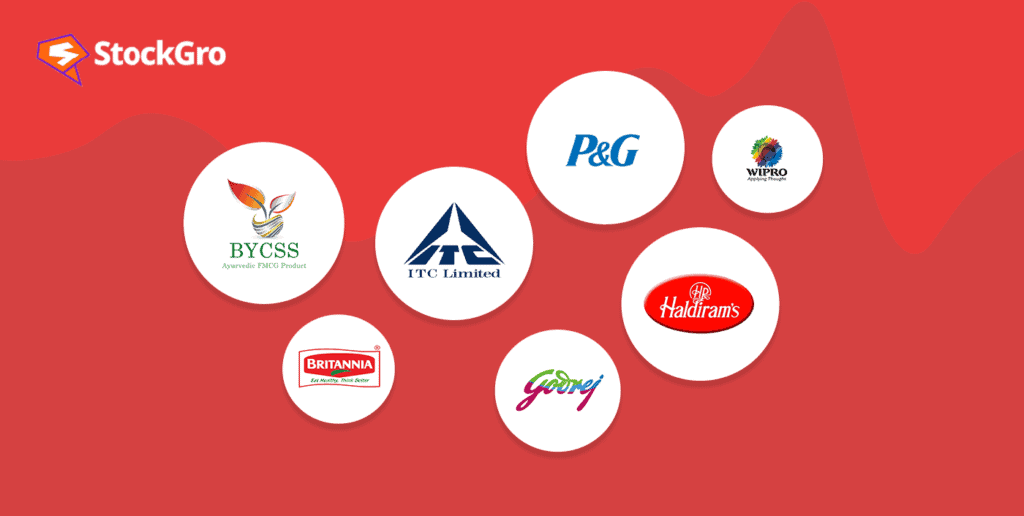 A bear market is gloomy as the prices of stocks keep declining. The entire market trends downward for a prolonged period, causing pessimism among investors.
Does that mean investors lose money on all stocks they have invested in? No, there are some stocks that perform well despite the whole market being bearish.
We will discuss one such sector today, whose stocks do not react adversely to bearish market conditions. Read further to learn about the FMCG industry in India and how FMCG stocks respond to market conditions.
Who are FMCG companies?
The full form of FMCG is Fast-Moving Consumer Goods.
FMCG products refer to non-durable goods used by consumers for their daily needs.
Consumer goods are all those products used by end consumers. They consist of both durable and non-durable goods. But, FMCG is specific to non-durable or perishable goods that sell fast and at reasonable costs.
FMCG products are classified into three main segments: Food & beverage, healthcare, household & personal care. Firms that produce and sell these products come under the purview of FMCG companies.
You may also like: Your ultimate guide to investing in a bear market
FMCG industry in India
The FMCG sector is considered the fourth largest sector in the Indian economy.
According to a report by Statista, the sector is expected to reach a size of 615 billion USD by 2027.
The director of Crisil Rating suggested that the FMCG sector will witness a growth of 7-9% in revenue in FY 23-24.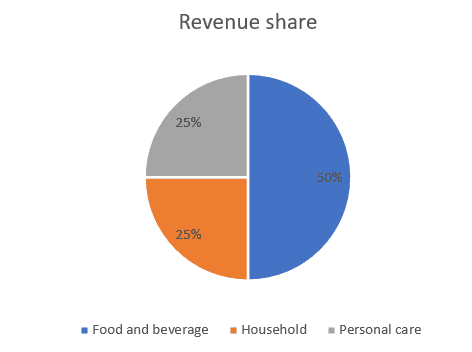 Source: Crisil Rating
The rural population's contribution to the FMCG sector was quite low, in the recent past. However, the demand for FMCG products in rural areas has been picking up now, and they contribute to around 35% of overall sales in FMCG products.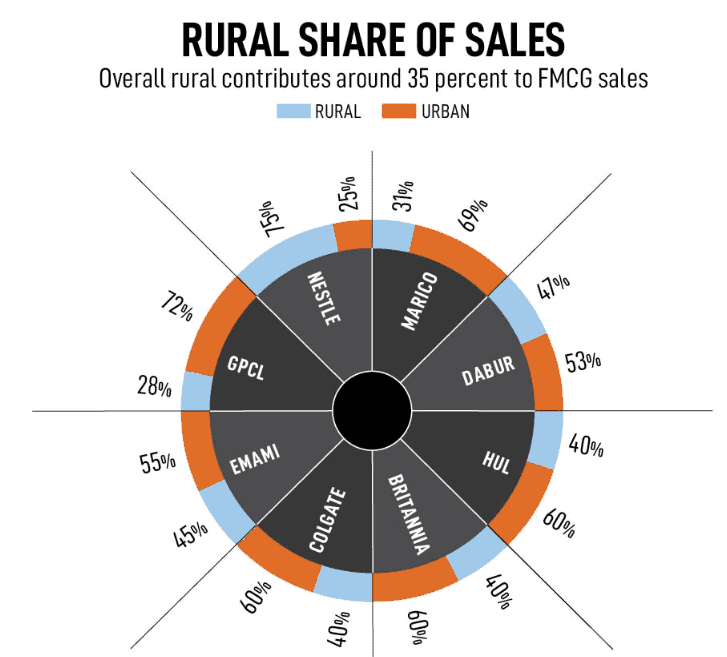 Source: Forbes India
Should you invest in FMCG stocks?
Now, we know that the FMCG industry is well-performing and one of the significant contributors to the economy.
The next question is – how safe is it to invest in FMCG stocks?
FMCG stocks are a safe bet at most times as they are part of the defensive industry.
Defensive industries or stocks are those that do not respond aggressively to market conditions. The demand for such products remains stable irrespective of poor market conditions, as they are required for day-to-day consumption. Most of the products in the FMCG sector come under this category. So FMCG share prices are rather stable in any market condition.
Also read: What are cyclical and non-cyclical stocks?
Investing in FMCG stocks in a bear market
Having FMCG stocks in your portfolio can compensate for the loss from other stocks in a bear market. Here are some reasons why the demand for FMCG stocks will not diminish rapidly in a bearish trend:
Consider the example of fast-moving consumer goods like soap, toothpaste, chips, biscuits, etc. The demand for these products will remain intact even when there is an economic slowdown or crisis. Hence, FMCG products are always in demand, which will keep the stock prices stable.
Consumers generally stick to the same brands while buying products for their regular consumption. So, brand loyalty and goodwill are significant for FMCG stocks. Companies that have strong goodwill and loyalty will continue to perform well, thereby earning good revenues and passing on the benefit to their shareholders.
The rising competition in the FMCG sector is giving rise to new products and creative strategies to attract consumers. There is also an increase in the digital presence of FMCG companies, making it convenient for consumers to access these products at their doorstep. Continuous innovations in this sector keep the demand flowing.
Who should invest in these stocks?
The demand for products in the FMCG sector is usually stable. They do not increase or decrease rapidly. Similarly, the stock prices of FMCG companies may not have aggressive responses either positively or negatively.
So, FMCG stocks are ideal for those investors who intend to earn a stable income in the long term. It may not be suitable for those traders who wish to make profits in the short term through continuous buying and selling of stocks.
Few check-points before investing in FMCG stocks
FMCG companies' financial position and market size are essential while investing in their stocks. Companies that are generally large in size and have a stable financial situation easily navigate economic crises. A smaller company may not be able to provide stable returns.
The preferences of consumers in the FMCG sector are ever-changing. So, looking for companies that keep up with progressing trends is crucial. Otherwise, the demand for their products may fall.
FMCG products are used by consumers directly. So, most of these products must go through the GMP rules – Good Manufacturing Practices, which recommends the standards and certifications to be followed while producing such goods. These are especially important for food and skin care products as low-quality goods can adversely impact the consumer's health. So, investors must ensure that the stock they wish to invest in follows GMP.
NIFTY FMCG
NIFTY FMCG is an index of the National Stock Exchange (NSE) that shows the performance of stocks in the FMCG sector.
The NIFTY FMCG Index as of 02 November 2023 was 51,589.
Source: NSE Indices
Also read: Sugar export ban – Too sweet to digest?
FMCG examples
The list of popular FMCG companies in India with financials as of 03 November 2023:
| | | | | |
| --- | --- | --- | --- | --- |
| FMCG Company | Market Capitalisation | Share Price | P/E Ratio | Dividend Yield |
| Hindustan Unilever Limited | 5.89 Lakh Crores | ₹ 2,508.55 | 57.32 | 1.59% |
| ITC Limited | 5.40 Lakh Crores | ₹ 432.1 | 26.68 | 2.95% |
| Nestle India Limited | 2.31 Lakh Crores | ₹ 24,004 | 78.32 | 1.01% |
| Tata Consumer Products | 0.84 Lakh Crores | ₹ 913 | 66.47 | 0.93% |
| Dabur India Limited | 0.94 Lakh Crores | ₹ 535.95 | 55.02 | 0.97% |
Let us take the example of Nestle India, one of the top FMCG companies in India, to see how this stock reacted during the economic slowdown due to COVID-19.
The stock hit its 52-week high in April 2020 and was trading at a premium of 380% as compared to the NIFTY 50 index.
The firm also said that there was no materially adverse impact due to COVID.
So, this shows how FMCG stocks are defensive to economic crises and are stable in their stock prices when the stock market is bearish.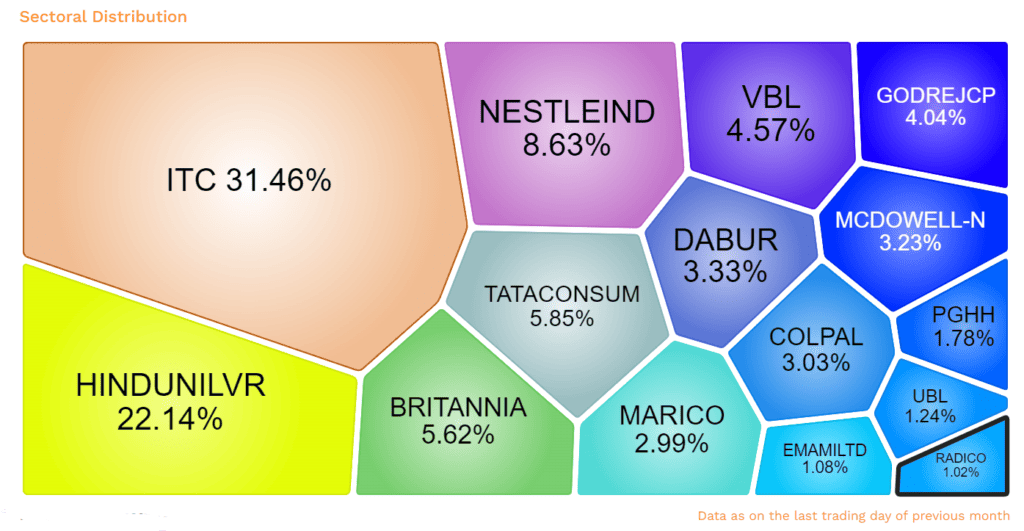 Source: NSE Indices – As of 31 Oct 2023
Bottomline
FMCG stocks are indeed a safe haven for investors during down-trending markets. These stocks come under the defensive category, whose prices are not very volatile to market conditions.
Hence, having few FMCG stocks in the portfolio can act as guards to compensate for losses during a bearish trend.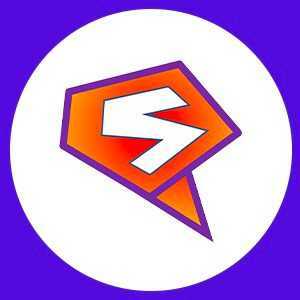 StockGro is India's first and largest 'Social Investment' platform aimed at helping you master the art of "Trading & Investment". Trade, Invest and get rewarded to Learn everything about 'Investments' the fun-filled way.