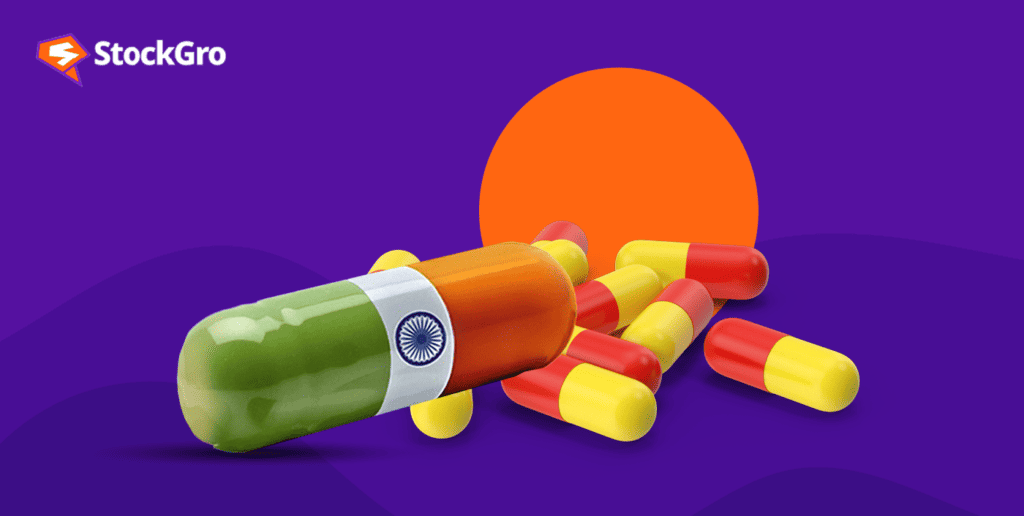 The recent instance of COVID-19 must have been the first experience of a pandemic for most of us. But, it is an experience worth remembering for the rest of our lives. Do you agree?
While some people explored their creative side during the lockdown, it is not an exaggeration to say that COVID-19 turned the world upside down for many people.
Medicines and vaccinations became daily needs. It was a time when most of us stopped cribbing about medicines and instead started being grateful for their availability and the innovations of the pharmaceutical sector.
Today's article is about that industry that helped us all get out of the COVID wave – The pharmaceutical industry.
This article will show how the pharma industry has evolved in India and where it stands today. We will also discuss the top pharma companies in the country.
What does the Indian pharma market consist of?
The pharma market has companies that produce, market and sell medicinal drugs that help patients cure and recover from various diseases.
The segments of the Indian pharmaceutical market are:
Generic drugs – A drug with similar compositions to an already existing medicine.
OTC drugs – Over-the-counter medicines that do not need prescriptions from doctors
Bulk drugs – Also called the Active Pharmaceutical Ingredient (API), bulk drug is the primary ingredient in the medicine that helps to cure a disease.
Vaccine – A healing substance that is injected into a patient's body to attack disease-causing organisms in the body.
Contract research and manufacturing – These entities help manufacture drugs and run trials to assess their efficiency.
Biosimilars and biologics – Deals with natural medicines, not chemicals.
You may also like: Diving into FDI: What it means for investors and countries
History of the pharma industry in India
The pharma industry pre-independence was non-existent. The pharma industry was dominated by Western countries and relied wholly on imports.
The introduction of the Indian Patent Act in 1970 opened the doors for manufacturing medicinal drugs within the country.
With regulations of liberalisation coming in, the Indian pharma industry slowly expanded its presence across various countries, and today India is one of the significant contributors to the world of medicines globally.
Indian pharma industry today
From depending thoroughly on imports to being the third-largest industry in the world by volume of production, the Indian pharmaceutical industry has come a long way. The Indian pharma industry is also ranked number 13 globally based on its value.
Contribution to the national economy
The pharmaceutical market in India is currently valued at $50 billion and is expected to reach $130 billion by 2030.
India is the largest producer of generic medicine, and it manufactures close to 60,000 brands under this category. It is also known for manufacturing low-cost vaccines and making them affordable to all classes of people. The success of the HIV vaccine is a feather on the cap for the Indian pharma industry.
The pharmaceutical sector is a significant contributor to the FDI (Foreign Direct Investment) market in India. 3.7% of the total FDI inflows in the country come from this sector. The total value of Foreign inflows from April 2000 to March 2023 is $21.46 billion.
The 2023 union budget had the pharmaceutical industry as one of its primary focuses to improve innovations and research within the country to help India maintain a leading position in the global pharma industry.
Also read: Fundamentally analysing Solara Active Pharma Sciences Ltd.
Indian pharma industry in the global market
Known as the pharmacy of the world, India is one of the major exporters of pharmaceutical products to more than 200 countries across the globe.
Exports are one of the most significant activities that give a major boost to the economy. According to a report by Reuters, the value of pharma exports is expected to grow by 6.3% and reach $27 billion this year.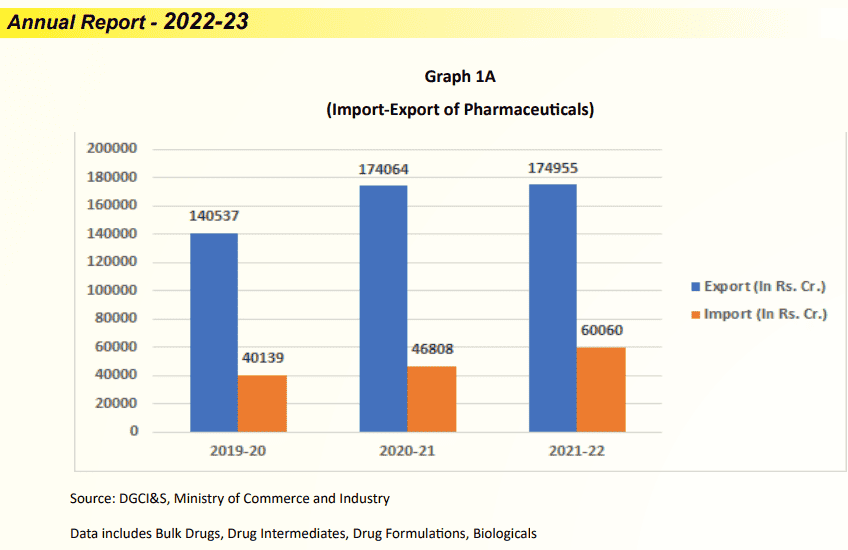 Source: Annual Report 2022-23
Indian pharma industry in the stock market
Pharmaceutical stocks are part of the defensive stocks, meaning their prices do not fluctuate aggressively to economic conditions. Since medicines are a necessity in today's world, the demand for pharma products remains close to stable, irrespective of the market trends.
Also read: What are cyclical and non-cyclical stocks?
Given the growth of the pharma industry, pharma stocks are good investment opportunities for investors looking at profitable, long-term returns. However, it is essential to note that the pharma industry is subject to strict regulations. So, non-compliance or additional regulations can majorly impact stock prices.
India's pharma industry has a prominent position in the export market. So, exchange rate fluctuations may impact revenues, thereby impacting share prices and dividends.
Hence, it is essential for investors to do a thorough study of the pharma companies, their financial capabilities, their adherence to regulations, and then decide about investing in pharma stocks.
NIFTY Pharma is a stock market index by the National Stock Exchange (NSE) that reflects the performance of the top 20 pharma stocks in the stock market. The index was valued at 15,072.30 as of Nov 06, 2023.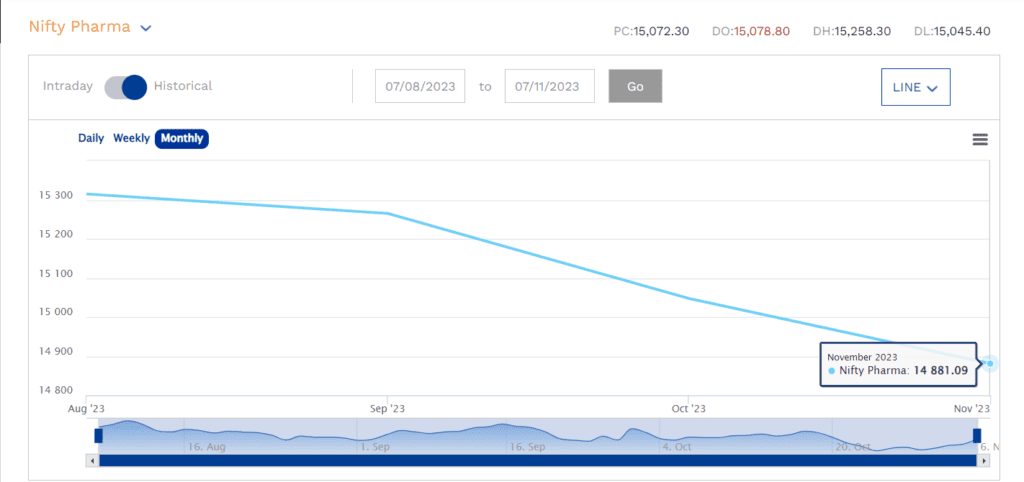 Source: NIFTY Indices
Top 10 pharma companies in India
Performance of top 20 stocks in the NIFTY pharma index as of 31 Oct 2023: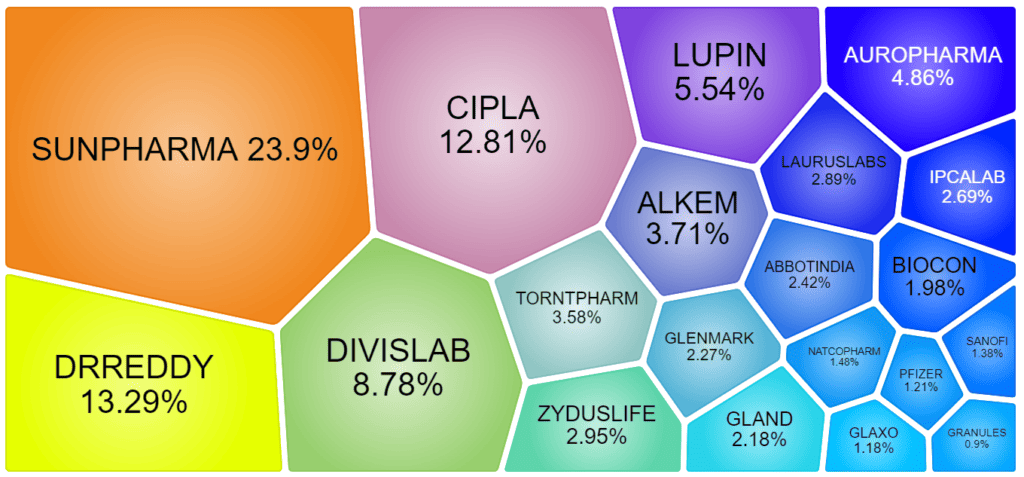 Below is the list of the top companies in the pharma sector, ranked based on their market capitalisation (Values as of 07 Nov 2023)
| | | | |
| --- | --- | --- | --- |
| Company | Market Capitalisation | Net Profit | Stock price |
| Sun Pharma | ₹2.79 lakh crores | ₹1,690 crores | ₹1,161.95 |
| Cipla | ₹98,000 crores | ₹2,469 crores | ₹1,214.30 |
| Divi's Laboratories Ltd | ₹93,000 crores | ₹1,808 crores | ₹3,507.00 |
| Dr Reddy's Laboratories Ltd | ₹90,900 crores | ₹2,612 crores | ₹5,460.10 |
| Mankind Pharma | ₹72,000 crores | ₹1,248 crores | ₹1,795.95 |
| Torrent Pharmaceuticals | ₹67,000 crores | ₹1,051 crores | ₹1,988.50 |
| Zydus Lifesciences Ltd | ₹60,400 crores | ₹1,529 crores | ₹597.75 |
| Lupin Ltd | ₹54,900 crores | ₹425 crores | ₹1,206.30 |
| Aurobindo Pharma Ltd | ₹52,800 crores | ₹1,230 crores | ₹899.90 |
| Abbott India | ₹50,000 crores | ₹949 crores | ₹23,515.85 |
Bottomline
From an almost negligible industry, Indian pharma is a sector that the whole world relies on. According to estimations, it is expected to grow further and retain the title "Pharmacy of the world" for the years to come.
Investing in pharma stocks is a good investment avenue for those investors looking at defensive stocks that will yield decent returns at all times. However, it requires investors to do an in-depth analysis of the stock's performance before making decisions.
Further reading: Torrent Pharmaceuticals Ltd.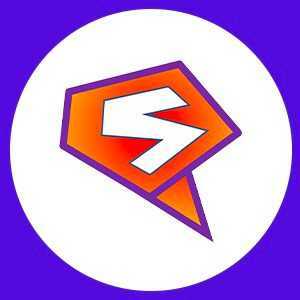 StockGro is India's first and largest 'Social Investment' platform aimed at helping you master the art of "Trading & Investment". Trade, Invest and get rewarded to Learn everything about 'Investments' the fun-filled way.