Delivering groceries at warp speed? That's Zepto's game. Meet the startup that's making waves in the world of quick commerce.
In a world where quick commerce was facing investment turbulence, Zepto soared to unicorn status. This isn't just a testament to their success; it's a nod to the entire sector's potential.
Raising the bar
Last week, startup funding took a nosedive, plummeting by a whopping 83.5% to a mere $22.5 million. Compare that to the $136 million from the same time last year. And the deal count? A measly seven, down from 57. Ouch.
Also Read: Indian startup valuations hit rock bottom
But, Zepto recently raised $200 million, about ₹1652.6 crore, with StepStone Group being the lead investor in August. This investment took their valuation from millions to the billions group, $1.4 billion to be exact. Here is a list of all the investment rounds Zepto has held till now.
| | | | |
| --- | --- | --- | --- |
| Announced Date of Investment | Investment Type | Lead Investors | Fund Raised |
| Sept 1, 2020 | Seed Round | Contrary | $730K |
| March 22, 2021 | Series A | Nexus Venture Partners | $6.5M |
| Oct 31, 2021 | Series B | Glade Brook Capital Partners | $60M |
| Dec 20, 2021 | Series C | Y Combinator Continuity Fund | $100M |
| May 2, 2022 | Series D | Y Combinator Continuity Fund | $200M |
| Aug 25, 2023 | Series E | StepStone Group | $200M |
(Source: Crunchbase)
The Zepto story: From dorm room to unicorn
Founded by two Stanford University dropouts, Aadit Palicha and Kaivalya Vohra, this startup has disrupted the market in just two short years.
Palicha and Vohra, aged just 19 when they started Zepto, unveiled their brainchild in late 2021. Since then, Zepto has been conquering seven Indian cities, processing over 300,000 orders daily. How do they do it? Dark stores.
These hidden gems are strategically placed in neighbourhoods, ensuring lightning-fast deliveries. And the best part? Most of these stores are in the green when it comes to profits.
Critics initially scoffed at the idea of quick commerce, questioning its viability with razor-thin margins and high cash burn. However, Zepto's recent unicorn status suggests that this model might be onto something big.
Fun Fact: Zepto was initially known as "Kiranakart" but later transformed into Zepto, which signifies a factor of 10⁻²¹.
The Unicorn Club entry
Zepto, the trailblazing quick commerce startup, has recently raised a whopping $200 million, propelling its valuation to $1.4 billion. This funding round was a game-changer, pushing it into India's exclusive unicorn club for 2023.
But does it truly deserve this status? With hundreds of thousands of orders processed daily and profitable dark stores, Zepto is certainly making a case for itself. India ranks 4th globally with 70 unicorn startups worth over $1 billion.
Zepto's journey from Soonicorn to Unicorn stands as a testimony to the potential of this lightning-fast delivery model.
Numbers that speak volumes
The global online grocery delivery market is on the verge of exploding, estimated to hit $800 billion by 2025. In India, this sector is set to soar from $300 million in 2021 (about ₹2,478.9 crore) to a whopping $5 billion by 2025 (around ₹41,315 crore).
Zepto isn't alone in this race; it's competing head-to-head with giants like Zomato's Blinkit, Tata Group's BigBasket, and Dunzo, owned by Reliance. It all began in 2021 when the pandemic pushed demand for speedy grocery deliveries to new heights.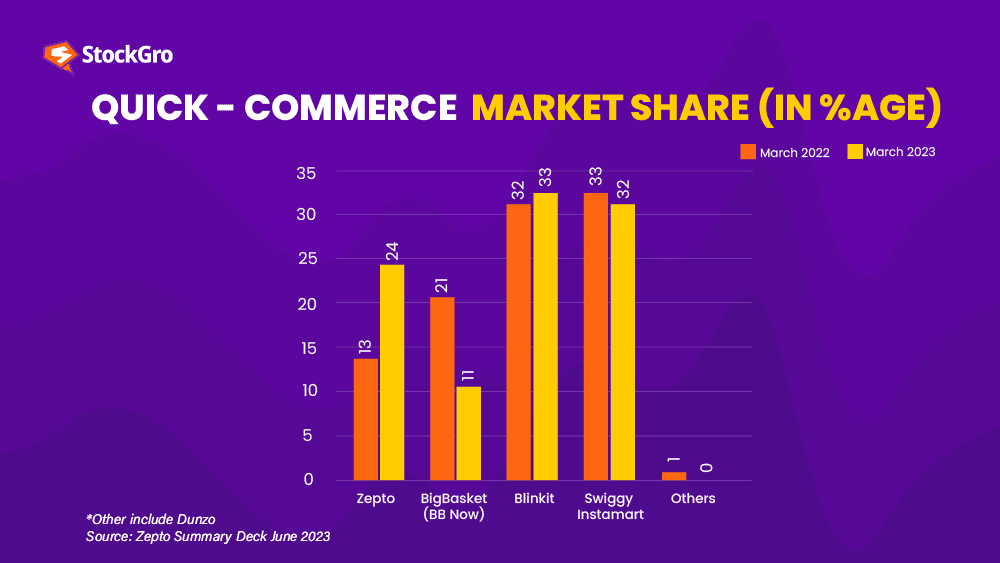 The Zepto magic recipe
So, how did Zepto go from zero to a $1.4 billion hero? It's all about the business model:
Strategic dark stores: Zepto has over 200+ dark stores in major Indian cities, strategically placed based on customer shopping habits. They stock essentials, fresh produce, personal care items, snacks, beverages, and more. When you order, a team springs into action, packing and delivering your goods in a blink.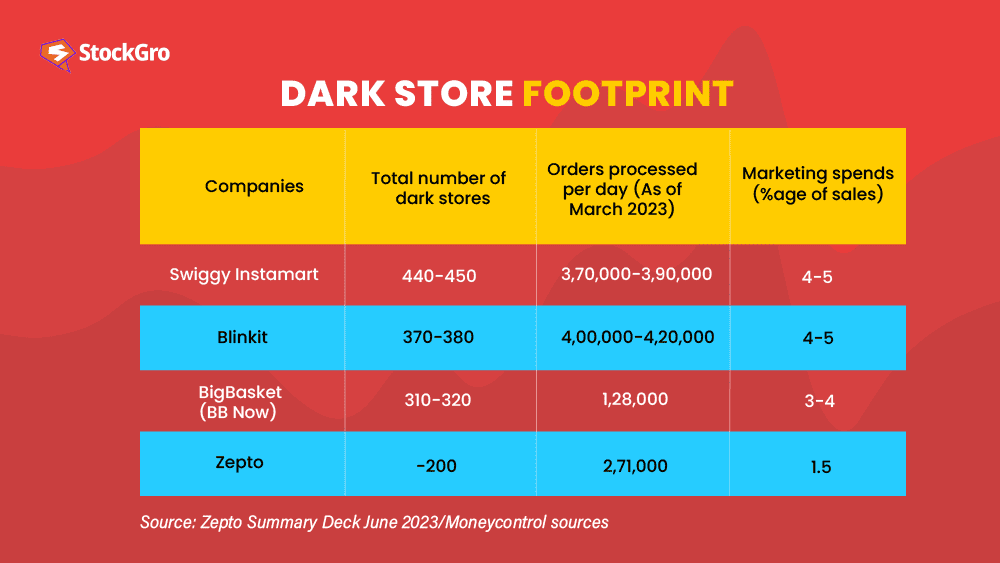 Deep dive strategy: Instead of just piling up stores and products, Zepto's diving deeper into existing markets. Why? Strong fundamentals today mean explosive customer acquisition tomorrow. They're planning a 40% store increase by year-end. Their average order value? A cool ₹430 to ₹470.
Lightning-Fast delivery: The key to Zepto's success is speed. They've got the secret sauce, likely an AI tool, that can pack an order in just 60 seconds in their massive dark stores.
Average delivery time: Zepto's delivery time is 8 minutes and 47 seconds. Yes, you read that right!
Revenue game: Zepto charges a commission from the total order value, and their ads have been raking in nearly 5 times the revenue compared to before.
Profitability: Most of Zepto's dark stores are EBITDA positive, which means they're making money before expenses like taxes and depreciation kick in.
Also Read: Startup success: Swiggy turns profitable almost 9 years after inception
Turning the tables on cash burn
But how did Zepto manage to defy the odds? They've slashed cash burn by a whopping 70% compared to the previous year. Part of it involved laying off over 500 employees.
However, that's not the whole story. Customer acquisition costs have nearly halved, and their ads are now generating five times the revenue. Plus, most of their dark stores are in the green, making profits even before considering expenses like taxes and depreciation.
Profit vs. Growth
Zepto suffered a colossal loss of ₹390 crore in FY22. While recent metrics indicate improved margins, the FY23 results are still under wraps.
Sales are skyrocketing with a 300% year-on-year growth this year.
Monthly cash burn dropped from ₹90 crore in September 2022 to ₹55 crore in April.
Zepto's EBITDA margin was in the red at a staggering negative 278.6% in January 2022. Fast forward to April, it's narrowed down to a negative 15-16%. Their goal? Turning EBITDA-positive in just 12 months, eyeing an IPO in the first half of 2025. But, they want to operate profitably for three straight quarters before they hit the big stage.
Zepto isn't stopping at groceries. They're expanding their add-on offerings, like Zepto Cafe, zipping snacks and drinks to your door in 10-20 minutes. They've teamed up with quick-service restaurant giants like Chaayos and Blue Tokai.
You may also like: Zee-Sony merger to pave way for $10 billion media giant after NCLT nod
Global trends
Getir, a major Turkey-based player in fast delivery, recently waved the white flag in France and filed for bankruptcy. Even Europe's grocery quick commerce giant had to pull back. Other firms like Getir, valued at a massive $11.8 billion, are either closing shop or consolidating.
In the US, players like Buyk, Fridge No More, and Zero Grocery have shut down operations. The survivors are trimming their workforce and shifting focus to profitability to attract investors.
So, what's on the horizon for Zepto? Will it make the leap to an IPO, or is there a different twist in store? Only time will reveal the secrets!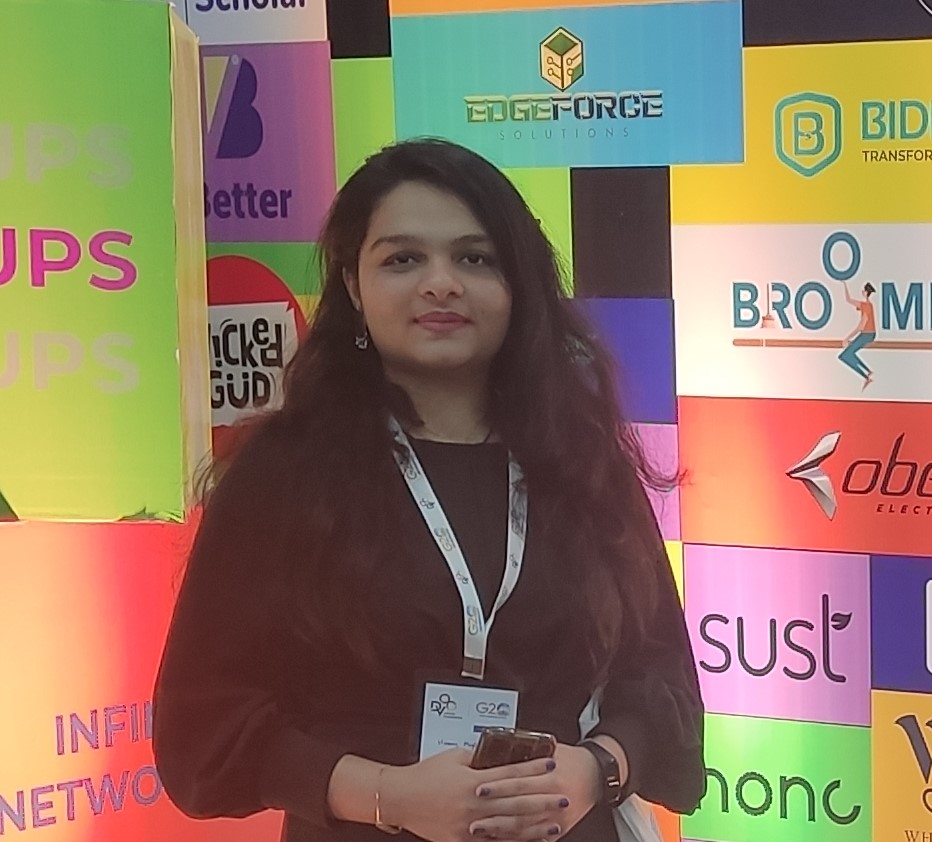 A curious mind, a love for writing, and a passion for all things finance – that's me in a nutshell. Whether I'm exploring the latest stock market trends or diving into the nitty-gritty of personal finance, marketing, and AI. I'm always on the hunt for the next big story.